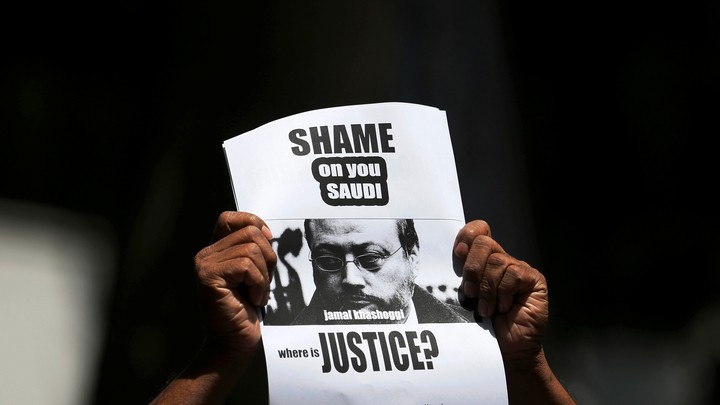 On October 2, Jamal Khashoggi walked into Saudi Arabia's consulate in Istanbul and was not seen publicly again. One month later, the Saudi journalist's fate has been pieced together incrementally, through media leaks, Turkish official statements, and (oft-changing) Saudi government admissions.
We still don't know much about what happened to Khashoggi. "In a way," Neil Quilliam, a Middle East expert at Chatham House, told me, "it's almost easier to say what we do know, because there are so few things."
The vast majority of what is known about what allegedly happened to Khashoggi has come via unofficial channels—namely, through a series of leaks from Turkish sources to media outlets. The first such leak, alleging Khashoggi's death, emerged days after he entered the consulate. Others soon followed, involving reports of a Saudi hit squad, gruesome audiotapes, and a Khashoggi decoy.
Read: Turkey is treating the Khashoggi affair like it's must-see TV
Here's a rundown of what the officials have said, what leaks have revealed, and what remains unknown.
What Officials Have Said
Turkish security footage shows Khashoggi entering the Saudi consulate on the afternoon of October 2, where his fiancée, Hatice Cengiz, said he went to obtain paperwork for them to marry. Turkish authorities said that a group of 15 Saudi nationals then strangled Khashoggi at the consulate as part of a "planned operation," which ended with his body being "dismembered and destroyed."
Saudi Arabia's account, which has undergone a series of revisions, offers a somewhat different story. Riyadh now says that Khashoggi was killed in the consulate as part of a "premeditated" attack, but the kingdom claims it was a "rogue operation" by members of the Saudi intelligence service. Riyadh said that it has fired five top officials and arrested 18 others for the murder, and has insisted that the royal family, including Crown Prince Mohammed bin Salman, was not involved.
What Leaks Have Revealed
Unnamed Turkish officials told the media that audio recordings of Khashoggi's interrogation and murder exist, capturing gruesome details about the duration of his detention and torture. The Turkish government hasn't publicly released any such recordings, though it has been reported that CIA Director Gina Haspel heard the audio during her visit to Turkey last week.
A senior Turkish official told CNN that a Saudi national posing as Khashoggi was dispatched around Istanbul just hours after Khashoggi entered the consulate, in an apparent attempt to cover up his death. The individual was captured on Turkish surveillance footage wearing glasses, a fake beard, and clothes identical to those worn by Khashoggi that day.
An unnamed Saudi official told Reuters that Khashoggi's killers removed the body from the consulate by rolling it up in a rug and giving it to a "local cooperator" for disposal.
What We Don't Know
Three main questions remain regarding what happened to Khashoggi. First, the whereabouts of his body are unknown.
Second, we don't know who gave the order for Khashoggi to be killed. Was it a rogue operation, as the Saudis claim? Or did Mohammed bin Salman, the country's de facto leader, play a role?
The answer to the second question will have profound implications for the third: What impact, if any, will Khashoggi's death have on Saudi Arabia's global standing? A number of its allies chose to boycott last month's investment conference in Riyadh and suspended political visits to the kingdom. Some, including Germany and Austria, have called for halting Saudi arm sales. Others, such as the U.S. and France, have ruled this response out entirely.
Speaking at a memorial in London this week, Cengiz urged President Donald Trump and other world leaders not to assist in a "cover up" of what happened to her fiancée. "I want justice to be served," she said. "Not only for those who murdered my beloved Jamal, but for those who organized it and gave the order for it."
Though Saudi Arabia and Turkey are conducting a joint investigation into Khashoggi's death, it's unlikely to yield definitive answers about what happened to him, nor will it necessarily result in a prosecution. Saudi Arabia has already rejected Turkish demands that the suspects be extradited to Ankara for trial.
"There is a forming narrative that is being shaped between Turkey and Saudi Arabia, and that's symptomatic of them trying to come to some kind of agreement," Quilliam said. "I don't think we're ever going to find out the definitive truth. It will be a sort of negotiated truth that both sides can sign up to."
We want to hear what you think about this article. Submit a letter to the editor or write to letters@theatlantic.com.