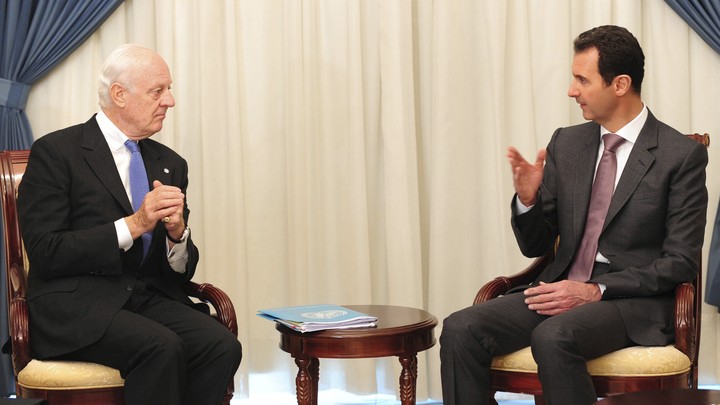 BEIRUT—If the only thing you knew about Syria came from the United Nations Special Envoy Staffan de Mistura's briefing to the Security Council this month, you might assume that dramatic events were afoot. An important meeting had taken place in Istanbul, he said, while equally vital summits in Astana, Kazakhstan, and of the G-20 countries in Buenos Aires were in the offing. The work under way was "absolutely urgent," he told the council, and the coming weeks "will be of crucial importance."
Outside of such briefings, however, there is no suspense about the outcome of the Syrian war. President Bashar al-Assad, with the help of his Russian and Iranian allies, has used brute force to pacify the majority of the country. Half of the Syrian population has fled their homes, and the violence has reached such a fever pitch that the United Nations has lost count of the number of lives claimed by the war. The prospects for de Mistura's peace plan are nonexistent—Assad is not about to relinquish his hard-won battlefield gains at the negotiating table.
The Swedish Italian diplomat's tenure is emblematic of the international community's struggles to grapple with Syria. His term provides a window into the forces that have made the conflict so resistant to diplomacy, and has served as a launching point for a debate among analysts and would-be peacemakers about diplomats' roles in resolving the world's worst crises.
Read: 'No words' left to describe Syria's carnage
De Mistura is the diplomat's diplomat. He is known for his dapper suits and pince-nez spectacles, speaks seven languages, and has worked for the United Nations over a four-decade career that has taken him from Sudan to Kosovo, from Iraq to Afghanistan. When he leaves his post in December, he will have served as the face of UN diplomacy in Syria for more than 1,600 days. The combined tenure of his two predecessors, by comparison, was roughly half that long. His defenders often refer to this fact as a point in his favor, praising his perseverance in such a thankless task. (De Mistura, through a spokesman, declined an interview request for this article.)
To his detractors, however, de Mistura's only legacy is presiding over an effort that has grown ever more divorced from reality. Mouin Rabbani, who briefly served as the head of de Mistura's political-affairs unit, described the diplomatic track that de Mistura oversees as a Syrian version of the Israeli-Palestinian "peace process"—an effort that exists mainly in the minds of a cottage industry of diplomats. Nearly every cease-fire championed by de Mistura has collapsed, and he proved largely powerless to negotiate the entry of aid to areas besieged by Assad's government. He is accused of lending his imprimatur to a diplomatic charade, even as the Syrian government and its allies conducted a scorched-earth policy against rebel-held parts of the country.
De Mistura came to office in summer 2014, when U.S. and European diplomats were coming to terms with the fact that their initial assumptions about the course of the Syrian war had been badly misguided. Assad's regime had proved considerably stronger than many had predicted. De Mistura's predecessor, Lakhdar Brahimi, advised the Syrian president in their first meeting that he should adhere to a recent international communiqué and declare that he was willing to resign if it was in the country's best interest, said Mokhtar Lamani, the head of Brahimi's office in Damascus. Relations were strained for the rest of Brahimi's tenure.
From the start, de Mistura vowed to cultivate better ties with Damascus. "What he wanted to do is build trust with the Russians and the regime," says Wa'el Alzayat, a former State Department official who worked on Syria with de Mistura. "His approach was don't be confrontational; don't call out the Russians and the regime for their violations."
In his public statements, de Mistura struck a relentlessly optimistic note about the possibility of a diplomatic breakthrough. He touted a potentially "historic junction" for peace in 2016, said that the train for diplomacy was "warming up its engine" in 2017, and vowed to "strike while the iron is hot" for negotiations in 2018. Meanwhile, he kept repeating a mantralike assertion that there was no military solution: "The one constant in this violently unpredictable conflict is that neither side will win," he told the Security Council in September 2016.
Assad never got the memo. De Mistura's signature initiative early in his tenure was an effort to negotiate a "freeze" to the fighting in Aleppo, where pro-Assad forces were attempting to besiege the rebel enclave in the east of the city. As the government offensive continued apace, he was forced to repeatedly define-down success—moving from an attempted cease-fire in the entire province, to a six-week suspension of aerial and artillery bombardment in the city, and then finally to a cease-fire in a single neighborhood. Eventually, it was military men who determined the fate of Aleppo: The city was retaken by the government after a grinding offensive left thousands dead and whole districts in ruins.
In the course of his efforts, de Mistura received a firsthand lesson in just how little criticism the Syrian government would accept. In May 2015, he condemned the Syrian government for a barrel-bomb attack on a market in a rebel-held town that killed at least 70 people. According to multiple officials involved in the negotiations, who declined to be identified, Assad responded by cutting off contact, dashing the UN envoy's hopes for a cease-fire. The discussions surrounding a freeze in Aleppo were the last time that de Mistura would meet with Assad personally—in the future, he would be received only by lower-level officials.
After the fall of rebel-held Aleppo, some diplomats might have resigned. De Mistura chose to push forward. But he also moved the diplomatic goalposts: With both Syrian and Israeli-Palestinian diplomacy, critics contend, diplomats' priority has been to keep the process alive—even if nobody really believes it can achieve a meaningful result. "The mission became the extension of the mission," said Rabbani, the former de Mistura aide, who is currently a senior fellow at the Institute for Palestine Studies.
At their worst, de Mistura's efforts allowed Russia, Turkey, and the United States to maintain a diplomatic facade, even as they relied upon their militaries to secure their interests across the country. As the Syrian government and its allies continued to gain strength, Russia spearheaded a diplomatic initiative that pushed de Mistura further toward the political margins. The culmination of that effort was a 2017 agreement reached in Astana among Turkey, Russia, and Iran to establish four "de-escalation" zones in rebel-held areas across the country. Though the sponsors paid lip service to de Mistura's Geneva-based negotiation effort, many outlets reported that the Astana process served as a separate track. The UN envoy nevertheless threw his weight behind the talks, saying that they "should be seen as laying the basis for a renewed Geneva process."
"From the point of view of the sponsors of Astana, de Mistura's role was to lend it international legitimacy," said Rabbani. "And I don't think he realized that he was basically blessing his own irrelevance."
In his briefings to the Security Council, de Mistura described a future in which the de-escalation zones resulted in a decrease in violence. In reality, they allowed the Syrian government and its allies to temporarily shift forces away from those regions and concentrate on pacifying other ones. Once those areas had been retaken, pro-Assad forces renewed their assault on the de-escalation zones.
De Mistura's final diplomatic initiative has been the creation of a committee to draft a new Syrian constitution. For the past year, he has attempted to launch the initiative with participation from both opposition and government members, and is staying in office until December to determine whether there is any prospect for success. Even if the committee is formed, its ultimate goal of free and fair elections leading to a political transition remains as far away as ever. In a parting shot at de Mistura, the Syrian government daily al-Thawra accused him of conspiring with "terrorists." "You have arrived at the wrong address, and knocked on the wrong door, and come at the wrong time," it said.
The hopelessness of these diplomatic efforts has led to calls for the incoming special envoy, Geir Pedersen, to scrap the entire process. De Mistura's defenders argue that public condemnations of those standing in the way of peace will do nothing to change the reality on the ground, and that admitting defeat would hardly save a single life.
"The argument that by stopping the political process, you can reinvigorate it—I don't think that's the case at all," says Nikolaos van Dam, the former Dutch envoy for Syria. "It doesn't at all mean your successor has a mission which is a little bit more possible."
By maintaining the political process at all costs, critics would argue, diplomats risk becoming accomplices to the very abuses they are trying to stop.
Read: What if there is no ethical way to act in Syria now?
"At some point, [diplomats] need to speak out in ways that make those standing in their way uncomfortable," said Alzayat, the former State Department official. "At the end of the day, if they are really committed to the work they are doing, they need to put themselves out there and resign."
At the height of the onslaught in Aleppo, de Mistura ended his briefing to the Security Council by explaining why he would stay in office. "Any sign of me resigning would be a signal that the international community is abandoning Syrians," he said.
Two years later, there are few Syrians of any political persuasion who labor under the illusion that the international community, specifically the United Nations, can affect the course of their lives. And there are few diplomats who would honestly say that they have a blueprint for changing that reality.
We want to hear what you think about this article. Submit a letter to the editor or write to letters@theatlantic.com.