Trump's Evangelical Advisers Hear from the Saudi Crown Prince on Khashoggi
"I may have caused some of our people to love our kingdom too much."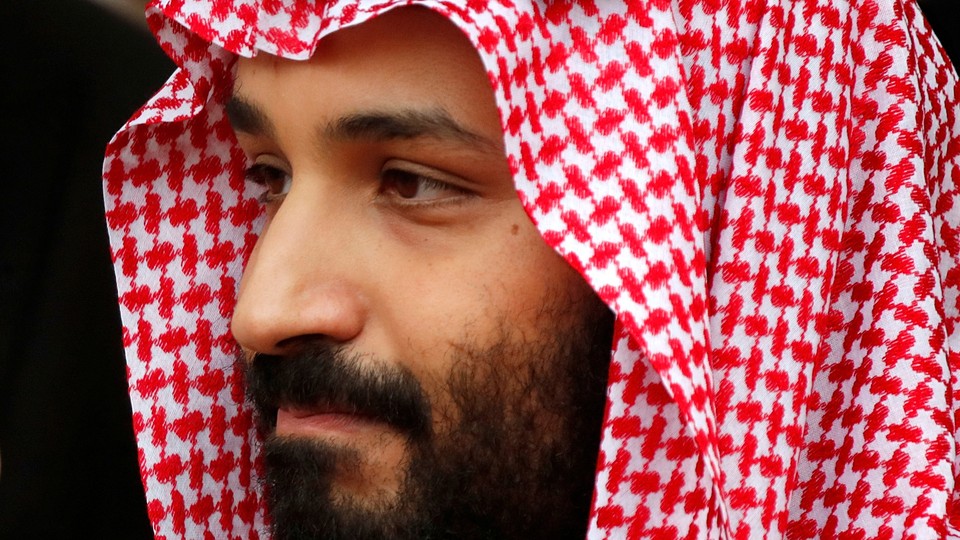 A delegation of American evangelical Christians met with Saudi Crown Prince Mohammed bin Salman last week in Riyadh. The group included some of President Trump's top evangelical advisers, though they weren't there in any official capacity. They'd come to talk about religious freedom with the young, self-styled reformer. But they found the trip overshadowed by the killing of Saudi journalist Jamal Khashoggi.
The kingdom has acknowledged responsibility for the murder. The crown prince, known as MbS, says he did not authorize it. While the delegation knew it would be controversial to visit him in the wake of the crisis, they decided to go ahead with the trip, which was planned before the Khashoggi affair came to light.
"I think it would have been immoral not to accept this invitation, because of the potential implications of it in the long run," Johnnie Moore, a delegate who serves on the U.S. Commission on International Religious Freedom, told me. He'd come to advocate for the religious rights of the 1.4 million Christians who are estimated to live in Saudi Arabia, though reliable figures are difficult to find (legally, all citizens are required to be Muslim).
This wasn't his first such trip: He and his fellow evangelical delegates had just visited the United Arab Emirates, and last year they traveled to Egypt to meet with President Abdel Fattah El Sisi. Moore told me they aim to build bridges between Islamic and Christian communities across the Middle East as a means of "making sure our community is thought of and represented."
Yet one could see his group's decision to sit down with MbS at such a precarious moment as legitimizing the kingdom's human-rights violations. Moore and I discussed that risk, as well as his impressions of the crown prince, whom he described as philosophical and introspective. Our conversation has been edited for clarity and length.
---
Sigal Samuel: What was the goal of your trip?
Johnnie Moore: Evangelicals are now 60 million in the United States, and there are at least 600 million around the world. It's one of the largest segments of the Christian Church. So for a group of evangelicals to be invited for a dialogue in what has long been considered one of the most restrictive countries in the world as it relates to religious freedom, that's really important to us.
Religious freedom was the focus. We all had the opportunity to ask questions along the way, and my specific questions related to churches in Saudi Arabia. Of course, right now, there isn't a single church building, there's certainly not a synagogue, it's a country full of countless thousands of mosques. … That's not to say there isn't worship of other kinds that takes place quietly, in people's homes. … But when it comes to public worship, it's a different story.
Samuel: What did MbS say about the possibility of churches being built in the kingdom?
Moore: He said, "I'm not prepared to do that now. And the reason is because it's the one thing that al-Qaeda and [the Islamic State] and the terrorists want. If I did it now, bombs would fall, and it would not be the right thing for the safety of our people." … He made the point that it would embolden the terrorists and extremists, so you shouldn't plan on it anytime in the future.
I found it to be a thoughtful, logical response even though it's not the response I hoped for. ... It wasn't this visceral anti-Christian sentiment.
On the contrary, he made it a point to mention the wonderful meetings he'd had with the Coptic pope and the Archbishop of Canterbury. … You can't deny the significance of those actions. And I think they were not actions principally meant to send a message to the West. They were principally meant to send a message within his own country, that this is an appropriate and reasonable thing for Saudi leaders to do. And I believe that even more because it fits into the greater context of our discussion, which was about very strategic actions they're taking to move the country in the direction of reform.
Samuel: Did you ask MbS about the murder of Jamal Khashoggi?
Moore: It was the first question we asked. We knew we were going in this context … so we weren't going to dodge it. We just asked it outright. He was totally consistent with what he'd said publicly before—he said this is a terrible and heinous act and they were going to find and prosecute everyone involved with it. He emphatically denied involvement.
But then he got sort of introspective and he said, "I may have caused some of our people to love our kingdom too much, and therefore to take their delegated authority and do something heinous that they absurdly thought would be pleasing."
He was making sort of a philosophical observation—which he did quite a bit actually—he's a really interesting figure.
Samuel: Do you believe MbS when he says he didn't authorize the murder?
Moore: I'm choosing not to have an opinion on that, because I'm focused on other things. My focus is on the long game, on the long-term status of religious freedom in the region. It's not that I'm not disgusted by the whole thing, but … my choice is to take at face value what the Saudis are saying, and focus on the area that I can actually have an impact on.
I'm very much a realist in this way: I'm a religious freedom advocate. That's the only thing I am.
Samuel: It seems to me that there's an unbundling of religious freedom from human rights. Religious freedom is one part of human rights. It seems that under the Trump administration especially, there's been a lot of talk about religious freedom, almost in a one-to-one mapping with human rights—as if the two are coextensive. But can we justify fighting solely for religious freedom concerns and putting to the side human-rights concerns like the war in Yemen, like the imprisonment of women's-rights activists?
Moore: I think it's a totally worthwhile criticism. I don't disagree with you. I do think that in previous administrations the value of religious freedom has been many degrees below the value attributed to general human-rights advocacy. This administration has a perspective that it's easier to move the overall human-rights agenda through the religious freedom channel.
Oftentimes, the human-rights questions, you can't untangle the politics from it. With religious freedom, when I sit down—as a devout Christian with degrees in religion, as an ordained minister—across the table from an Islamic leader who's devout and theologically trained, I have other things to talk about than politics. So tactically, there is a perspective that we can move the needle more easily in the area of religious freedom, and the concomitant effect will be making it easier to move the needle on other human-rights issues. It's like when the ocean rises, all ships rise.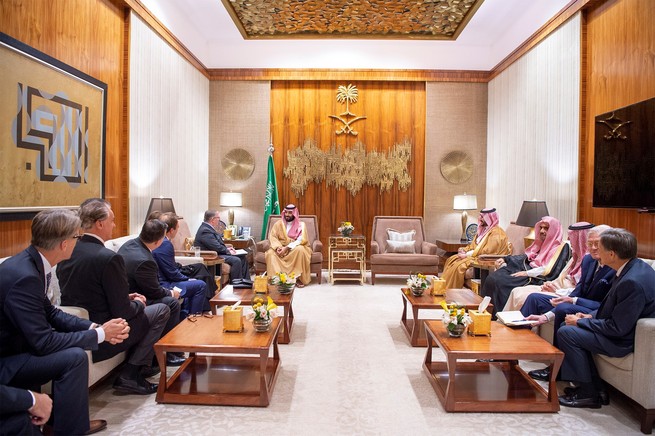 Samuel: I think that's a really interesting point. To me, the risk of that approach is that focusing on religious freedom and appearing willing to unbundle that from broader human-rights concerns—it risks giving the Saudis the impression that it's okay. That here are these devout U.S. leaders who are close to the president and they're unbothered enough by the human-rights concerns that they're willing to sit down and talk about other things. Do you perceive that as a risk?
Moore: Well, first of all, if you're concerned about risks, you're going to get nothing done in the Middle East, at any time with anyone in any way. It's just the most complicated region in the world. Risk is not something I pay very much attention to. …
I actually think the exact opposite happened. ... As religious leaders we had another connection point [with MbS]. We didn't find him defensive at all. And we didn't find him spinning. If he was spinning, he would have given us a different answer on the church question. It was two and a half hours of an open conversation, I think precisely because we are religious leaders.
Samuel: I think that what people have difficulty with in regards to MbS is that, even as he paints himself as a reformer he does things that seem to cut directly against that. So for example, he depicted himself as being very pro-women's rights, lifted the ban on women driving, but also imprisoned some of the very women who campaigned for that right to drive. People have difficulty squaring the two MbS's.
Moore: The phrase you just used is a key to the observation: "squaring the two." That's a very Greco-Roman, Western way of Americans trying to get their heads around this—not you, I know you've spent time in the region. One of my favorite phrases when it comes to the Middle East is, it's all true. And you can choose to take the long view or the short view. I take the long view.
If you take the long view, you engage when these people are ready to engage. And you do it on their terms.