After Nikki Haley, Will Anyone Stand Up to Russia?
The American ambassador to the UN, who is stepping down this year, is perhaps the Trump administration's most forceful, but often solitary, critic of Moscow.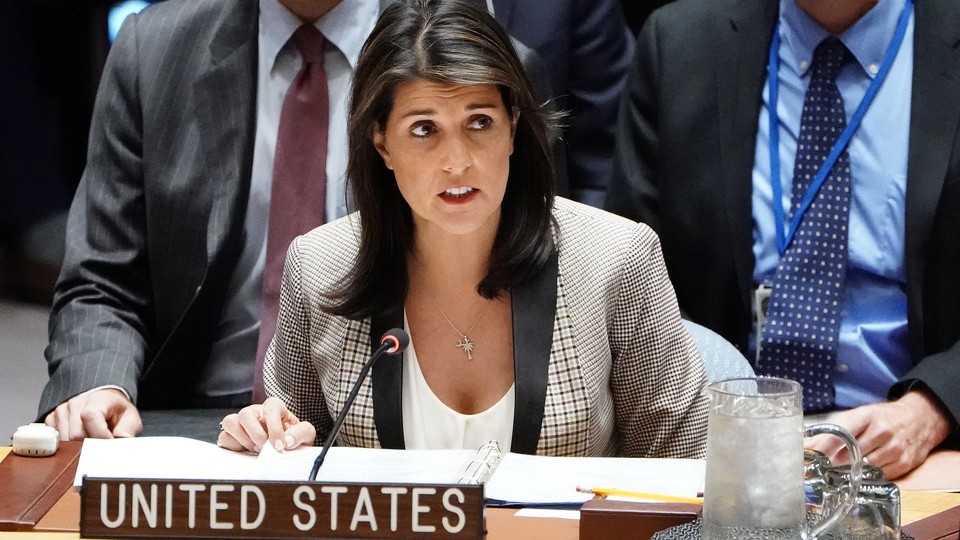 Updated at 3:13 p.m. ET
Nikki Haley's forceful criticism Monday of Russia's seizure of three Ukrainian vessels off the coast of Crimea puts the U.S. envoy to the United Nations in a familiar position: She is the Trump administration's most strident and often solitary critic of Moscow's actions. Her expected departure from the position at the end of the year raises questions about which senior U.S. official will take a similarly strong stand against Russia's actions.
"This is no way for a law-abiding, civilized nation to act," Haley said at an emergency UN Security Council meeting called to discuss Sunday's incident near the Kerch Strait and the Sea of Azov, which both countries share under a 2003 treaty. "Impeding Ukraine's lawful transit through the Kerch Strait is a violation under international law. It is an arrogant act that the international community must condemn and will never accept."
Russia's actions are perhaps the most dramatic escalation of tensions between Moscow and Kiev since the invasion of Crimea in 2014. Haley, the most senior U.S. envoy to publicly comment on the seizure of the vessels, has been a fierce critic of Moscow's support for Syria's Bashar al-Assad regime, as well as its backing of separatist rebels in Ukraine. Her departure, which was announced last month, will likely leave a void at the UN at a time when Russia's foreign policy has become more muscular and is often at odds with Western interests. Haley, the former South Carolina governor, had few obvious foreign-policy bona fides when President Donald Trump named her to the senior position at the start of his presidency, but she quickly won praise from the American foreign-policy establishment with her criticism of Russia and her support for U.S. allies and alliances.
"I'm not sure there's a public figure quite like Nikki Haley, who would be willing to stand up to Russia in this way," Nina Jankowicz, an expert on Russia and Ukraine at the Wilson Center's Kennan Institute, told me in an interview Monday.
Indeed, the White House and the U.S. State Department have so far remained silent on Russia's seizure of the Ukrainian vessels—though, in theory, Haley said that her view reflects that of the administration. (Trump later said, "We don't like what's happening either way. We don't like what's happening.") But this public incongruence within the administration is hardly new. At various times since he assumed the presidency in January 2017, Trump and various members of his Cabinet have offered differing views on  foreign-policy matters.
On issues as disparate as North Korea, Iran, Qatar, and NATO, Haley; Mike Pompeo, the secretary of state; Rex Tillerson, his predecessor; and James Mattis, the defense secretary, have taken positions that are at odds with Trump's remarks, confusing American allies about what the U.S. position actually is. Nowhere has this inconsistency been more apparent than with Russia.
The president has been ambiguous about criticizing Russia for its alleged interference in the 2016 presidential election, refrained from criticizing Vladimir Putin, and suggested that "President Obama's regime" had "allowed a very large part of Ukraine to be taken" by Russia. In the past, Trump has stayed quiet on such issues until he sees pressure building—and when he does comment, he is often defensive. Still, his administration has taken steps to target Russia's actions: Trump-era U.S. sanctions on Moscow have targeted certain officials and entities, which makes them more limited in their impact than if they were designed to punish Russian oligarchs who are close to Putin or large sections of Russia's economy.
In any case, the current sanctions on Russia have hardly prevented Moscow from carrying out cyberattacks or attempting to assassinate a former Russian spy in the U.K. Haley's absence might rob the U.S. of a strong public voice in an international forum, but that role could be taken up by the U.S. Congress, which has been outspoken about what it sees as Russia's malign influence.
"If Congress decides in the lame-duck [session] to use this as an opportunity to push through more harsh sanctions against Russia, that may prompt a reaction from the president if he feels a lot of pressure from within his own party," Alina Polyakova, who studies Russia at the Brookings Institution, a Washington, D.C., think tank, told me.
The current U.S. Congress has a little more than a month in which to act against Russia. It's far from certain that it will, despite strong condemnation of Moscow's latest actions from senior lawmakers.
"The question now is, what will Congress do?" Polyakova said. "I personally don't have a lot of expectation of this White House putting out a strong statement."