Watching Britain's Influence Shrink in Real Time
The release of an imprisoned British academic by a historic ally doesn't bode well for the country's diplomatic power abroad.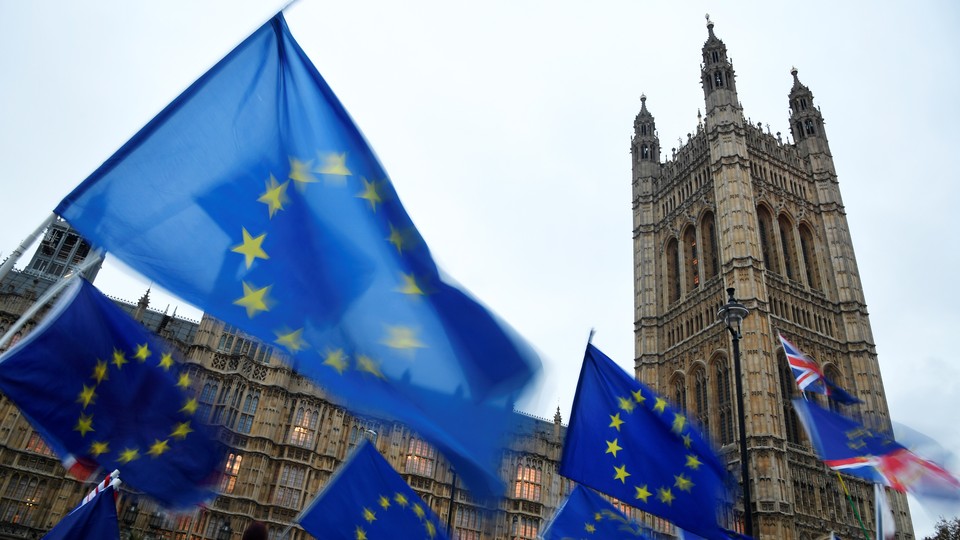 When the United Arab Emirates pardoned a British academic convicted of spying for the United Kingdom in Dubai, it was heralded as a diplomatic victory. U.K. Foreign Secretary Jeremy Hunt, who spearheaded London's efforts to secure the researcher's release, thanked the Emirati government for freeing the British national, as well as for "the emphasis that they have placed on the strong partnership with the United Kingdom."
But as much as the Emirati decision was a diplomatic success for Britain, it was also a troubling warning of a new reality to come: one in which the United Kingdom's clout, even among its allies, would become depreciated, and one where its place on the global stage appears lost.
It didn't take the recent imprisonment of Matthew Hedges—on spurious charges, no less—by a historic friend to highlight this trend. Ever since the U.K. voted two years ago to leave the European Union, talk of whether Britain would be able to maintain international influence outside the EU soon followed. Some warned that leaving the bloc would not simply hinder Britain's ability to influence the Continent's security and defense policy, but would restrict its influence elsewhere, too. The fate of its global power even dominated the opening episode of a new three-part BBC documentary, Inside the Foreign Office, in which British diplomats considered their country's role on the world stage in the 21st century.
To hear Sir Simon McDonald, the head of the U.K.'s diplomatic service, tell it, Britain's present role in the international arena was defined after the Second World War, during which the United States and the Soviet Union emerged as the dominant global players. "Seventy years later," he told the BBC series, "we are still in that second group of countries: globally active, influential with the two biggest players, but not able to do very much just by themselves."
It's this role that ardent Brexiteers, including former British Foreign Secretary Boris Johnson, are certain Britain can retain, chiefly by strengthening trade links with countries around the world. "By Global Britain, I meant a country that was more open, more outward-looking, more engaged with the world than ever before," Johnson wrote of the slogan meant to define the U.K.'s post-Brexit foreign policy, which he helped popularize. "It meant taking the referendum and using it as an opportunity … to find friends, to open markets, to promote our culture and our values."
Some within Britain's diplomatic corps, however, have warned that the U.K.'s global role is already not what it used to be, and stands to deteriorate even further after it leaves the EU on March 29, 2019. "We're not the same country we were in 1945," Harriet O'Brien, a British diplomat based in New York, says in the BBC series. "In some ways, we don't have as much influence in the world. So we do, I think, punch above our weight."
Of course, not everything will change. Britain will still retain its leading positions in other international organizations, including the G7 and NATO. It will also keep its prized permanent seat on the United Nations' Security Council.
But even if its membership in certain organizations doesn't change, its ability to exert its influence within them could. In Brussels, some U.K. representatives have bemoaned their loss of influence well before their country has even left the bloc. Britain has taken other blows to its prestige as well, including the loss of its seat on the bench of the International Court of Justice for the first time last year.
And when it comes to present and future world crises, British leaders have publicly grappled with not being able to command the same foreign-policy authority it once had. "We have to be careful not to overestimate our influence," Hunt told the House of Commons last week when asked about Britain's draft resolution calling for a cease-fire in the ongoing war in Yemen.
The last time Britain seemed so unsure of its place in the world, it had lost its empire after World War II. Then the American statesman Dean Acheson warned London against overestimating its power alone. "Britain's attempt to play a separate power role … apart from Europe, a role based on a 'special relationship' with the United States, a role based on being the head of a Commonwealth which has no political structure or unity or strength and enjoys a fragile and precarious economic relationship," Acheson said in 1962. "This role is about played out."
More than a half century on, Britain will need to find its role once again.