A Theological Murder Mystery Is Rattling Christians in Egypt
What motivated the killing of a bishop inside his own monastery?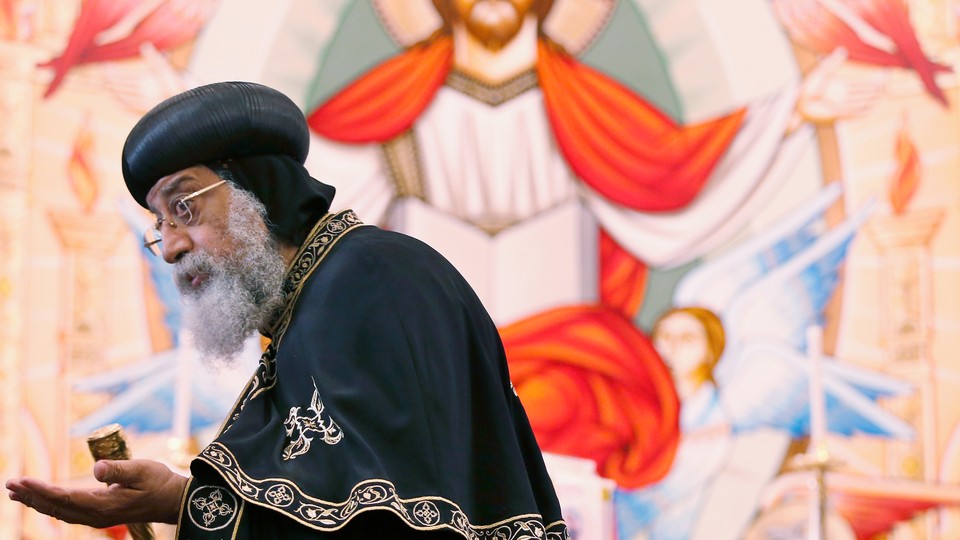 CAIRO—Bishop Epiphanius was found lying in a pool of his own blood, his brain spilling out of his crushed skull. The 64-year-old Coptic abbot was discovered near his cell at the Monastery of St. Macarius, in the desert northwest of Cairo, just before dawn on a July morning. He had been on his way to prayers, but before he could perform that final act of devotion, he was murdered—apparently by his own disciples. He was beaten three times on the head with a metal object, possibly a pipe, according to the general prosecutor's investigation files I obtained.
The ongoing inquiry has captured the imagination of ordinary Egyptians, who are clamoring for answers about who's behind this real-life murder mystery. They are intensely interested not only because the murder took place in a monastery, but because the death of Epiphanius, a learned man with a wispy white beard and a serene smile, represents a new challenge for an already beleaguered Christian community.
Copts, a religious minority in Egypt numbering at least 10 million, make up around one-tenth of the country's population, though reliable figures are hard to find. Adhering to a form of Christianity that began with Saint Mark in the first century, Copts have suffered centuries of religious persecution, including at the hands of militant groups such as Islamic State. Most recently, reports have emerged that at least seven Copts were killed when gunmen opened fire on their bus Friday. In the case of the monastery, however, the violence appears to have come from within.
Two suspects—Wael Saad Tawadros, 34, and Faltaous al-Maqari, 33—were quickly identified by investigators. Wael, who went by the name Isaiah until the Church defrocked him in August, is now in prison. He confessed to the murder under interrogation, but later retracted the confession, saying it was given under duress. Faltaous attempted to take his own life in the days after the bishop's murder, and he remains in a Cairo hospital, battered and bruised.
A third monk, Zenon al-Maqari, 43, who was due to testify about his alleged involvement in the crime, has also been found dead. An autopsy report detected signs of insecticide poisoning; his death was seen as a suicide attempt.
In the case files, prosecutors say—based on Wael's now-retracted confession—that the suspects had planned for Faltaous to serve as Wael's lookout. They met on the morning of the murder, waited for the bishop to head to the dawn mass, pounced on him, and then fled the crime scene to their respective cells.
When I sought out Wael's family in a cramped tailor's shop in Abu Tij, a small commercial hub a few hours' drive south of Cairo, I found his brother Hany Tawadros working amid the monotonous beat of an ornate Singer sewing machine. In his first interview with the media, Hany insisted that his younger brother was innocent and said problems with the investigation have convinced his family that Wael was framed.
"It is like they arranged all the evidence together and tailored a galabeya (tunic) out of it that fit him perfectly so he can appear as the culprit," Hany told me. He slammed the clergy for the way they had cooperated with the authorities and defrocked Wael, which he said cemented the perception that Wael was the murderer. "You can see that the Church worked hand in hand with the authorities to frame him. The monastery's old guard pretty much said, 'Let's focus our energy on the monk who had many issues with the leadership,' so he became their sacrificial lamb."
Wael and the abbot had been locked in a fierce theological dispute, according to Wael's family and lawyer as well as Church officials commenting in local media. The dispute revolved around two men who followed diverging schools of thought that have defined the Church.
One was advocated by Matta al-Maskin, a charismatic figure in the Church who, until his death in 2006, had advocated a more inward-looking monasticism and a return to an era of worship unencumbered by the distractions of modernity. The other was led by Pope Shenouda III, the late spiritual leader who wielded great influence over Egyptian Christians. He had been al-Maskin's disciple, but embarked on making the Church visible in public life until he died in 2012.
Both were in the same monastery during the 1950s. Both were intellectual powerhouses, known as much for their voluminous patristic writings as for the rhetorical barbs they threw at one another. And both attracted hundreds of thousands of Coptic admirers to their respective camps.
"Al-Maskin believed that the Church is a spiritual institution with no political interest and therefore clergy should not participate in political conflict," explained Elizabeth Monier, an expert on Coptic affairs at Cambridge University. "Shenouda, an active Christian figure in the public space, had a different understanding."
Bishop Epiphanius was an ardent follower of al-Maskin. Wael, meanwhile, was ordained by Pope Shenouda. Following Shenouda's death, the discord within the monastery's leadership grew. Wael became more vocal about the monastery's administration of financial and spiritual matters under Epiphanius's direction, according to Church figures who documented the acrimony in memorandums published on the Church's official Facebook page.
The infighting came to a head this February. Epiphanius and the Holy Synod, the Church's organizational body, asked the pope for Wael to be defrocked—the most severe penalty for a disgraced monk—for his failure to obey the monastery's rules. A group of 52 monks signed a petition, a copy of which I examined when Wael's family showed it to me, urging the Coptic pontiff, Pope Tawadros II (no relation to Wael), to keep him on pending good behavior. The Holy Synod defrocked Wael anyway, a few days after the murder of Epiphanius.
The discord that had built up over many decades will likely rear its head again, because the Church is unwilling to be transparent about its deep-seated political problems, according to Ishak Ibrahim, a leading expert on religious affairs with the Egyptian Initiative for Personal Rights. "We are going to see a repeat of a similar incident in the near future if these endemic issues are not swiftly dealt with," he said.
Wael's family alleges the interrogation techniques used on him effectively forced him to confess to the crime. Based on a conversation they had with Wael during a prison visit, they claim that Pope Tawadros II's personal aide was present during the interrogations, oversaw physical and psychological torture there, and repeatedly called the police's lead interrogator to ask if Wael had confessed to the murder. They say Wael was beaten by security personnel and interrogated for over 22 hours straight, before being forcibly disappeared for four days. Enforced disappearances are not uncommon in Egypt, according to Amnesty International. These allegations were listed in a memorandum drawn up by Wael's previous lawyer, who pointed me to a copy. He has asked Egypt's attorney general to fully investigate the claims, but there have not yet been reports to suggest that is being done. The pope's personal aide, as well as the Church spokesman Boulos Halim, did not reply to multiple requests for comment.
During a different prison visit with Wael in early September, the family managed to see him for just under an hour. It was a painful sight for Saad Tawadros, Wael's father, who wept as he spoke to me in the family tailor shop. "He told me when we saw him in the prison waiting room, 'I didn't kill anybody, I didn't do this.' He repeated it insistently," the elderly man said. On November 1, at the most recent hearing in the ongoing trial, Wael once again maintained his innocence.
As for Faltaous, the monk who is still hospitalized following his suicide attempt, his lawyer Michel Halim said he is convinced Faltaous will walk free at some point. Faltaous did not appear to have any ideological disagreement with the bishop and had, in fact, written at least one religious book for which Epiphanius wrote the foreword.
A monk at St. Macarius, who requested anonymity due to the sensitivity of the ongoing investigation, told me in a phone call from the monastery that he had personally witnessed arguments between Wael and the bishop. He added that things have settled down somewhat in the monastery, but that bitterness persists between al-Maskin's and Shenouda's followers.
Pope Tawadros II, who presents himself as a theological centrist rather than advocating for either school of thought, has reacted to the crisis by banning monks from using social media and from leaving their monasteries without permission. The pontiff also visited St. Macarius monastery, where he affirmed that Egyptian Christian monks must preserve their ascetic traditions.
"The pope aimed to deescalate the situation by halting the debates in media and prevent high-profile confrontations. However, this has generated frustration at the popular level," said Monier, the Cambridge professor. "He strives to introduce himself in a neutral position, with every caution taken to avoid any further friction among Church authorities." But, she added, "he has not been successful in this."