Brexit Crisis. Theresa May in Trouble. Rinse. Repeat.
The same factors that have helped her weather past crises could help her again.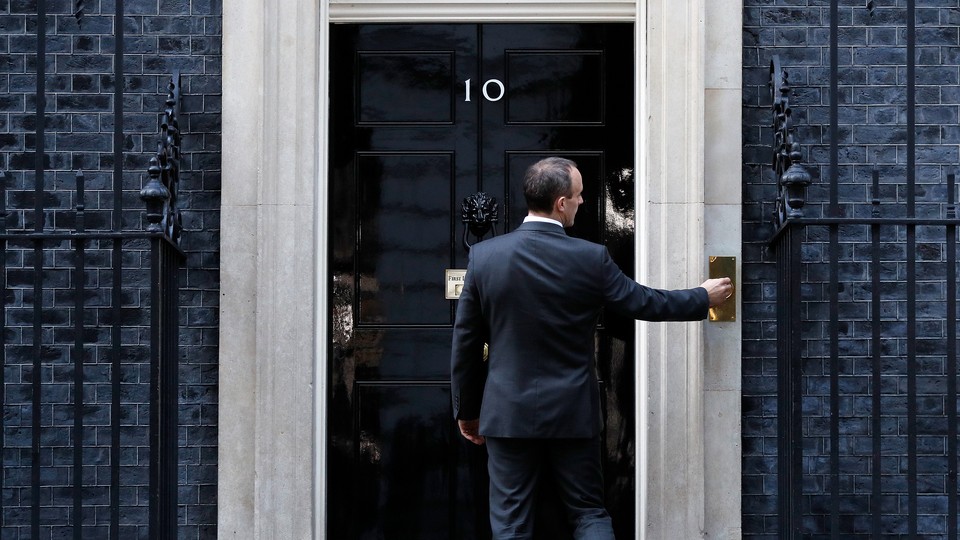 Less than 24 hours after U.K. Prime Minister Theresa May's cabinet backed the text of her provisional Brexit deal, the walkouts began. On Thursday morning, Brexit Secretary Dominic Raab submitted his resignation, noting that he could not "in good conscience" support the government's Brexit deal. Through the course of the day, six others followed.
The string of departures from May's cabinet reaffirm what is already widely known: Her negotiated deal is deeply unpopular among lawmakers both within and outside her ruling Conservative Party. Even with her cabinet's approval, the likelihood of the agreement gaining enough support in Parliament seemed uncertain. Now it seems almost certain that it won't.
Still, May's insistence to carry on and defend her deal demonstrates something that is also widely known: The prime minister is profoundly weak yet surprisingly stable. Though this latest political crisis marks the greatest challenge to her premiership yet, factors that have helped her weather past crises could very well protect her now.
The Successor
May has been under pressure to change course on Brexit before, though even then her fiercest opponents within her party stopped short of calling for her ouster. But as more and more Conservative lawmakers submit letters of no confidence in the prime minister, that calculus has changed.
Under Conservative Party rules, at least 48 Tory lawmakers must submit such letters for a leadership contest to be triggered. If a vote occurs and May loses, a new leader—and therefore prime minister—must be selected. If May wins, however, the rules state there can be no further challenge to her leadership for another year.
Even if there were enough letters to trigger a contest, there isn't yet a clear and viable replacement. Though some names—including former Foreign Secretary Boris Johnson, former Brexit Secretary David Davis, and current Environment Secretary Michael Gove—have been tipped as possible contenders, none has stepped up to challenge May. The lack of a clear successor has protected May in the past, and unless the Conservatives can find someone willing to take the lead at this fractious time, it could protect her again.
The Timing
Beyond there being no clear successor, there's also no indication that the majority of Conservative lawmakers have an appetite for a new leader—especially at this late stage of the Brexit negotiations. (Britain is set to leave the European Union at the end of March, and time is running out.)
"A number of Tories are of the opinion that if they launched a leadership campaign now, it just won't be a very good look in the middle of the crisis that is Brexit," Anand Menon, the director of the London-based U.K. in a Changing Europe think tank, told me.
The Deal
Another factor that May has going for her is, paradoxically, her greatest weakness at present: the negotiated deal. Unlike past political crises, May is armed not only with a deal she knows the EU can accept, but with a negotiating timeline that is shrinking by the day.
In a statement Thursday, European Council President Donald Tusk announced that barring "extraordinary" occurrences, a summit to finalize the deal will take place at the end of the month.* And though a change in Tory leadership would certainly constitute an "extraordinary" shift that could compel both sides to return to the negotiating table, it wouldn't necessarily prompt the EU to offer fundamental changes. Indeed, the bloc has already suggested that the deal on the table is "the best we can do."
But perhaps the greatest factor keeping May in No. 10 Downing Street for now is that she simply refuses to quit. Following an address to the House of Commons on Thursday, May defended her deal for three hours against criticisms from across the chamber, insisting that she believes the deal offers the best path forward for delivering a Brexit that is in the country's national interest.
"There are people who might step down under the sort of pressure she's under, but I think that's very unlikely in her case," Menon said. "The word quit isn't in her vocabulary. She will be dogged; she will fight this out."
---
* This piece originally stated that Tusk was the president of the European Commission. We regret the error.