Continuing the Work of a 'One-Woman WikiLeaks'
A year after Daphne Caruana Galizia's murder in Malta, her family still wants answers—and it wants other reporters to complete her final stories.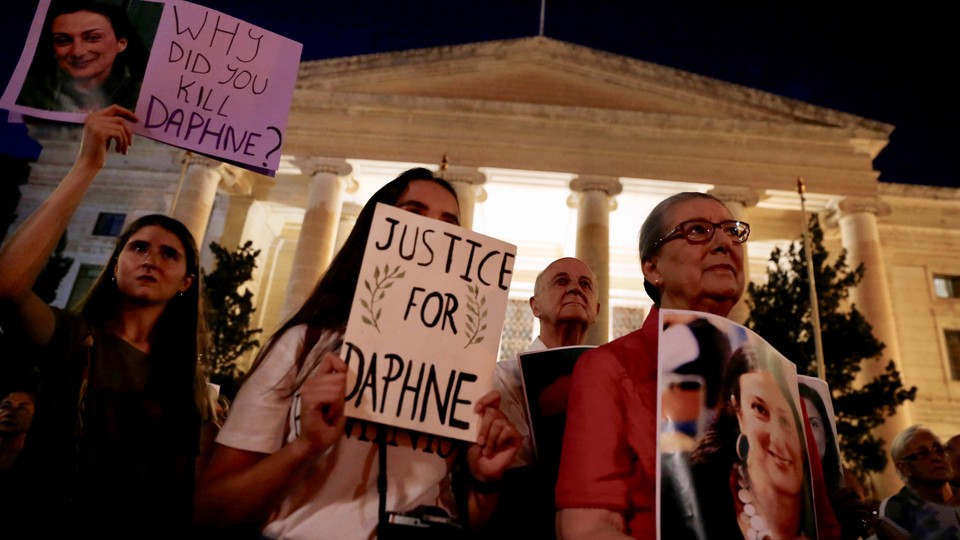 One year ago this month, the best-known and most feared journalist in Malta, Daphne Caruana Galizia, was assassinated by a car bomb as she left her house on the tiny Mediterranean island. Her violent murder, still unsolved, might have stayed the stuff of local news. But on Malta, local news turns out to be global.
Caruana Galizia's murder has always been a test for Malta and for Europe, one that neither has yet passed. The year since her death may have shown the failure—or at least the resistance—of institutions  to solve the crime, reining in corruption, upholding the rule of law, and protecting journalists. But it has also served as a triumph of investigative journalism.
Before her death, Caruana Galizia had been pulling at the threads that connected the powers-that-be on the island—a member of the European Union that has adopted the euro—to all manner of international operations. She feared that her native island had become a money-laundering hub, one that threatened the stability and integrity of Europe itself. The last sentence she wrote on her pithy blog, Running Commentary, was "There are crooks everywhere you look now. The situation is desperate."
Dubbed by Politico as a "one-woman WikiLeaks," Caruana Galizia took to her blog to report, among other things, on allegations of abuse in Malta's program of selling "golden passports" to wealthy foreign investors—most of them Russian—which give the holders access to visa-free travel within Europe and the use of European banks. The program is highly lucrative for the country, and Joseph Muscat, the prime minister of Malta, travels the world promoting it. She also reported allegations that Muscat's wife and two of his advisers were tied to accounts in a Maltese bank whose major client was the first family of Azerbaijan. All have denied any wrongdoing; Caruana Galizia's reporting on the bank spurred Muscat to call a snap election in June 2017, which he won.
After Caruana Galizia's assassination, three men, all with existing criminal records on Malta, were arrested last December, and are facing trial on charges of detonating the bomb that killed her. But her family, along with Members of the European Parliament and international organizations, suspect that the three men were mere foot soldiers. This month, Caruana Galizia's family and some MEPs called on the European Commission to monitor the investigation, fearing Maltese authorities lacked the independence and political will to solve the crime. (The Maltese government refutes these claims.)
After Caruana Galizia's death, one inevitable question arose: What was she working on before she was killed? Here, there has been some progress. With the assistance of Caruana Galizia's family, a small army of investigative reporters from 18 publications around the world, including The Guardian, La Repubblica, and Le Monde, were given access to the dead journalist's files. In April, they began publishing dozens of stories based on Caruana Galizia's leads, as well as reports on the investigation into her assassination. The undertaking has been dubbed The Daphne Project and is coordinated by Forbidden Stories, a consortium that seeks to continue the work of journalists "facing threats, prison or murder." For their efforts, this week Caruana Galizia was posthumously awarded Transparency International's Anti-Corruption award, and last week the founder of Forbidden Stories, the French journalist Laurent Richard, was given the Prix Europa award for European Journalist of the Year.
The Daphne Project found that in the months before Caruana Galizia's death, she had been looking into allegations of corruption in Malta's "golden passports" program. She had also investigated questions surrounding the Maltese bank's ties to the first family of Azerbaijan and allegedly to Prime Minister Muscat and his family and aides (those involved deny all wrongdoing), as well as energy deals between Malta and Azerbaijan, which would control a proposed pipeline connecting the island nation to Sicily—a story for which Caruana Galizia had been leaked more than half a million documents. She had also looked into diesel-fuel smuggling between Malta, Sicily, and Libya.
These stories may all have turned out to be connected. La Repubblica, an Italian daily, has doggedly followed allegations of ties between the suspects in Caruana Galizia's murder (all of whom have a history in Malta's diesel-fuel-smuggling underworld) and Christian Cardona, Malta's current economy minister. In the weeks before the journalist's assassination, Cardona was allegedly spotted having a drink in a remote bar on Malta on two occasions with Alfred Degiorgio, one of the men later charged with detonating the car bomb. This month, La Repubblica reported that the murder investigation had yielded more evidence of ties between Cardona and Degiorgio. (Cardona called La Repubblica's report "baseless conjecture and outright fabrications," the Times of Malta reported.)
It's hard to imagine a government minister—or a government—remaining in power in another European country after such damning allegations, let alone after the murder of a journalist. By contrast: When the Slovakian journalist Ján Kuciak was murdered in March after investigating corruption and Italian organized crime in that country, it caused a government crisis. But in Malta, Muscat's chief of staff and the government's current tourism minister remain in office even after the Panama Papers' reporting—based on a trove of leaked documents from an offshore law firm—found they held offshore accounts, something neither has denied. Muscat has not given an interview to the foreign press since January, when he denied allegations of corruption to the BBC's John Sweeney. A few months later, Sweeney buttonholed Muscat in London and asked him whether he stood by Cardona. Sweeney didn't get an answer, but said he was shoved by the prime minister's bodyguards.
The slow progress in the murder investigation has distressed some European lawmakers and international organizations who have made fact-finding visits to the island. On October 10, five members of the European Parliament sent a letter to top European Commission officials asking them to monitor the investigation into the journalist's assassination on the grounds that Maltese authorities lacked the independence and political will to solve the case. The MEPs outlined 11 damning points, including that politicians "exposed by Daphne Caruana Galizia's reporting to be involved in corruption and money laundering continue to hold public office." (Maltese officials objected, accusing the MEPs of trying "to belittle and discredit the investigation.")
On October 19, Reporters Without Borders called for a public inquiry into the murder investigation. The Parliamentary Assembly of the Council of Europe, Europe's watchdog for human rights and the rule of law, elected a special rapporteur to monitor the investigation—a first for an E.U. member state—but the rapporteur has met with resistance from Maltese lawmakers.
The novelist Margaret Atwood, speaking for PEN International, also expressed her concern about the lack of progress in the investigation. She noted that makeshift memorials to the journalist have been consistently dismantled and that graffiti honoring her has been painted over at the behest of the government. "Those who harassed her in life seek to erase her memory in death. Freedom of expression in Malta is deteriorating swiftly," Atwood wrote. "When a journalist is murdered, all of society suffers."
But there are signs of forward momentum. Last week, Vera Jourová, the European commissioner for justice, warned that Malta's sale of "golden passports" was "dangerous for Europe." Her comments came after months in which European leaders had stood by the Maltese government program. In a new report, the Organization for Economic Cooperation and Development placed Malta and Cyprus on a blacklist, saying its passport sales needed much greater scrutiny. As part of The Daphne Project, Le Monde and France 2 television had knocked on the doors in Malta of addresses listed by some Russian and Chinese holders of Maltese passports and discovered they were little more than mailboxes.
When I asked the Maltese government spokesman Kurt Farrugia about the MEPs' concerns, as well as media reports that the economy minister had been seen with one of the men later arrested for detonating the car bomb that killed Caruana Galizia, he responded with an official statement noting that three men had been arrested. "The government is confident that anyone else responsible will be found and brought to justice," the statement read. "We continue to support all efforts by the police and investigating magistrate to find the truth. Malta is committed to upholding human rights, freedom of speech, the protection of journalists and the rule of law."
Caruana Galizia's family sees things very differently. Matthew, her eldest son and a Pulitzer Prize–winning journalist, and his two brothers have been lobbying European lawmakers and international organizations for months, trying to call attention to problems with the investigation. "My mother was assassinated for reporting on corruption in Malta," Matthew tweeted on the anniversary of her death. "The people who did it are still free. They sit in parliament and on private jets. It is that simple."
Andrew, another of the journalist's sons, offered other observations. "Some people still say my mother's murder has to be a turning point—that if things don't get better, they'll get worse," he wrote me. "What has become clearer now is that thanks to investigative journalism there's a good chance that the whole truth of my mother's murder will come to a very public conclusion even if my country's institutions continue to fail her."
The journalists are doing their job. Will Malta's and Europe's institutions do theirs?