The Strange Case of the Dissident Saudi Journalist Who Disappeared
Jamal Khashoggi hasn't been seen or heard from since Tuesday, when he visited the Saudi consulate in Istanbul.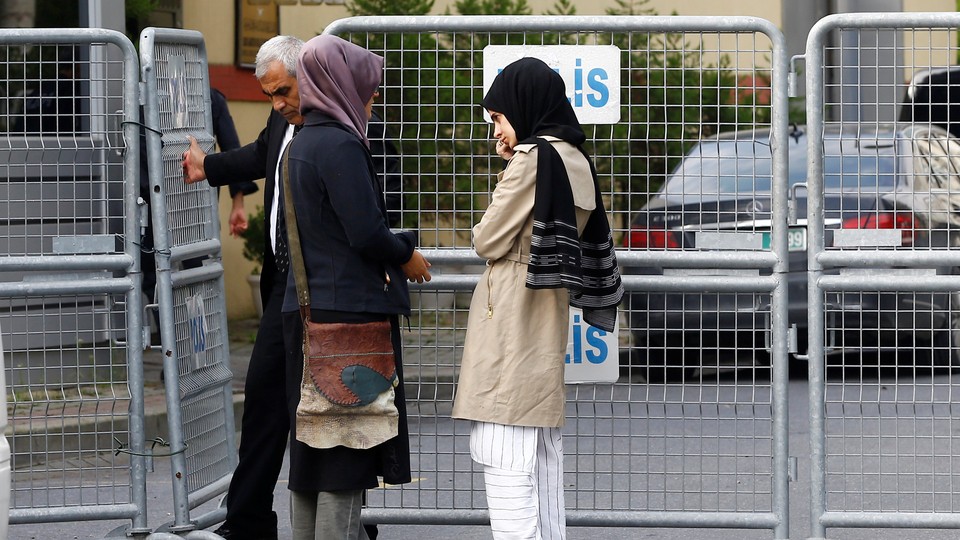 Jamal Khashoggi was under no illusion about what would happen to him if he returned to Saudi Arabia. In a piece last year in The Washington Post about a wave of detentions in the country, the self-exiled Saudi dissident said he too "could face arrest" if he returned home. Yet that's essentially what he did when he visited the Saudi consulate in Istanbul, Turkey, with his fiancée; they were reportedly there to obtain paperwork they needed in order to get married. Khashoggi left his cell phone with her and entered the building at 1:30 p.m. Tuesday. He hasn't been seen or heard from since. "I have been waiting in front of the Saudi consulate for nearly 12 hours," his fiancée told The Wall Street Journal Tuesday. "We were trying to marry."
Before he became known to the West as a columnist for the Post, a prolific Twitter user with more than a million followers, and a staunch critic of the Saudi system, Khashoggi, who split his time living in Washington, London, and Istanbul, was a prominent journalist inside the kingdom as well as a consummate insider. As a young man, he wrote about the anti-Soviet mujahideen fighting in Afghanistan; one in particular, Osama bin Laden, was the subject of several interviews by Khashoggi before the al-Qaeda leader became a figure of infamy in the West.
Khashoggi's apparent detention in Istanbul shouldn't have come as a surprise. In recent months, Saudi Arabia has sought to present a fresh face to the world in the form of its crown prince, Mohammed bin Salman, who has heralded a modern vision for his country. He has announced significant reforms, including permitting women in the conservative kingdom to drive, and embarked on what Saudi officials say is a massive anti-corruption campaign that has ensnared some of the kingdom's most influential citizens, including prominent members of the royal family. At the same time, however, Saudi Arabia has also cracked down on dissidents, arresting dozens of people, including prominent women's-rights activists, who, it says, are acting at the behest of other countries, and silencing others for voicing critical views.
What's puzzling is why Khashoggi, 59, didn't fall afoul of Saudi authorities sooner. After all, before he left the kingdom in September 2017, he had publicly criticized the Saudi political system and had been fired twice as the editor of an influential newspaper: the first time, in 2003, for allegedly criticizing a 14th-century Islamic theologian, and in 2010 for allowing the publication of a column critical of Salafi Islam. He had also given interviews in which he called Saudi Arabia's absolute monarchy "obsolete," and said that "democracy is the only solution."
In the intervening years, Khashoggi served as media adviser to Prince Turki al-Faisal, the Saudi ambassador to Britain and then the United States. "Perhaps it seems odd to be fired by the government and then serve it abroad," he wrote in the Post. "Yet that is truly the Saudi paradox. In the starkest terms, Saudi Arabia is trying to moderate the extreme viewpoints of both liberal reformers and conservative clerics."
That view doesn't quite explain, however, all that is happening in what is arguably the world's most important Muslim country.
The BBC reported last year that since 2015, three Saudi princes who were critical of the government and living in Europe have all disappeared. They are believed to have been abducted and taken back to Saudi Arabia. Late last year, some of the richest men in the kingdom were arrested, detained in luxury, and eventually released shorn of some of their vast fortunes. Prosecutors insisted that this was a demonstration of the Saudi justice system in action, and that the arrests were part of a crackdown on corruption.
Finally, last week, Reuters published an extensive investigation into the dramatic decline in fortunes of the Saudi Binladin group, for decades the royal family's favored building contractor. The crown prince, who ascended to that title in July 2017, is credited with—or blamed for, depending on whom you ask—these actions. In an interview last year, Khashoggi said the crown prince was "creating an environment of intimidation and fear," and warned that Saudi Arabia, an absolute monarchy since its founding in 1932, was moving toward "one-man rule."
As for Khashoggi's current whereabouts: A spokesman for the Turkish president said Wednesday that the Saudi dissident "is still at the consulate as of now." A Saudi official told The Wall Street Journal that Khashoggi "visited the consulate to request paperwork related to his marital status and exited shortly thereafter. He is not in the consulate nor in Saudi custody."
The issue is unlikely to improve the already strained relations between Turkey and Saudi Arabia, both countries with muscular foreign policies. There are tensions over Ankara's support for Qatar, the Arab country being blockaded by a Saudi-led Arab bloc of nations for its alleged support of terrorist groups and other supposed infractions, as well as Turkey's sympathetic view of the Muslim Brotherhood, which many Arab states regard as a terrorist organization. Khashoggi's disappearance will likely exacerbate this rivalry. Indeed, news reports Thursday said that the Turkish foreign ministry summoned the Saudi ambassador over the case.
Security footage viewed by Turkish police officials reportedly did not show the dissident leaving the consulate. But The New York Times reported that Saudi diplomatic cars entered and exited the compound.