Khashoggi's Murder Heralds a New Era of Impunity
The ugly geopolitics in the wake of the Saudi journalist's death point to a world in which impunity reigns.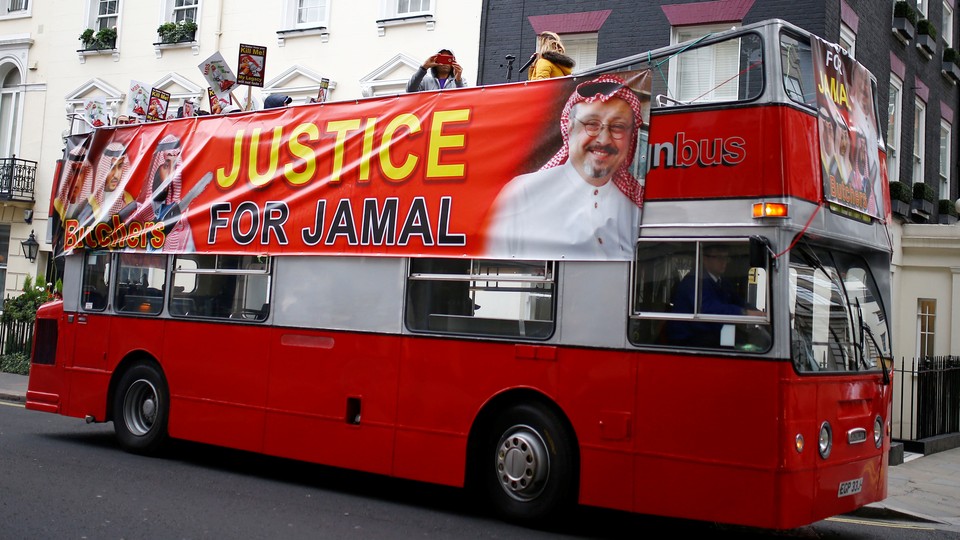 The head of the United Nations delivered a dark and, it turns out, prophetic warning several weeks ago. As power diffuses from the United States, the world is devolving into chaos. "Impunity and unpredictability" are becoming "the name of the game," António Guterres told me.
At the time, the UN secretary-general had the kaleidoscopic and catastrophic Syrian war top of mind.
Now we have another stark case study: the death of Jamal Khashoggi, which the Saudi Arabian government has finally acknowledged, following one unbelievable obfuscation after another, as the premeditated slaying of a Saudi journalist who dared to critique the monarchy and press for greater freedoms.
The brazen murder of Khashoggi, by apparent agents of the Saudi state and allegedly on the orders of senior Saudi officials, is a test of just how far along we are in this emerging era of impunity.
In a world in which more nationalistic, narcissistic countries are locked in competition, human rights and the rule of law be damned, it is quite possible that those responsible for the journalist's death will escape serious consequences—that Khashoggi will be the victim not just of his executioners, but also of a more cutthroat, coldhearted world. There's been a lot of talk by U.S., European, Turkish, and Saudi officials about "accountability" in recent days but, thus far, comparatively little holding to account of those who orchestrated the hit at the Saudi consulate in Istanbul this month.
In the United States, the Trump administration has announced that it will revoke the visas of the perpetrators it identifies and consider sanctions, which Republican and Democratic lawmakers have been calling for in addition to other, more severe punishments. It's a preliminary response that's tougher than that of other world powers like China and Russia, and roughly in step with the actual actions (as opposed to the outraged words) of Washington's European allies.
But the president, who recently proclaimed himself a "nationalist" rather than a "globalist … that wants the globe to do well," has devoted much of his public commentary on the incident to the hard limits of U.S. retaliation.
Asked what price the Saudis should pay, Donald Trump has pointed out that Khashoggi, a contributor to The Washington Post, was a permanent resident of the United States rather than a citizen and that he vanished in Turkey rather than in the U.S. The implication was that snuffing out non-American journalists on foreign soil merits merely a discounted form of U.S. retribution. The president, after all, isn't some globalist.
Trump has also argued passionately against the United States halting billions of dollars in weapons sales to Saudi Arabia, lest rivals like China, Russia, and France snatch away the contracts and enrich their economy at the American people's expense.
"It's a very competitive market," the president explained this week, days after announcing his intention to withdraw from a Cold War–era arms-control treaty, in part to prevent China and Russia from outcompeting the United States on nuclear weapons. "I know that from a certain standpoint you could also say, 'Well, it doesn't matter,' because [what happened to Khashoggi] is a terrible thing. But we would be really hurting … our companies; we'd be hurting our jobs."
And Trump has signaled that the U.S.-Saudi alliance must survive this ordeal even though Khashoggi did not, in part because the Saudis are essential partners in clamping down on Iran's nuclear pursuits, support for militant groups, and expanding influence in the Middle East.
"You look at what [the Iranians have] done to people—vicious, horrible. And that's no excuse for what happened with Saudi Arabia," he said, clinically describing the extrajudicial killing of a human being as "a very bad original concept" that "was carried out poorly" and covered up even worse. "It's a nasty part of the world," the president observed.
The Russian government, alleged to have poisoned a former Russian spy with a weapons-grade nerve agent in the United Kingdom earlier this year, and the Chinese government, which just last month disappeared a Chinese leader of the international police organization Interpol, find themselves on familiar territory with the Khashoggi affair. Both have remained conspicuously silent about the incident, in an apparent effort to avoid disrupting blossoming relations with the United States' longtime strategic ally in the Middle East.
King Salman last year became the first Saudi monarch to visit Russia, striking billions of dollars worth of deals. This week, Vladimir Putin dispatched a delegation to an investment conference in Riyadh that some Western officials and corporate executives boycotted over Khashoggi's death. (U.S. Treasury Secretary Steven Mnuchin pulled out of the conference but still met with top Saudi officials to discuss their joint work in countering Iran and terrorist groups.)
"We need to separate" the "terrible tragedy" involving Khashoggi from Saudi leaders' promising economic reforms, argued Kirill Dmitriev, the head of Russia's sovereign-wealth fund, as he announced that Saudi Arabia might soon invest $5 billion in a Russian natural-gas project in the Arctic. It's "impossible to ignore the [Saudi] economy," Dmitriev added. He seemed more comfortable ignoring the speculation about what befell Khashoggi—"until the investigation is finished."
China, which also sent a delegation to the conference and which is Saudi Arabia's largest trading partner, stated through a Foreign Ministry spokesman more than a week ago that it was aware of investigations into Khashoggi's disappearance. Beijing doesn't appear to have issued another statement since.
Leaders in Turkey and Europe have been much more vocal in holding Saudi Arabia to account for its actions. Here too, however, geopolitics has shaped and so far blunted the responses.
The Turkish government, for instance, has gradually and selectively disclosed its intelligence findings about precisely how Khashoggi died. The approach appears designed to undermine Saudi Arabia's de facto ruler, Crown Prince Mohammed bin Salman, who is hostile to Turkey's regional ally Qatar and the Turkish-backed Muslim Brotherhood, among other core elements of Turkish foreign policy. At the same time, it seems calibrated to not destroy broader relations with Saudi Arabia, which Turkey can't afford to alienate.
For their part, Britain, France, and Germany have demanded that the Saudi government be more forthcoming about Khashoggi's killing and taken to task for it. But while Berlin has suspended future arms sales to the kingdom, Paris and London—which send substantially more military equipment to the Saudis than Germany does—have yet to go that far. (The European Parliament on Thursday passed a resolution advocating for sanctions and a European Union–wide arms embargo against Saudi Arabia, but the vote is not binding on the bloc's members.)
And so Saudi Arabia's crown prince, suspected of being the man ultimately behind Khashoggi's demise, presses on. He looks Khashoggi's son straight in the eye as he shakes his hand in sympathy. He jokes onstage at his investment conference about that time last year when he kidnapped the Lebanese prime minister—with the very same Lebanese prime minister sitting right beside him.
Impunity. It's the name of the game.