The Irony of Turkey's Crusade for a Missing Journalist
President Recep Tayyip Erdoğan has strangled the free press, but his country has emerged as the source of grisly information about Jamal Khashoggi's disappearance.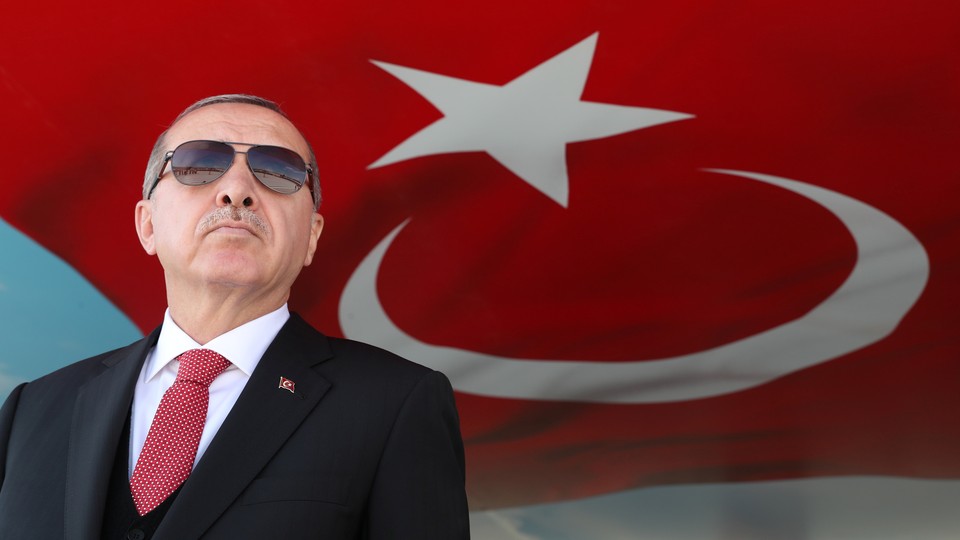 On October 2, Jamal Khashoggi was seen entering the Saudi consulate in Istanbul, Turkey. The Saudi journalist and dissident hasn't been seen since then. But the grisly details of what happened to the columnist for The Washington Post have come mostly from unnamed Turkish security officials, leaving few doubts about Khashoggi's fate.
The story of Khashoggi's disappearance has gripped Western capitals and the media, not to mention Saudi Arabia's many allies and adversaries in these places. One note of irony in this story is that details about the missing journalist have come from Turkey, which under President Recep Tayyip Erdoğan has crushed dissent and dismantled the free press, jailing no fewer than 27 journalists, a number matched only by Egypt.
Ankara's response to Khashoggi's disappearance can be broadly understood in two ways: as a manifestation of its fraught relationship with the Arab world over Erdoğan's support of the Muslim Brotherhood and its allies, and as a sign of the Turkish president's deference to the Saudi royal family, the custodians of Islam's holiest sites.
To understand Erdoğan's relationship with the Arab world, you must first understand his Justice and Development Party (AKP), a movement that combines elements of the social conservatism of Islam with conservative politics. It believes that only those parties in Muslim countries that also subscribe to such views are authentic, Soner Cagaptay, the director of the Turkish Research Program at the Washington Institute for Near East Policy, told me. Other political ideologies are seen as foreign. This explains Erdoğan's vocal support of the Muslim Brotherhood and its allied parties across the region when the Arab Spring began in 2010. "He sees only them as authentic, native, and everything else as imported," said Cagaptay, who is also the author of The New Sultan: Erdoğan and the Crisis of Modern Turkey. "So Turkey played its hand wrong in the Arab uprising, and when the Muslim Brotherhood parties lost, it lost."
As a result, the countries in the region see Erdoğan, along with Qatar, as the main supporter of the Muslim Brotherhood. (Not coincidentally, Qatar is being blockaded by a Saudi-led alliance for its alleged support of terrorist groups. Turkey and Iran have been its main allies in the crisis.) Erdoğan, too, sees Turkey as a supporter of the Brotherhood, Cagaptay said. As a result, Turkey has become one of the safest places in the world for members of the Muslim Brotherhood and other dissidents from Egypt to the Gulf to Syria. But Khashoggi's disappearance and, if Turkish leaks are to be believed, murder at the hands of a Saudi death squad inside the consulate are chilling developments.
"This must have sent shivers down the spines of dissidents from Egypt and from Gulf countries in Turkey because it [suggests] that they're not really safe in Turkey," Cagaptay said. "And that's why I think Erdoğan has to find a way that whatever path the Saudis take to dig out of this, it becomes very clear that it won't happen again, it won't be repeated, because that will hugely undermine Erdoğan's design to maintain a lever against Egypt and GCC-bloc countries through supporting the opposition, predominantly by hosting Muslim Brotherhood dissidents." (GCC refers to the Gulf Cooperation Council, a regional bloc of Arab countries.)
Erdoğan's ties with the Arab world may be tense, but his approach to Saudi Arabia is different. The Turkish president is a devout conservative Sunni Muslim and respects Saudi King Salman as the custodian of Islam's two holy mosques. Revelations about the Khashoggi case are marked not only by their anonymity, but also by the fact that no senior Turkish officials have gone on the record about the case, and Erdoğan himself has mostly been quiet, perhaps hoping that a neat solution emerges that allows everyone to save face. We may be nearly there. President Donald Trump dispatched Mike Pompeo, the U.S. secretary of state, to Saudi Arabia and "other places if necessary" on Monday to resolve the impasse over Khashoggi's fate.
"We are going to leave nothing uncovered. With that being said, the king firmly denies any knowledge of it," Trump told reporters Monday. "He didn't really know, maybe. I don't want to get into his mind, but it sounded to me like maybe it could have been rogue killers. Who knows? We're going to try get to the bottom of it very soon, but his was a flat denial. "
Erdoğan is still hoping that the Saudis take the "exit ramp" and blame "rogue elements" or the deep state, and throw "someone important under the bus" for Khashoggi's alleged murder, Cagaptay told me. The Turkish president does not want a rift with the Saudis because of his deference for the Saudi king, as well as because it will almost certainly rupture the already brittle Turkish economy.
"So I wouldn't be surprised … if this 'rogue elements' rhetoric sticks and Erdoğan embraces it, as well," Cagaptay said. "I would also not be surprised if, in the aftermath of it, the Saudis help Turkey financially and its economy."