The Case of an American Pastor Caught in a Geopolitical Fight
Andrew Brunson became a focal point for U.S.-Turkey tensions—but his release won't resolve them.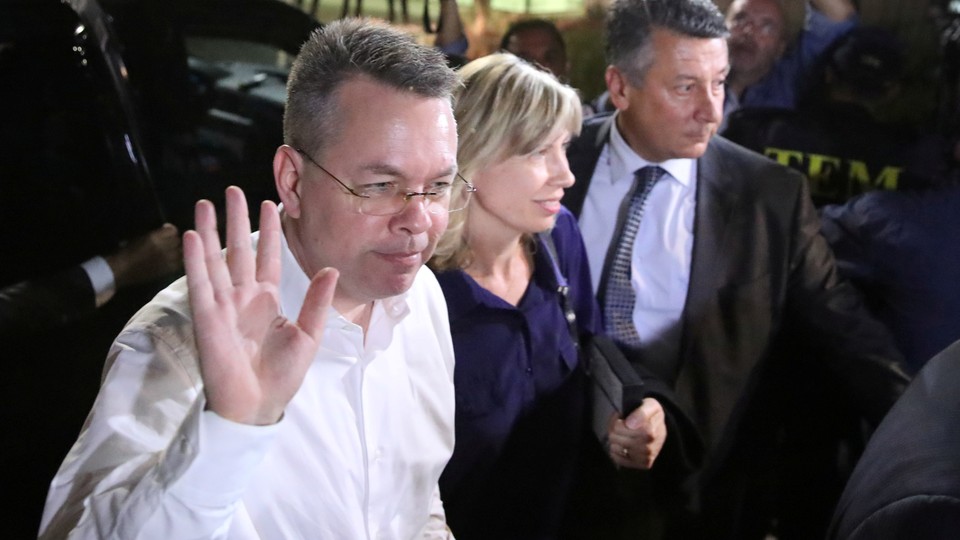 After two years in Turkish custody, the American pastor Andrew Brunson was released following a hearing on Friday. A judge lifted the travel ban against Brunson, freeing him from two months of house arrest. Prior to that, he had served more than 22 months in jail on terrorism and espionage-related charges in connection with the failed coup against President Recep Tayyip Erdoğan in 2016. He has denied all the charges. Following Friday's hearing, he boarded a plane bound for Germany en route to the United States.
Brunson's case had become a major point of contention between U.S. and Turkish officials, as observers deemed his prolonged detention based on dubious evidence a form of "hostage diplomacy" to be used as leverage in bilateral negotiations. The breakthrough followed months of diplomatic pressure from both President Donald Trump and members of Congress, who have been working for Brunson's release since he was swept up in the mass purges that followed the failed coup.
The development is a rare step toward repairing U.S.-Turkey relations, which have become badly frayed in recent years. But it remains unlikely to solve the deeper problems between the longtime NATO allies, which have multiplied due to conflicting strategic interests in Syria and the greater Middle East.
Throughout Brunson's ordeal, Erdoğan maintained that his case was not politically motivated and would be resolved in the courts, which he could not legally influence. Yet following several failed attempts to secure the pastor's release over the summer, lawmakers in Washington grew impatient, imposing financial sanctions on the Turkish justice minister and interior minister in August. The move sent the already ailing Turkish markets into a downward spiral.
A few days later, Trump took to Twitter to announce that the United States would double tariffs on steel and aluminum imports from Turkey. Its currency, the lira, instantly plummeted against the U.S. dollar, losing roughly 40 percent of its value since the beginning of the year. All this destabilized Turkey's economy, which relies heavily on foreign-denominated debt, and Turkish markets have been hit by inflation rates not seen since the early 2000s, muddying Erdoğan's image as an economic reformer.
Turkish officials said Brunson's release was not the result of such economic pressure. While he had received a jail sentence of more than three years, his punishment was reduced due to his good behavior, with consideration given to time already served. "The Republic of Turkey does not receive instruction from any body, authority, office or person. We make our own rules and make our own decisions that reflect our will," Fahrettin Altun, a spokesperson for the presidency, said in a statement released on Friday.
Some Turkey analysts viewed Brunson's release as a victory for Trump and his more confrontational approach to diplomacy. "Turkish authorities were told that [Trump] had other sanctions on his desk, ready to sign in case Brunson was not released after this hearing," Ozgur Unluhisarcikli, the director of the German Marshall Fund in Ankara, told me. He also noted that Brunson's release comes just ahead of the November midterm elections. "The president, through his actions … made the [Brunson case] his own legislative fight and he won it. This will mobilize his evangelical base in the upcoming midterm elections." On Friday, Trump said Brunson would likely visit the White House after he lands in Washington on Saturday.
While the end of Brunson's detention may smooth some of the tensions in the U.S.-Turkey relationship, numerous problems remain. (There has been much speculation, for instance, over how Brunson's release was attained and whether American and Turkish officials made a deal behind closed doors. "I'm sure there is a tit for tat, but I don't know what it is," Unluhisarcikli said.)
High on the list of unresolved Turkish concerns is the fate of Mehmet Hakan Atilla, a Turkish banker who received a 32-month prison sentence in a Manhattan court in May for violating U.S. sanctions on Iran. Erdoğan has sought to bring him back to Turkey while also trying to prevent additional U.S. sanctions on the national bank Atilla oversaw. Few details of these negotiations have been made public, but the lack of U.S. cooperation thus far has not sat well with Ankara.
Another high-profile figure entangled in U.S.-Turkey disputes is Fethullah Gulen, the Turkish cleric residing in Pennsylvania whom Erdoğan accuses of fomenting the failed 2016 coup. U.S. officials have said the Turkish government has yet to provide sufficient evidence of Gulen's involvement in the plot and has so far refrained from extraditing him, incurring Erdoğan's ire.
Meanwhile, about 20 Turkish American citizens are currently detained in Turkey for alleged links to the coup attempt. They include the former NASA scientist Serkan Golge, as well as three Turkish employees of American consular missions in Turkey. Brunson became the most prominent American in Turkish detention, due in large part to Trump's and Vice President Mike Pence's efforts to raise awareness of his case.
Unluhisarcikli feared that Brunson's release could diminish concern for the remaining cases. Congress, he said, would likely stop pursuing additional sanctions on Turkey for now, despite a myriad of unresolved issues, including Turkey's possible purchase of Russian-made S-400 missiles, which could compromise NATO defense systems.
For Turkey, likely the most significant point of discord is Washington's support for Kurdish-led forces in northern Syria in the fight against the Islamic State. This will probably remain unresolved for the foreseeable future: Ankara has been fighting a decades-long insurgency against Kurdish insurgents that it views as inseparable from the Kurds fighting ISIS. In Ankara's eyes, arming such groups along its southern border amounts to a national-security threat.
The impact of long-term collaboration with Kurdish militias "was always underestimated in the U.S., or kind of set aside as an unimportant issue in U.S.-Turkey relations," Nate Schenkkan, the director for special research at Freedom House, a U.S.-based human-rights group, told me. "It was presented to the Turks as, well, they'll just have to deal with it." Until Washington pulls its forces from northern Syria, serious discord will continue in U.S.-Turkey relations, Schenkkan said. The Brunson case may remove a hurdle to future negotiations, but trust will not be restored until U.S. officials handle major concerns in Ankara with more care.
"It's always important to talk about what policy is happening at the moment and what the political dynamics are at the moment, but I do think this is indicative and based on a much deeper divergence between the two countries," Schenkkan said.