From 'Rogue Killers' to 'Worst Cover-Up': Trump's Evolving Rhetoric on Khashoggi
President Trump was initially reluctant to link the death of Jamal Khashoggi to the Saudi government. That now appears to be changing.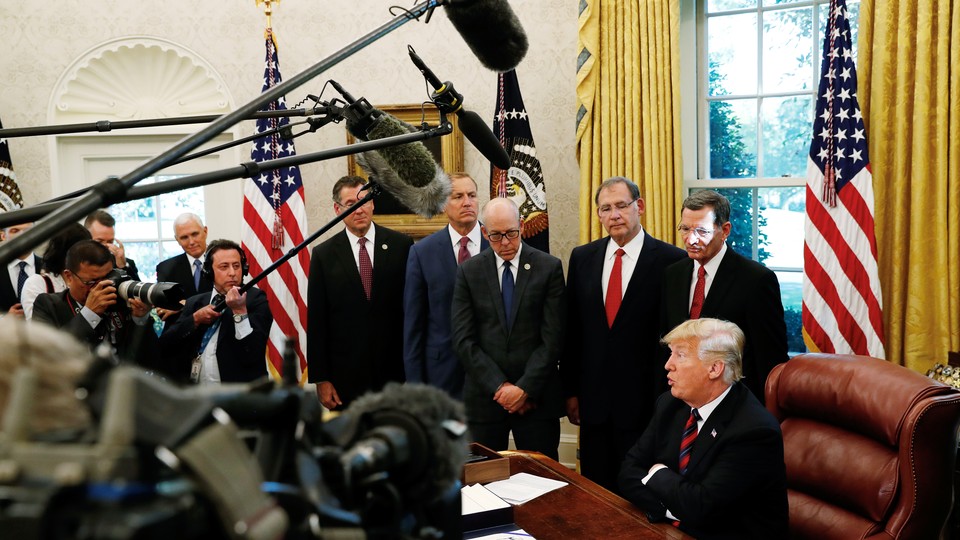 In the nearly three weeks since Jamal Khashoggi walked into a Saudi consulate in Istanbul and never came out, the story of what happened to him has emerged only slowly, through leaks and rumor, accusations and denials.
By the time the Saudis took responsibility over the weekend, many had grown convinced that he was dead—but exactly how he died remained unclear and contested between the Saudis, who claimed the death was an accident, and the Turks, who accused them of a deliberate assassination.
President Donald Trump and his administration have consistently said they will wait for the results of any investigation, and for details to emerge. Still, the president's characterization of the incident has changed in recent days.
October 15: "Rogue Killers"
Nearly two weeks after Khashoggi's disappearance, with the Saudis continuing to deny involvement, a bipartisan clamor was growing in Washington for Saudi Arabia to face consequences.
A group of lawmakers from both parties had called for sanctions; Republican Senator Marco Rubio had gone on Meet the Press to say that arms sales could be at stake.
On October 15, fresh off a phone call with Saudi Arabia's King Salman, Trump told reporters that the king had denied "any knowledge of" what had happened to Khashoggi, who the president emphasized was a Saudi citizen. "It sounded to me like maybe these could have been rogue killers. Who knows?" He dispatched his secretary of state, Mike Pompeo, to the kingdom.
"We're going to try getting to the bottom of it very soon, but his was a flat denial," the president said.
October 17: "Here We Go Again"
Soon after Senator Lindsey Graham suggested Washington's relationship with Saudi Arabia should be reevaluated, the Associated Press asked the president in an interview whether he found the kingdom's monarch and crown prince to be trustworthy.
Trump repeated his insistence that his administration needed to wait for more information before reaching a judgment. But then he drew a connection between the Khashoggi case and the rancorous Supreme Court confirmation for Justice Brett Kavanaugh.
"You know, here we go again with, you know, you're guilty until proven innocent," he said. "I don't like that. We just went through that with Justice Kavanaugh. And he was innocent all the way."
October 18: "Bad, Bad Stuff"
With Mike Pompeo back from Riyadh in Washington, where he briefed the president, a reporter asked Trump whether he thought Khashoggi was dead.
The president responded, "It certainly looks that way to me." As for consequences: "It will have to be very severe. I mean, it's bad, bad stuff."
Pompeo, who during his trip had been photographed smiling with Crown Prince Mohammed bin Salman, told reporters outside the White House that he had asked Trump to give the Saudis a few more days to complete a promised investigation. The crown prince has been accused of direct involvement in the plot, but denies any such link.
October 19: A Credible Explanation
Seventeen days after Khashoggi's disappearance, the Saudi Foreign Ministry tweeted a statement that the journalist had been killed in a fistfight there, and that it had fired five officials and arrested 18 other people.
Asked by reporters whether he considered the explanation credible, Trump said "I do," but then seemed to backtrack: "I mean, it's—again, it's early. We haven't finished our review or investigation."
He declared the Saudi arrests a "good first step" and the kingdom a "great ally," but said that "what happened is unacceptable."
October 23: "Worst Cover-Up Ever"
Turkish President Recep Tayyip Erdogan started the day giving a scathing speech saying the Saudis had planned Khashoggi's "savage" murder, contra Saudi claims that it was an accident. Hours later, photos circulated of Khashoggi's sons visiting the crown prince.
By the time he was asked about the case at the White House Tuesday afternoon, Trump appeared to have lost his patience.
"They had a very bad original concept, it was carried out poorly, and the cover-up was the worst in the history of cover-ups," Trump told reporters. "They had the worst cover-up ever."
He urged Congress to find a bipartisan solution, but once again discouraged stopping arms sales. "We do that, we're just hurting ourselves," he said.