The Man Who Thinks He Can Save Brexit
With Britain's Conservatives looking fragile and disunited, a plausible successor to Theresa May waits offstage—and it isn't Boris Johnson.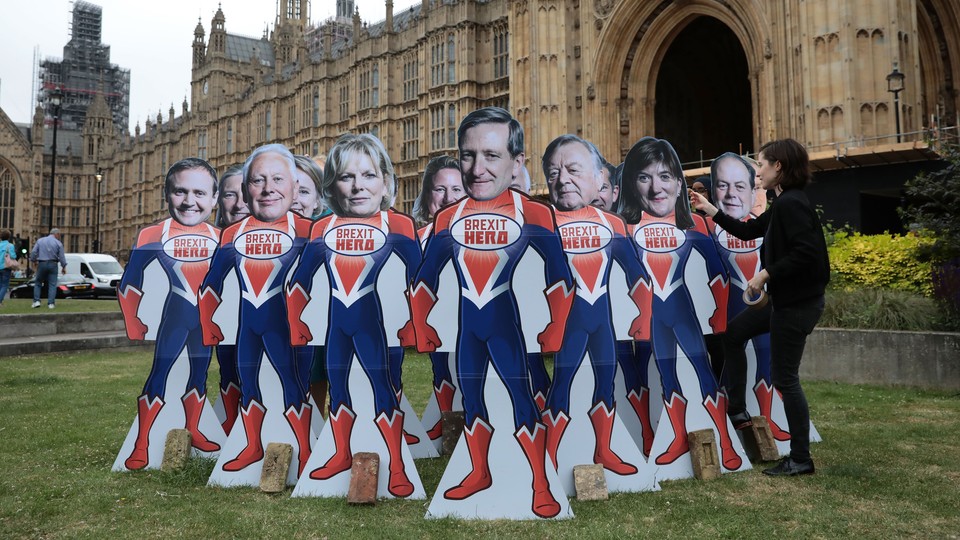 Theresa May managed to survive. Boris Johnson delivered his usual bombast. But at Britain's Conservative Party conference this week, both Tory giants came across as almost doomed figures: Neither looked like they had a real long-term future in ruling the United Kingdom.
Beyond the prime minister's loyalists and the hardest of Brexiteers, talk of tomorrow was elsewhere. Among members of parliament at the conference in Birmingham opposed to breaking all ties with the European Union, there were hopes for a future leader, unburdened by baggage from the 2016 Brexit campaign, should May fall. Only four in 10 Tory voters support the prime minister in her wish to stay on to fight in the next general election, according to a recent Ipsos MORI survey.
In a crisis, one possible way forward for the business-minded MPs who backed "Remain" would be someone like Tom Tugendhat, 45, the chair of the foreign-affairs select committee of the House of Commons. Many MPs I spoke to were surprisingly open and enthusiastic about his "leadership potential."
One reason for this: MPs who voted for the U.K. to remain in the EU see Brexit Britain as adrift in the world and are worried about its foreign policy. Tugendhat, who served in both Iraq and Afghanistan, his supporters told me, has the stature as a multilingual former military-intelligence officer—fluent in French, Italian, and Arabic—and as a foreign-affairs expert to set it right. Europe is in the family for Tugendhat: the son of a retired high-court judge and his French wife, he is a dual British French citizen. His wife is a member of France's supreme court for administration and his father-in-law is a former senior French diplomat.
Supporters in parliament see him as offering a credible plan to salvage Britain's stricken international position. Tugendhat revealed the most eye-catching details of that plan to The Atlantic for the first time—in the corner of a Pizza Express restaurant right as Johnson, who has emerged as May's key rival, was trying to fatally wound her with a speech in the main hall. With the Conservative Party conference showcasing a fragile government, Tugendhat could quickly ascend to the cabinet should May suddenly fall, making his plan a serious proposition. Were it to be implemented, it would represent a serious shake-up in how British foreign policy is run.
Tugendhat is a former Remainer who now supports "some variant" of May's plan for Brexit—which basically entails the U.K. remaining semi-attached to Europe's single market. But he laments that Britain "lacks the foreign-policy tools to make leaving the European Union a success." So he advocates a dramatic centralization of power into the hands of a foreign-affairs "super ministry." And he calls for Prince Harry to be installed as the ambassador to Washington, D.C., to "cut through" American politics for what may be a desperately needed trade deal.
"This is the redesign we need to make global Britain work," he told me.
Since he was elected in 2015, the ambitious MP in the London commuter belt has risen dramatically in parliament. He has evoked comparisons to David Cameron, who was elected leader after a mere four years in parliament. Formerly Remain Tories portray him as a standard bearer. "He is seen as having leadership potential," said Dominic Grieve, a Conservative MP who has led calls for a softer Brexit. Tugendhat and Grieve were two of 15 MPs branded "Brexit mutineers" by the ardently anti-European newspaper The Telegraph.
And as the chair of the foreign-affairs select committee of the House of Commons, Tugendhat has positioned himself as one of the most respected U.K. lawmakers on foreign policy. "Tom is definitely one of the most influential political figures on foreign affairs," said Mike Gapes, an opposition Labour MP from the committee.
Conservatives who see Cameron's government as having been derailed look at Tugendhat as a potential liberal reviver. Daniel Korski, a former special adviser to Cameron, described Tugendhat as the "leading light" of a "new generation of British soldier-politicians" promoted by his former boss before Cameron's abrupt ejection from office in 2016. "If they play their cards right," Korski said, "they could transform the fortunes of a crisis-stricken and Brexit-obsessed Tory front bench in the not-too-distant future."
Meanwhile, betting markets in the U.K. give him 25-to-1 odds to succeed May as the next permanent Conservative leader. "For my generation of MPs, who see themselves as the children of David Cameron and Ruth Davidson [the moderate leader of the Scottish Conservative Party], we see Tom as the kind of figure we need to win a majority again," said Paul Masterton, a Conservative MP and fellow so-called Brexit mutineer.
Tugendhat, however, also has fans among the Brexiteers. "He has the ability to bring formerly Remain and Brexit MPs together," said Anne-Marie Trevelyan, a Conservative MP and ardent Brexiteer.
The "super ministry" Tugendhat wants would bring all the foreign activities of the United Kingdom under the purview of the foreign secretary—including the Department for International Trade, the Department for International Development, the Department for Exiting the European Union, and the Ministry of Defense. This vision is praised by Brexiteer MPs such as Trevelyan.
Tugendhat said this isn't just about rearranging Britain's bureaucracy. The existing civil servants and government machinery would stay put. "Simply what it means is the strategic direction of all Britain's activities abroad are held by a single department," he said. "So that when your ministry—aid, trade, defense—acts, it goes through a single strategic authority."
This would dramatically centralize power in the hands of the foreign secretary, turning the office holder into a supremo with the say over the U.K.'s diplomats, trade negotiators, aid projects, and soldiers. The role of Britain's foreign secretaries is today a shadow of their former self, with aid, trade, and European affairs hived off to other ministries.
"Restoring the role of the foreign secretary like this would fix one of our great failings," said Peter Ricketts, the former national-security adviser and permanent secretary to the Foreign and Commonwealth Office. "The British government has been really bad at strategy, with each government department running its own foreign relationship and its own foreign units."
This would would reverse a decades-long trend that has seen Europe's foreign ministers lose influence to finance ministers and interior ministers. It would also change the balance of power in the British cabinet. "You would have to go back to Anthony Eden after the war to find a foreign secretary who was coordinating all foreign policy," Ricketts said, referring to the postwar prime minister who served as Winston Churchill's foreign secretary.
One of the future projects Tugendhat wants Britain to work on is achieving "close to free movement" with Canada, Australia, and New Zealand. But his plan would crucially break convention by making the minister of defense and the armed forces junior to diplomacy.
Tugendhat argues that this is because "most of what the armed forces do abroad is influence. This is hard-nosed diplomacy." And the U.K. needs to "reconceptualize defense" more broadly, he said, especially the threat posed by Vladimir Putin. The Kremlin threat is not "that Russian tanks land at Dover," he said, but that through "shady money" Western democracies are "ripped apart by corruption."
As for why he'd send Prince Harry to D.C., it's part of Tugendhat's plan to send higher-profile ambassadors to the world's major powers, including, perhaps, David Cameron in Beijing. In Harry's case, "you are looking for someone who has cut through into the U.S. political scene," said Tugendhat, who like the prince served in the British Army in Afghanistan. "You are looking for someone who can do the politics and who can engage"—especially given the U.K.'s urgent need for new trade deals in the wake of Brexit.
Such a move is highly unlikely, but it's not unprecedented for members of the royal family to take on diplomatic roles. The Queen's son Prince Andrew served as a special representative for international trade and investment. However, it would meet serious resistance from those concerned it might undermine the prince. "I see no virtue for either Prince Harry or the government in sending him over," said Sir Andrew Wood, the former British ambassador to Moscow and Belgrade. "In fact, it risks politicizing him." Kensington Palace declined to comment.
But it's not just the great powers that concern Tugendhat. It's also Ireland, which he said can answer the conundrum threatening to derail Brexit. Brussels has committed to reject any Brexit deal that would see customs posts installed on the border between Northern Ireland and the Irish Republic. That border is the only land border between the U.K., which includes Northern Ireland, and the EU, of which the Republic of Ireland is a part. The Good Friday peace agreement that ended decades of sectarian fighting in Northern Ireland mandates an open border between the two countries. "We need to be talking to each other," Tugendhat said. "One gets the impression the relationship with Ireland is either done through the EU or the Northern Irish Office. We need a very regular conversation. We have to both be sensitive to the needs of the other. The U.K. cannot opt out of the relationship with Ireland." Tugendhat is proposing a joint session of both parliaments.
With the conference in Birmingham dominated by aggressive speeches from the likes of Boris Johnson denouncing the European Union, perhaps the most distinctive aspect of what Tugendhat called his "strategic reset" for Brexit was its tone. "What is important," he said, "is to calm the whole thing down. The obvious thing to calm down is the rhetoric. Nobody is anybody else's enemy here."
Though Tugendhat's proposals seemed far afield from the nerve center of the Tory conference—the survival of May and the challenge posed by Johnson—should the government's Brexit plans go bust, there are now emerging figures seeking to steady the creaking ship of state.