The Incredible Staying Power of Theresa May
The British prime minister may not be her Conservative Party's favorite leader, but she's all they've got—for now.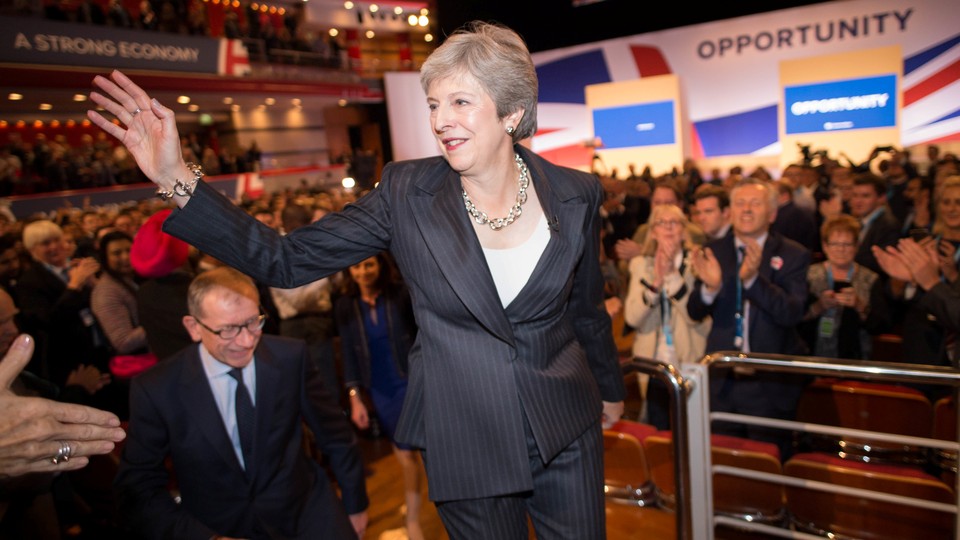 BIRMINGHAM—U.K. Prime Minister Theresa May began her speech at the Conservative Party conference on Wednesday by dancing on to the stage to ABBA's "Dancing Queen," though the Destiny's Child hit "Survivor" would have been more fitting. In the weeks and months leading up to the party's annual gathering this week, May had seen it all: party infighting, not-so-subtle challenges to her leadership, and the European Union's blistering rebuff of her so-called Chequers plan for Brexit. That the blow from Brussels came just over a week ahead of her party's gathering was no help to May. By the time things kicked off in Birmingham on Sunday, many openly wondered whether this year's conference would be her last as party leader.
But once again, May has proven herself not so easily defeated—at least not yet. On the final day of the conference, May addressed the party faithful in a speech many lauded as her best yet—one which cast her party as the only "moderate" alternative to the opposition leader Jeremy Corbyn's Labour Party, and which cast herself as the only leader capable of delivering on Brexit. "Even if we don't all agree on every part of this proposal, we need to come together," the prime minister said of her Chequers plan, which she avoided referencing by name. "If we all go off in different directions in pursuit of our own visions of the perfect Brexit, we risk ending up with no Brexit at all."
May's warning couldn't have come at a more critical time in the Brexit negotiations. With the next European Council summit less than two weeks away, U.K. and EU leaders are under pressure to strike a deal on the terms of the U.K.'s withdrawal that will be accepted by both Brussels and Westminster. Whether they will be able to overcome their outstanding differences—on issues such as preventing a customs border on the island of Ireland or on the terms of their future trading relationship—remains far from certain. Still, the summit is already being billed by European Council President Donald Tusk as the "moment of truth."
For May, the challenges aren't just coming from Brussels, but from her own government. In the opposition, Corbyn has already pledged that his party would oppose May's Chequers plan as it stands. Within her own party, support is just as tenuous. "Chuck Chequers" buttons were a fixture throughout the Conservatives' conference—a call that was only buoyed by a senior lawmaker within the party publicly calling on May to do the same.
The loudest of these voices belonged to the former foreign secretary and quasi-leadership-rival Boris Johnson, who just three days before the conference published his own 4,600-word vision for Brexit to rival the prime minister's Chequers plan, which he derided as a "moral and intellectual humiliation." He reiterated his opposition days later in a jam-packed conference speech which, unlike many of the other major speeches happening that day, had conference-goers waiting in line several hours in advance to attend.
But perhaps the greatest challenge to May's Brexit plan didn't come from her party at all. Arlene Foster, the leader of Northern Ireland's Democratic Unionist Party, which is currently propping up May's government in Westminster, offered a stern warning that her party would not support a Brexit deal that puts any divergence between Northern Ireland and the rest of the U.K., including a customs border in the Irish sea or a special customs union for Belfast alone. This, Foster said, would be the DUP's "blood red" line.
For all the divisions over Brexit that remain within the party, May's hold to the leadership appears to be safe—at least for now. When all was said and done, even some of the prime minister's staunchest critics conceded that her speech had bought her time to hammer out a deal, even if didn't necessarily evoke full-fledged support for it. And while critics of Chequers are unlikely to change their mind anytime soon, they at least seem to agree that now wouldn't be the right time to try and trigger a leadership election to push May out.
"Finding another person who the party could actually agree on and hold together—I don't know," a conference-goer from Westminster North told me. Another from North Staffordshire told me that while she hopes May will "ditch Chequers in whatever way diplomatically or otherwise she wants," she doesn't think new leadership is the answer either. "She's a caretaker prime minister—she's not a leader."
A recent poll found that the Conservatives were more likely to win the next general election under May than other potential leadership rivals right now—a belief that also seems to have buoyed tacit support for May to remain in her role. But even those who have thrown their support behind the prime minister for now have conceded that this support may be time-limited. "I just think politics is a short-term game," the House of Commons Leader and Conservative lawmaker Andrea Leadsom said Wednesday when asked whether the party would support the prime minister in the next election. "A week changes a lot. I think she's had a fantastic day today."
When I asked conference-goers the same question, they didn't mince words. "Certainly until the end of March she should be in place, she must be in place," one Conservative Party member told me. "After that, all options are open."