When the Mail Is Used to Stoke Panic
Officials have intercepted explosive items bound for an array of high-profile targets ahead of next month's midterm elections.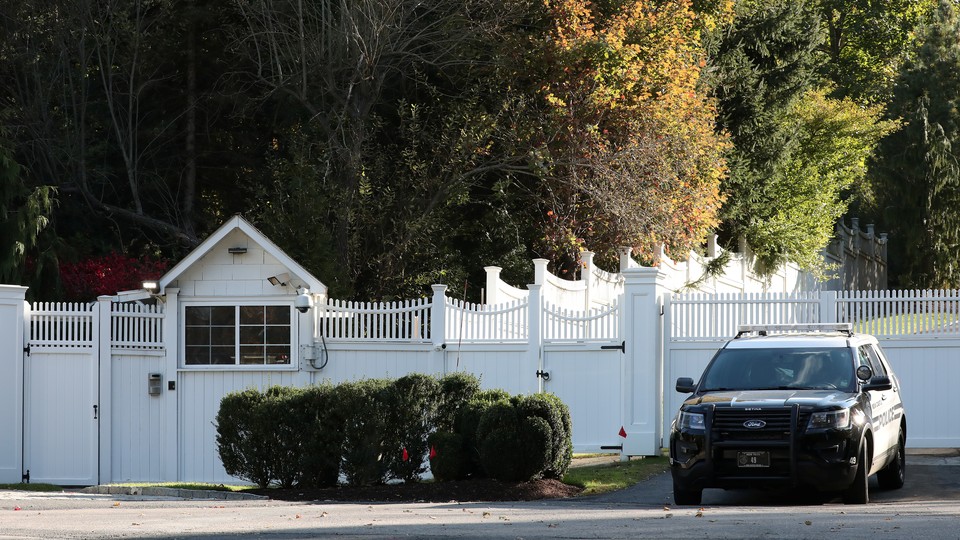 Updated at 2:14 p.m. ET on October 24, 2018.
First it was George Soros, then in quick succession Hillary Clinton, Barack Obama, and CNN. This week a number of potential explosive devices made their way into the U.S. mail system, each disarmed before anyone was injured.
In Soros's case, officials told The New York Times that the device was likely hand-delivered to his mailbox, where it was found by an employee and defused by the police; police similarly found and removed "what appeared to be a live explosive device" from the CNN offices, an NYPD spokesman told reporters. The Secret Service found and intercepted the devices addressed to Clinton and Obama before they reached their destinations.
The apparent mail-borne attacks arrived in the context of a high-stakes midterm election, with voting less than two weeks away. The confirmed packages have so far targeted Democratic figures and media—Soros is a major donor to Democratic candidates.
As the story unfolded Wednesday morning, a number of buildings around the country were evacuated as a precaution against the arrival of "suspicious packages." They included a San Diego building housing the Union-Tribune newspaper and the field office of Senator Kamala Harris, and the Florida offices of Representative Debbie Wasserman Schultz, according to CNN. San Diego police ultimately determined the package there to be harmless.
False alarms like this are common in the aftermath of reports of possible attacks. But together, the incidents illustrated just how quickly even failed attempts at violence, spread through the ubiquitous postal system, can sow fear far beyond its immediate targets.
The identity and motivation of the perpetrator was still unknown Wednesday, but New York Governor Andrew Cuomo was quick to label the incidents terrorism. At a press conference, he invoked the 1993 attacks on the World Trade Center to contend that terrorism in New York is nothing new. "We've been through this many, many times."
"Terrorism is an attempt to strike terror, an attempt to strike fear," Cuomo said. "Obviously these devices are an attempt to strike fear—hence, terrorism. Are they domestic, are they international, these are all questions that would have to be handled by the investigation. But yes, it was a terrorist attempt, it was a terrorist attack."
The U.S. Postal Service has experience with the threat—and has seen some of its own employees killed dealing with it. In the fall of 2001, in the tense and terrified atmosphere following the September 11 attacks, letters containing anthrax powder arrived at media organizations in Florida and New York, as well as the offices of then–Senate Majority Leader Tom Daschle and Senator Patrick Leahy. Two postal employees died at a mail-processing facility in Washington. The final death toll was five people; the presumed culprit, Army scientist Bruce Ivins, was reportedly mentally ill and killed himself in 2008. (Going further back, Ted Kaczynski, known as the Unabomber, mailed 23 explosive devices over a period of nearly two decades, starting in 1978; his devices killed three people before he was caught.)
This fall, a Pentagon mail-processing facility intercepted envelopes suspected of containing the poison ricin. They were addressed to Defense Secretary James Mattis and others. It is unclear exactly what was in them—in charging a suspect, the Justice Department said only that the envelopes contained "castor bean material."
The tactic of mailing weapons is particularly effective at stoking panic, given the sheer scale of the postal system in the United States. According to its website, the U.S. Postal Service processes and delivers 493.4 million pieces of mail each day; an average of 5,711 pieces are "processed every second."
The anthrax attacks changed the way the U.S. Postal Service operates. Among other things, mail-processing facilities have since installed equipment to test the air for biological agents. The USPS also started irradiating mail addressed to federal buildings, and it enhanced its Dangerous Mail Investigations program, which investigates suspicious packages nationwide.
The real story of the recent attempts, in fact, is that all of them failed; the suspected pipe bombs and "castor bean material" were caught through routine screening procedures. On the other hand, most of the mail at issue was sent to exceptionally secure targets and went through heightened screening via the Secret Service and the Pentagon, respectively.
But like any other complex system, the mail system is impossible to secure completely, leaving potential loopholes for criminals or terrorists to exploit. Even when the attempts are unsuccessful—or even in the case of the thousands of false alarms about suspicious packages the U.S. Postal Inspection Service has received since 2001—they spread fear and doubt. It's a common terrorist tactic to weaponize the innocent tools of daily life, whether that's a package or a minivan. The attacks are rare and in many cases thwarted, but they can create the perception that anyone could be next.