How Saudi Media Is Addressing Jamal Khashoggi's Disappearance
The kingdom's response in the West has been publicly muted.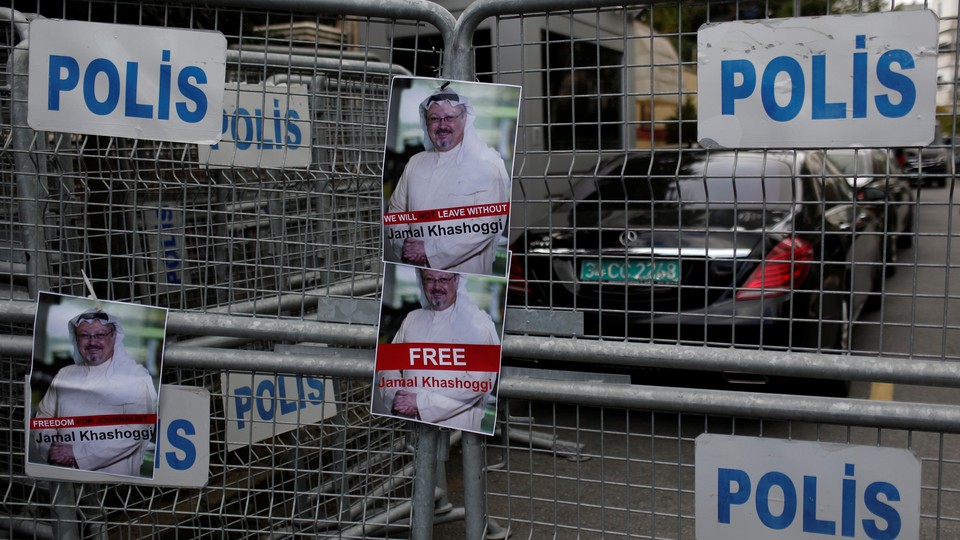 Here's what we know for sure: On October 2, Jamal Khashoggi entered the Saudi consulate in Istanbul to obtain paperwork necessary to get married. He hasn't been seen since then.
Since that day, leaks from Turkish officials have painted a grim picture of what happened to the Saudi journalist and dissident: On Friday, The Washington Post reported that Turkish authorities possess audio and video recordings that show a Saudi security team interrogating, torturing, and ultimately killing Khashoggi inside the consulate.
The Khashoggi case has become a cause célèbre for human-rights and free-press advocates, as well as critics of Saudi Arabia. And it's putting the strong U.S.-Saudi relationship under intense scrutiny. Saudi Arabia's own response to the incident could provide clues to how the issue may ultimately be resolved—or not.
The Saudi media's coverage of Khashoggi's disappearance has ranged from casting aspersions about his motivations before the leaks about his fate became public to subsequently expressing concern about him, according to the Middle East Media Research Institute (MEMRI), which tracks and translates regional media. Many of these reports say that Khashoggi, who until recently was a consummate Saudi insider, has ties to the outlawed Muslim Brotherhood and other anti-Saudi groups and countries.
Upon Khashoggi's disappearance, columnists for the Jeddah-based newspaper Okaz, which is broadly considered pro-government, called him a "traitor" and an "apostate" who collaborated with "enemies of the state" against Prince Mohammed bin Salman, who is widely known as MbS, and the kingdom, MEMRI pointed out. But after it was reported that Khashoggi was killed inside the Saudi consulate, the tone in the Riyadh-based Al-Riyadh, which is also pro-government, was one of concern about his fate, MEMRI said. Still, according to MEMRI, a columnist dismissed the accusation that Saudi security personnel had killed the journalist. A columnist in Okaz, meanwhile, suggested that the accusations against the Saudis were conjured up by Iran, Qatar, and Turkey, MEMRI added.
Gerald Feierstein, a former U.S. ambassador to Yemen who also served in Saudi Arabia and other Arab countries, told me that there is an effort under way in Saudi Arabia to either downplay Khashoggi's fate or to suggest that he was in some way involved in nefarious activities. "I know that there have been these rumors that he was pro–Muslim Brotherhood. There was some suggestion that this was some Turkish-Qatari agitprop initiative," Feierstein, who is now at the Middle East Institute, said. "It does seem like they're trying to mute the response domestically. If you look at some of the Twitter feeds out of Saudi Arabia, a lot of people have been out there making comments about how this is all overblown and being done to damage Saudi Arabia's reputation, et cetera, et cetera."
This is starkly different from the tack being adopted by Saudi authorities in the Western media. In an interview with Bloomberg published October 5, three days after Khashoggi disappeared, MbS said: "We hear the rumors about what happened." He added: "My understanding is he entered and he got out after a few minutes or one hour. I'm not sure. We are investigating this through the foreign ministry to see exactly what happened at that time."
Prince Khalid bin Salman, the Saudi ambassador to Washington who is MbS's brother, said in a statement: "Jamal has many friends in the Kingdom, including myself, and despite our differences, and his choice to go into his so called 'self-exile,' we still maintained regular contact when he was in Washington." He called the leaks about Khashoggi's fate "malicious" and said the reports that Saudi authorities had detained or killed the journalists were "absolutely false, and baseless."
At this point, however, absent video evidence that Khashoggi left the Saudi consulate in Istanbul, as well as the preponderance of leaks from Turkish and U.S. intelligence services about what happened to the journalist, the Saudi line doesn't appear to be particularly convincing. How this plays out depends a great deal, Feierstein said, on the Saudi response. "Are they going to be forthcoming? Are they going to try to help people understand exactly what happened and who was responsible? Or are they going to try to cover it up?" he said. "And that's going to have to have a lot of effect on how this plays out over time."
What's been especially striking is the intensity of the criticism of Saudi Arabia in Washington, where the kingdom has many allies: Saudi Arabia has never been an exemplar of human rights; it routinely imprisons dissidents and journalists; and it is spearheading a war in Yemen that has had devastating consequences for civilians. The reason for the current blowback could be the nature of this particular incident.
"This [Khashoggi] story lends itself to a particular blend of outrage, shock, and disgust," Rob Malley, the president and CEO of the Crisis Group who previously served in the Obama-era National Security Council, told me. "Of course, the death toll and the cost of the war in Yemen are much higher. But this is personal, palpable—it touches a permanent U.S. resident, and a member of the press. All of which lends the event a special resonance, and thus an endurance that other similarly tragic stories simply don't possess. It's because of who [Khashoggi] was, because of his connections to the U.S. and to the media, and because of what appears to have happened."
The outrage prompted by Khashoggi's possible fate has resulted in at least one of the 10 firms that lobby for Saudi Arabia in the U.S. to end its contract with Riyadh. Media companies, including The New York Times and The Economist, that were scheduled to participate in a Saudi government-sponsored investment conference in Riyadh that is dubbed "Davos in the Desert" later this month announced that they will pull out, though few of the investors who were scheduled to attend have yet changed their minds. Although the response from the U.S. media and Congress has been vocal, the Trump administration's reaction to Khashoggi's disappearance has been mixed. The U.S. State Department has said it is concerned about the journalist and called for a full, transparent investigation into his fate. President Donald Trump, meanwhile, said, "What happened is a terrible thing, assuming that happened," but ruled out suspending arms sales to Saudi Arabia as punishment because it "would be a very, very tough pill to swallow for our country."
Public criticism by a U.S. administration of an ally—or indeed an adversary—does not always work, especially if the country believes its actions are in its vital self-interest. But the absence of criticism sends the message that you can get away with virtually anything. "If the U.S. does not publicly fault or push back—whether regarding the detention of the Lebanese prime minister, or the way in which Saudi Arabia is prosecuting the Yemen war, or its handling of the crisis with Qatar—then it makes perfect sense for the Saudis to take the next step," Malley said.
He added: "And what's equally clear is that the contrary argument made by many—that by fully embracing Saudi Arabia and bolstering their faith in unstinting U.S. support, U.S. influence will grow and Riyadh will act with greater restraint—has been amply disproved by the Trump administration. Its support has been virtually unconditional. And the results speak for themselves."