A Slow, Somber End to the Merkel Era
At a press conference following her party's disappointing showing in state elections in Bavaria and Hesse, Merkel announced what Germans long expected—that her centrist reign will come to an end.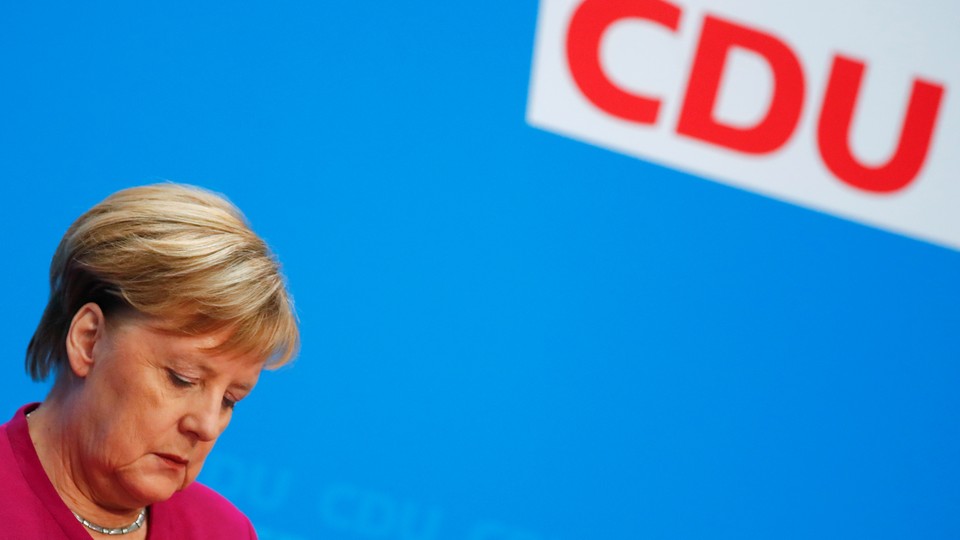 BERLIN—Angela Merkel announced to the world on Monday what everyone here already saw coming: that her time as Germany's leader is nearing its end.
Merkel—who has led her party for 18 years and her country for 13—will continue as Germany's chancellor until the next federal elections, expected in 2021, but she will relinquish her position as the leader of the center-right Christian Democrats (CDU) in December and won't run for further political office. "I am sure today that it's time to open a new chapter," she told reporters in Berlin.
It is hard to overstate the immensity of this moment in German politics: Merkel led her country through economic crises and a vast wave of migration, and came to be seen as Europe's most powerful leader and a one-woman bulwark against the onslaught of populism.
Ultimately, though, her announcement on Monday was not a surprise. It was instead the culmination of a year in which crises big and small had slowly chipped away at her once-unchallenged political influence.
Since last September, when her CDU saw its support drop sharply in Germany's federal elections, commentators have predicted the end of the Merkel era with increasing frequency and intensity. From a high-profile showdown over migration policy with her interior minister this summer to the more recent defeat of a Merkel ally last month in an internal party poll, suggestions of Merkel's demise—or Merkeldämmerung in German, which translates to "the twilight of Merkel"—were de rigueur.
But while she survived all those battles on the surface, each dealt a blow to her image as the country's beacon of stability and, perhaps more importantly, to her standing within her party. "It's quite clear that the election last September was a turning point," Jan Techau, who heads the German Marshall Fund's Europe project, said in an interview. "Since then, she's been under tremendous pressure to give some sort of indication as to how long this can last."
The signs of the German leader's waning influence within her own party have been evident for months: Perhaps the clearest one came in September, when Volker Kauder was voted down as the party's parliamentary group leader despite an explicit plea from Merkel on his behalf.
Though the incident ran largely under the radar in the international press, it was a clear sign to those watching within Germany that opposition to Merkel in the CDU had reached new levels. Kauder had held the position for as long as Merkel had been chancellor.
"The critics that have been dissatisfied with Merkel and with the orientation of the party for a long time … have become louder, there is no doubt about that," said Peter Matuschek, chief political analyst at the German polling institute Forsa.
Ever since her 2015 decision to allow more than a million refugees to enter Germany, she has earned herself plenty of critics and enemies within her own party, many of whom say her policies have helped bring about the rise of the far-right Alternative for Germany. Previously, that manifested mostly in internal grumbling or pointed comments. In recent months, the anti-Merkel contingent shifted toward outright public defiance.
When Horst Seehofer, the interior minister, challenged Merkel with his plans for stricter migration measures and threatened to pull his Christian Social Union out of the government, his remarks underscored how emboldened Merkel's critics had become: That Seehofer felt he could challenge Merkel so openly was an indication that she no longer held absolute sway over her party.
Though the chancellor said Monday that she had made her decision to step back over the summer, it's clear that results from two state elections—Bavaria two weeks ago and Hesse on Sunday—sped up the announcement. In Bavaria, the long-dominant CSU, a sister party to Merkel's, sustained historic losses, giving up its absolute majority for the first time in decades.
Hesse was the final straw: The state-level election there very clearly became a referendum on the performance of Merkel's government in Berlin, and both the CDU and the center-left SPD posted significant losses as a result. Despite Merkel's personal involvement in the campaign—she stumped with Hesse Premier Volker Bouffier across the state multiple times—her party dropped more than 10 percentage points in the past five years. Merkel nodded to the Hesse results in her remarks Monday, saying the party's support there was "disappointing and bitter" and a "clear signal that things can't go on as they are."
Her announcement had the effect of finally throwing into the open a competition that had already quietly been underway over who will replace her.
It didn't take long for potential successors to Merkel to throw their hats in the ring. One of the first names to be floated as a possible contender was Friedrich Merz, a former Merkel rival who served as the chairman of the Christian Democrats' parliamentary group before being ousted by Merkel in 2002. Though Merz left German politics in 2009 to pursue a career in commercial law, the current Blackrock Germany chairman remained a vocal critic of Merkel's policies, particularly the immigration decision that in many ways has come to define her time in power.
Merz isn't the only Merkel critic in contention. German Health Minister Jens Spahn is considered one of Merkel's most vocal opponents within the CDU, and one who would shift the party further to the right. The 38-year-old lawmaker, who has reportedly already shared his leadership ambitions with his fellow conservatives, has called for a cap on the number of refugees entering the country, as well as an end to dual citizenship. He has also advocated a burqa ban and tighter regulation of German mosques.
Merkel's favored contender is CDU Secretary-General Annegret Kramp-Karrenbauer. Known within the party by her initials AKK, Kramp-Karrenbauer has been caricatured as a "mini Merkel," sharing many of the chancellor's moderate policies and overall political demeanor. And though Merkel reaffirmed on Monday that she would not pick her own successor, Kramp-Karrenbauer is regarded as the one most likely to further Merkel's legacy. "She's very calm, she's very collected," Marcel Dirsus, a German political analyst, said in an interview. "If she were to become leader of the party and then perhaps chancellor, there would be some continuity with the politics of Angela Merkel."
That there is no clear front-runner to succeed Merkel is a testament to just how successful she has been at stifling threats to her leadership.
But it also poses a challenge: Whoever takes over from Merkel as party leader is someone she will have to work closely with for the remainder of her chancellorship. A like-minded CDU leader could make that transition easier than a rival. Merkel has nevertheless said she is ready to work with whomever is chosen to replace her. "I am someone who can work very well together with a lot of different people, and I think I have a reputation for it," Merkel said.
For much of her career, Merkel had been considered politically invincible, so much so that she at one point earned the nickname "Teflon Chancellor." But the reality is that she remained untouchable only as long as she continued to deliver electoral victories for her party. For many years, she did just that.
The past year has made it clear that Merkel's ability to win elections is no longer what it was—and with European Parliament polls on the horizon in May, she finally gave in. "Because of my office," she said Monday, "I bear the responsibility for everything: for successes and failures."
Yasmeen Serhan reported from London.