How One 'Political Wunderkind' Is Outmaneuvering the Far Right
The 32-year-old Austrian chancellor's strategy is inspiring conservative parties in Europe.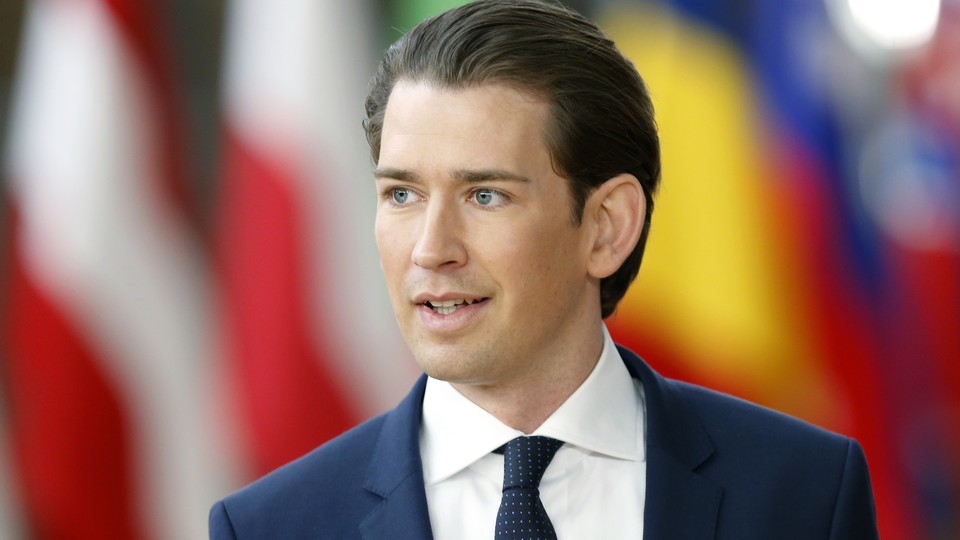 VIENNA—"Thank you. Because you've shown that even today, in these times, you can win elections as a conservative." These words of gratitude, directed at Austrian Chancellor Sebastian Kurz, were spoken Friday night at a campaign event in the German state of Bavaria. Bavarian Premier Markus Söder was addressing his "friend" Kurz, who had come to stump for the Christian Social Union, the Bavarian counterpart of German Chancellor Angela Merkel's conservatives, ahead of a Sunday election there. Standing before hundreds of CSU supporters, Söder described the 32-year-old Kurz as an inspiration to conservative parties across Europe.
Although the CSU ended up performing terribly in Sunday's election, the party's choice to bring in Kurz to bolster the final days of its difficult campaign made perfect sense. Ever since last October, when Kurz and his rebranded Austrian People's Party (ÖVP) recovered from dismal polling numbers to overtake the far-right Freedom Party (FPÖ) in the polls and win Austria's parliamentary elections, Kurz has been hailed as a political wunderkind whose success could serve as an example for ailing center-right parties across Europe. The Kurz electoral playbook—a combination of personality-driven, Emmanuel Macron–style "movement" rhetoric and a sharp turn to the right on immigration—represents one view on how such parties can fight off (and, in Kurz's case, ultimately work in harmony with) their far-right populist challengers.
One year later, that assessment still looks valid: Kurz remains popular among the Austrian electorate and, were another election to be held today, polls indicate that his ÖVP may even fare better than it did last October. What's more, the coalition Kurz built with the far-right FPÖ last December is remarkably stable despite a string of scandals implicating top FPÖ ministers and politicians. Somewhat paradoxically, Kurz seems to have figured out how to simultaneously keep the peace with his far-right partners and make it clear that he and his party are completely separate from the more unsavory elements of their rhetoric.
Is this strategy sustainable in the long run? It's difficult to tell. One recent scandal, over an FPÖ minister's directions to limit information provided to critical news organizations, helped highlight the inherent contradictions in Kurz's relationship with the far-right party. Yet some political observers in Vienna say things quickly returned to normal in the Austrian capital and that there's little sign the ÖVP-FPÖ relationship will break down anytime soon. "This honeymoon period should be over by now, or should be over soon," Jakob-Moritz Eberl, a researcher in political communication at the University of Vienna and a member of the Austrian National Election Study, told me. "But what's still surprising to me is that the coalition remains stable in the polls … You could have the exact same election outcome today that you did a year ago."
Upon taking over as chancellor of this coalition last December, Kurz worked immediately to streamline the government and the messaging coming out of it. He installed a single government spokesman through whom all media inquiries would theoretically be filtered—a direct response to the frequent public and private infighting of the previous government, a so-called "grand coalition" between the ÖVP and the center-left SPÖ. "The relationship between the coalition parties is based on the common understanding that disputes within the government were rejected and voted out by the people," Markus Keschmann, the ÖVP's former director for marketing and campaigning who now works as an outside consultant in Vienna, told me. "The narrative that was successfully put in place is that here are two parties at work who want to successfully bring about the necessary change. You discuss internally and then implement together."
It helps that, on what is perhaps the dominant political issue in Austria these days—migration—the ÖVP and FPÖ are essentially in lockstep. Over the course of the year, they've proposed initiatives and discussed the issue on the European level in a way that makes it clear they are in agreement, far more than the ÖVP was with the SPÖ in the last government. In fact, apart from a debate over a proposed ban on smoking in bars and restaurants, which did briefly cause some tensions between the two earlier this year, there aren't many issues that divide the coalition partners, policy-wise. "There should be, but there aren't any," said Christian Rainer, the editor in chief of the Austrian news magazine Profil. "We don't really get the feeling that there are any fights between those two parties, not even behind the scenes."
The idea that the government speaks with a single voice, however, only goes so far. When a new scandal involving an FPÖ minister or politician has come up—and there have been several this year—Kurz and his ÖVP have made it clear that this was the FPÖ's problem alone. In January, when the FPÖ's top candidate in Lower Austria was found to have ties to a Nazi-era songbook that featured lyrics about murdering Jews, Kurz said on Twitter that the government would have "zero tolerance" for anti-Semitism and racism, but otherwise didn't comment much. This summer, Interior Minister Herbert Kickl accepted a gift of two police horses from Hungary's Viktor Orbán, a controversial move given criticism of Orbán's illiberal reforms back home. Then, in August, Foreign Minister Karin Kneissl (also nominated by the FPÖ) caused controversy when she gave a warm welcome to Russian President Vladimir Putin at her wedding, hitting the dance floor with the Russian leader. (Kurz, too, attended the wedding; he even caught a ride back to the airport with Putin.)
But ultimately, those scandals have not much damaged Kurz and his government. Kurz's scandal-management strategy appears to be inspired by the last man to lead such a coalition with the Austrian far right: Wolfgang Schüssel, who served as chancellor during the FPÖ's first term in government from 2000 to 2005. Similarly, Schüssel opted simply not to comment on many of his far-right partner's actions during their five years in government together, a move that earned him the nickname Schweigekanzler ("Silent Chancellor"). "Every time there's a scandal involving the FPÖ, the ÖVP or even Sebastian Kurz [himself] would say, 'Well, this is a problem of the FPÖ alone and his record should not be tainted by these scandals,'" said Eberl. "Kurz wants to make sure that people understand that this is about the FPÖ and not about him."
One recent case, however, threatened Kurz's seemingly successful rhetorical acrobatics. Kickl, the interior minister, came under fire in the German-speaking press for an internal document suggesting police should withhold all but the most necessary information from so-called "critical" media, including two of Austria's main daily newspapers. Given the outrage, Kurz was apparently compelled to speak out against Kickl and the memo: "Any restriction of press freedom is unacceptable," he said. "The shutting out or boycotting of selected media cannot take place in Austria. That goes for those in charge of communications at all ministries and all public institutions."
The Kickl situation highlighted the inherent contradictions in Kurz's strategy: For the first time, it seemed like he had no choice but to speak out against an FPÖ minister within his own government. At the same time, though, political observers I spoke with in Vienna seemed to believe this was hardly a sign of the government's imminent demise. In large part that's because there's arguably no truly viable alternative for voters who want to oppose Kurz's government. The center-left SPÖ has spent the past year more involved in an internal identity crisis than focused on mounting a real opposition to Kurz; the Peter Pilz List, headed in the elections by the ex-Greens MP Peter Pilz, was rocked with sexual-harassment scandals that forced Pilz himself to resign; the Greens fell out of parliament last fall, giving them little platform nationally to oppose the government. "There is no opposition within the parliament," Rainer said. "There's no one anyone could turn to, so people are still very much in favor of both [the ÖVP and FPÖ]."
There may well be a point in the not so distant future when tensions between Kurz and his far-right partners will flare up, whether privately or publicly. With European parliament elections approaching next May, the parties' divergent views on the future of the European Union will be highlighted on the campaign trail; already, Kurz and Strache have offered up different responses to the EU's decision to sanction Hungary's Orbán. And popular opposition to the government may be picking back up. A group of protesters recently started up "Thursday demonstrations," weekly gatherings that were a regular fixture of opposition to the FPÖ's first term in government. About 20,000 people showed up for the first protest earlier this month, calling for change outside the ÖVP headquarters in Vienna; last week, Austrian media reported that another such demonstration drew more than 5,000 people.
But in some ways, the speed with which the controversy over Kickl's media strategy blew over is a sign that, like in the United States, such scandals have become increasingly normalized—and as a result, Kurz's coalition looks stable for the foreseeable future. "There's a new normal setting in, where it's not the end of someone's political career anymore when something like that happens," Eberl told me. "Scandals have become normal in a way ... If it was a different minister, if it was a different party, you would expect consequences."