Khashoggi's Disappearance Is a Test for Britain
The U.K. led the global response to Russia's alleged assassination attempt on one of its own nationals abroad. Will Britain go softer on an ally?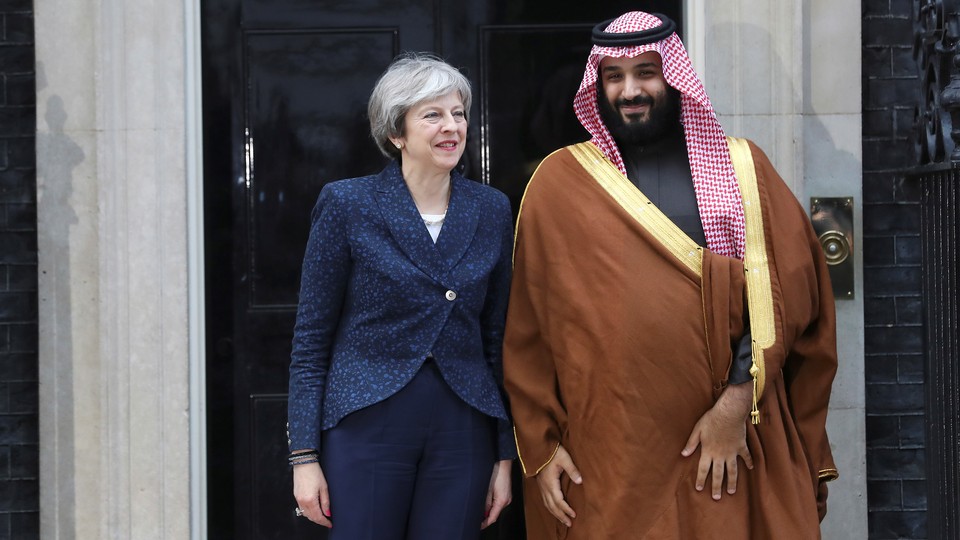 LONDON—When news broke this year that the former Russian spy Sergei Skripal and his daughter Yulia had come into contact with the deadly nerve agent Novichok in the English city of Salisbury, the United Kingdom acted fast.
Within a week, Prime Minister Theresa May had pointed a finger at Moscow, triggering a coordinated response against Russia's "unlawful use of force" with the largest expulsion of Russian intelligence officers from Britain since the Cold War. London's allies followed suit, and sanctions eventually followed.
But when reports emerged this month of another attack—Saudi Arabia's suspected abduction and murder of the journalist Jamal Khashoggi in Istanbul—the response was markedly different. Words of condemnation were replaced with expressions of concern, and threats of reprisals swapped with calls for patience. Implicit in this more muted response was concern for what would be at stake if the U.K. were to confront its Gulf ally, with whom it shares a strategic intelligence partnership, as well as billions of pounds in trade.
Still, as evidence mounts over Saudi Arabia's official role in Khashoggi's death, the U.K. has been forced to address it. Last week, Britain's International Trade Secretary Liam Fox joined the long list of high-profile attendees to drop out of the Saudis' so-called Davos in the Desert investment conference—a move that coincided with the announcement that the U.K., along with France, Germany, and the Netherlands, would be suspending all political visits to the kingdom. Following Saudi Arabia's statement Friday that Khashoggi was killed in a "rogue operation," U.K. Foreign Secretary Jeremy Hunt said on Monday that Saudi Arabia's admission "does not amount to a credible explanation," and called on the Saudi government to provide "urgent" clarification about exactly what happened to Khashoggi.
Khashoggi, who was a vocal critic of the Saudi royal family, was last seen entering the country's consulate in Istanbul on October 2. There, Turkish authorities allege, Khashoggi was killed and dismembered by a team of 15 men linked to the Saudi royal court. Saudi Arabia, which previously denied having anything to do with his disappearance, later said Khashoggi was killed in the consulate as part of an unauthorized operation, and affirmed that those who were responsible would be punished.
Though the U.K. was among the first countries to publicly respond to reports of Khashoggi's disappearance, it has so far stopped short of detailing the potential repercussions for Saudi Arabia, with whom it shares counterterrorism intelligence and a multibillion-pound trading relationship. Germany, for example, has said it would consider halting arms exports.
When pressed on whether Britain would consider doing the same, Hunt said the government would await the final outcome of the investigation before making any decisions. "If the appalling stories we are reading turn out to be true, they are fundamentally incompatible with our values and we will act accordingly," he told British lawmakers on Monday, but added: "We have an important strategic partnership with Saudi Arabia involving defense and security cooperation, which has saved lives on the streets of Britain. We also have a trading partnership that supports thousands of jobs."
That the suspected murder implicates a longtime ally is just one of the reasons the U.K. has been under pressure to address the allegations. Another is the timing: It was only seven months ago that Britain retaliated against the Russian government's alleged assassination attempt on the Skripals. Some fear failing to respond in a similar manner now—especially when it concerns an ally—could be regarded as hypocrisy.
In addition to being one of Britain's key trading partners, Saudi Arabia is also considered the lifeblood of its arms-exports industry. Half of Britain's arms exports go to Saudi Arabia in terms of value, David Wearing, the author of AngloArabia: Why Gulf Wealth Matters to Britain, told me. Though exports to Saudi Arabia made up just 1 percent of the U.K.'s total export value in 2016, the value of the relationship goes beyond money. Selling arms to Saudi Arabia, Wearing said, helps Britain "project power into a really strategically significant part of the world … Britain needs a domestic arms industry to ensure that it can continue being a major international military power."
The U.K. isn't the only country giving its Gulf ally the benefit of the doubt—for now. President Donald Trump on Friday appeared to accept Saudi Arabia's explanation of what happened to Khashoggi, which he dubbed "credible." Though the president has so far ruled out suspending U.S. arms sales to Riyadh as a punishment, a more severe response could come from Congress, which has already signaled that it has bipartisan support to act if the allegations are proved true.
Trade and security have not, however, made the U.K.'s partnership with Riyadh immune to scrutiny.
Since Saudi Crown Prince Mohammed bin Salman's ascent to power last year, a series of foreign-policy moves—from the war in Yemen to the bizarre detention of Lebanon's prime minister—has prompted some British lawmakers to advocate for a tougher approach on Saudi Arabia. Such calls have become more pronounced in the wake of Khashoggi's disappearance and the emergence of grisly details about how he was allegedly killed.
Tom Tugendhat, a Conservative lawmaker and the chair of the foreign-affairs select committee of the House of Commons, said the U.K. should consider downgrading diplomatic relations with Riyadh if the allegations are proved true. John McDonnell, the finance spokesman for the opposition Labour party, said an inadequate response by Riyadh should trigger economic sanctions.
Armida van Rij, a research associate at the Policy Institute at King's College London, told me cross-party support for applying greater pressure on Saudi Arabia is unusual for Britain, and may signal a shift in the U.K.-Saudi relationship. If the allegations against the kingdom are proved true, she said, it could pose a test to Britain's global leadership.
"This is a good opportunity, in the worst situation possible, for the U.K. to show that kind of leadership it says it wants to demonstrate," van Rij said. "According to the prime minister, the U.K. would defend and uphold the international rules-based order … If the U.K. were to respond in a far more mild manner to the Khashoggi case than it did to the [Russian] Novichok attack, that would expose it to criticism of hypocrisy."
And in an editorial last week, Labour's foreign-affairs spokeswoman, Emily Thornberry, said the U.K. "must apply the same standards to countries such as Saudi Arabia, Israel, and Egypt that we apply to Iran, Russia, and Syria."
Whereas the British government and its global allies rebuffed Russia's request to be involved in the investigation into the poisoning of the Skripals earlier this year, the U.K. and its partners have so far welcomed Saudi Arabia's announcement that it would conduct its own investigation into the Khashoggi affair.
But, Wearing said, "the Saudis can't do a credible investigation—that's just obvious."