Why a Small Jewish Group Is Supporting a German Party With Anti-Semitic Ties
The formation of "Jews in the AfD" is baffling to many, but it's also part of a larger pattern across Europe.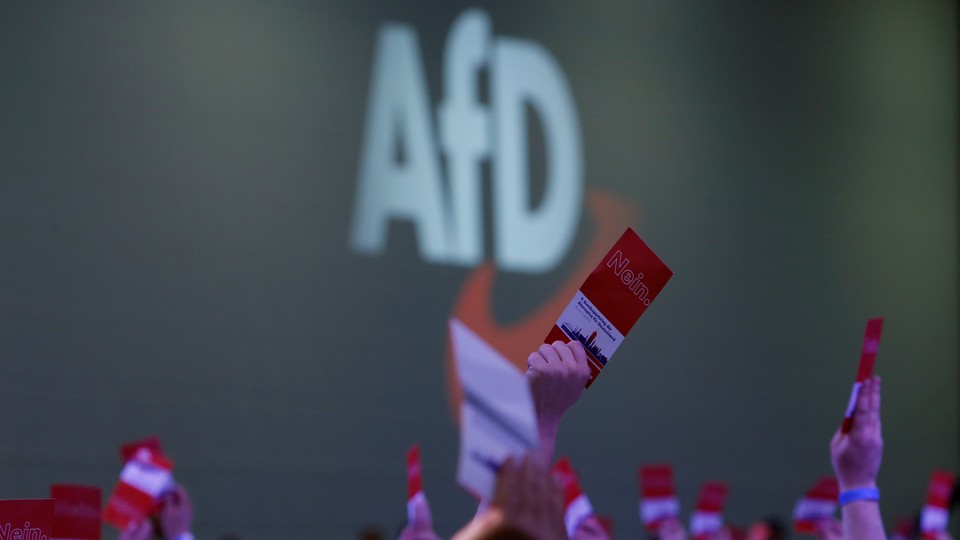 Germany's largest far-right party has rebranded itself so successfully that it's attracting large shares of the national population, including some Jews, despite party members' record of making anti-Semitic remarks and trivializing the Holocaust.
A small number of German Jews gathered Sunday to launch their own group within the Alternative for Germany (AfD) party, calling themselves the "Jews in the AfD."
The populist AfD has been surging in voter polls and, in one recent survey, ranked as the second-most-popular political party in the country behind Chancellor Angela Merkel's. It's become so hard to ignore the AfD that a senior member of Merkel's party in the state of Saxony recently signaled willingness to form a coalition with it. But many consider the party's inroads with German Jews to be the most striking sign of the AfD's success—striking, too, because it mirrors the rebranding efforts of far-right parties in several other European countries.
In the city of Wiesbaden, near Frankfurt, 19 people met to join the new group, according to media reports. They showed their support for a party that is often accused of anti-Semitism, but that the AfD said will actually protect them from the anti-Semitism they fear is flowing into the country along with Muslim immigrants. (From 2010 to 2016, the number of Muslims living in Germany rose from about 3 million, or 4 percent of the population, to nearly 5 million, according to data from the Pew Research Center.) Meanwhile, about 250 people, many of them Jewish, protested in Frankfurt against the formation of the new group. "You won't get a kosher stamp from us," said Dalia Grinfeld, a Jewish student-union leader at the protest, according to The Guardian.
Although the AfD has repeatedly claimed it has nothing against Jews, its members have a record of making anti-Semitic comments or declining to condemn those who do, and associating with anti-Semites. Last year, the party's Björn Höcke called Berlin's Holocaust memorial a "memorial of disgrace" and said Germans should stop feeling so guilty over Nazi atrocities. Alexander Gauland, one of AfD's co-leaders, recently said that "Hitler and the Nazis are just a speck of bird shit in over 1,000 years of successful German history," a remark that the German president condemned as an attempt to "deliberately reopen old wounds, and foment hatred." In August, prominent AfD members were caught on camera marching beside neo-Nazis at an anti-immigration rally in the city of Chemnitz, where protesters flashed Nazi salutes and shouted "Foreigners out!" AfD leaders later defended the rally.
In the lead-up to the launch of the Jewish group, member Dimitri Schulz explained that the AfD's approach to Muslims is part of the attraction. "The AfD is the only party in Germany that focuses on Muslims' hatred for Jews, without playing it down," he said in a statement. Local Jewish leaders were quick to slam that logic as "difficult to grasp" or "completely baffling." Yet it echoes the logic that has driven some Jews to support far-right parties in other European countries, such as France, Austria, and the Netherlands.
Germany has recently seen a worrisome spike in anti-Semitic incidents. Some of these incidents are carried out by Muslims, though police statistics cited by NPR indicate that the vast majority are not. The AfD, which has campaigned hard against the influx of Muslim migrants welcomed by Merkel in 2015, has capitalized on the fear of anti-Semitic violence to try to appeal to German Jews. Last year, for instance, the AfD's then-leader told the newspaper Die Welt that the party is "one of the few political guarantors of Jewish life, even in times of illegal anti-Semitic migration to Germany."
Although some Jews, like Schulz, may believe that, the majority of the German Jewish community condemns the AfD and the idea of a Jewish group within it. "Don't be fooled by the AfD's anti-Muslim, inflammatory rhetoric," the Central Council of Jews in Germany warned its members in a letter shortly after plans to launch the group were announced. Another German Jewish group, the nonpartisan Values Initiative, pleaded with Jews not to become a "fig leaf" for the AfD.
The AfD has claimed that it has a significant number of Jewish supporters, though there are no data to back up that assertion. What is clear is that the party has sponsored several Jewish candidates for parliament—successfully, in the case of Wolfgang Fuhl. When I asked Fuhl why he supports the AfD, he, too, cited concerns about Muslim anti-Semitism. "The AfD is the only party that opposes any form of anti-Semitism. All other parties speak out strongly and do little against Islamic and radical-left anti-Semitism," he wrote to me in an email. "I became a member of the AfD as early as 2013 because I am convinced by the conservative orientation of the AfD."
Rogers Brubaker, a sociology professor at UCLA and an expert in European nationalism and populism, told me he wasn't surprised to see a small number of German Jews supporting the AfD: He considers it part of a larger pattern. "Anti-Muslimism has become a very successful master frame for radical-right, anti-immigrant parties throughout Europe in the last 15 years," he said. "The logic is that the enemy of my enemy is my friend."
He added that for far-right parties, embracing Jews is not about getting Jewish votes—the numbers are too small to matter—but about burnishing the parties' image. "The far-right parties throughout Europe are in a dilemma," he said. "They can remain marginal and appeal to a limited sector of the electorate, or they can try to become mainstream and overcome barriers that prevent other parties from cooperating with them. If they want to actually become parties of government, then they need allies and a different public image. Part of that strategy, I think, is to present their anti-Islam stance in liberal terms—to claim that they are protecting liberal values that Muslims are against."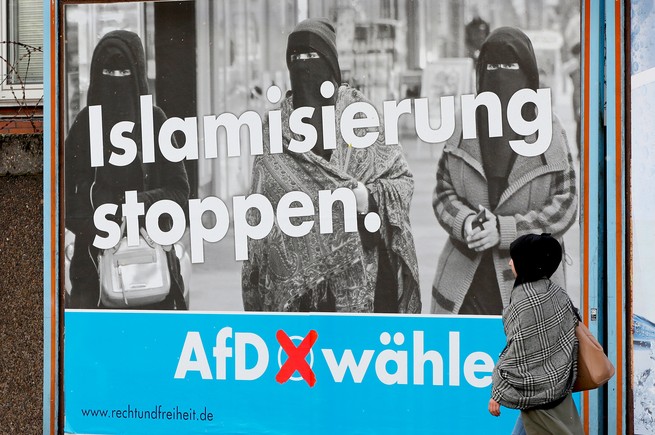 In France, Marine Le Pen has tried to rebrand her National Rally party, formerly known as the National Front, along these lines. She expelled the party's founder, her own father, Jean-Marie Le Pen, after he repeatedly made statements that offended Jews. She has insisted that she embraces French Jews, and has tried to pit them against Muslims, declaring in a 2014 interview, "I do not stop repeating it to French Jews … Not only is the National Front not your enemy, but it is without a doubt the best shield to protect you. It stands at your side for the defense of our freedoms of thought and of religion against the only real enemy, Islamist fundamentalism."
The historian Ethan Katz, who has documented the long-running use of this rhetorical strategy among far-right French groups, summed it up like this: "Since at least the 1930s, the extreme right in France has repeatedly invoked Muslims and Jews in the same breath, at once highlighting both groups as different from the rest of the population and seeking to rally them against one another."
Le Pen won support from a thin slice of the Jewish electorate. But, Katz noted, a small number of Jewish votes wasn't what constituted the major payoff for her; rather, it was the way the strategy assisted her efforts to rehabilitate her party's image: "Including Jews enables her to claim that the issue is not anti-Muslim racism but a broader principle such as public secularism or loyal citizenship, thus burnishing her credentials as a mainstream supporter of French democracy."
A similar dynamic has played out in Austria's right-wing Freedom Party (FPÖ), whose leader has admitted to fraternizing with neo-Nazi groups in his youth. "The FPÖ has also been trying to present itself in recent years not as anti-Semitic, but as decidedly supportive of Jews—a stance that seems politically opportunist," wrote the Vienna-based journalist Anna Goldenberg earlier this year, after an Austrian songbook that contained lyrics about killing Jews sparked a national scandal. "As part of this shift, members of the far right at times claim they want to protect Jews against Muslims."
Again, a minority of Jews seemed willing to give the FPÖ a chance. For instance, Martin Engelberg, a Jewish MP for the conservative ÖVP party, said there were positive signs that the FPÖ, his coalition partner, was shedding its anti-Semitic associations. The FPÖ's recent displays of support for Israel—such as sending party officials to visit the country, defending Israeli construction in West Bank settlements, and supporting the idea of moving the Austrian Embassy from Tel Aviv to Jerusalem—help bolster that impression.
In the Netherlands, too, anti-immigrant parties—most notably Geert Wilders's PVV—have adopted a pro-Jewish and pro-Israel stance coupled with fiercely anti-Muslim rhetoric, particularly after the 9/11 terrorist attacks. In last year's election, Wilders campaigned on closing Dutch mosques and banning the Quran. At the same time, the politician, who had lived on an Israeli kibbutz in his youth, called Israel "the West's first line of defense against Islam" and claimed to be defending "Judeo-Christian values" that he said are under threat from Islam.
Wilders lost the election. But Cas Mudde, a Dutch political scientist who specializes in European populism, told me by email that a number of other parties in the Netherlands still "use philo-Semitism to appear more moderate, or not radical right, given that the radical right is still very much associated with anti-Semitism in Europe."
What all these examples go to show is that the German Jews now throwing their support behind the AfD, though outliers within Germany, are not coming out of nowhere. They are part of a pattern that has spread through Europe and that shows no immediate sign of stopping.