The Disappearance of a Saudi Critic Signals a Broader Danger for Journalists
"We're seeing targeted killings even outside war zones."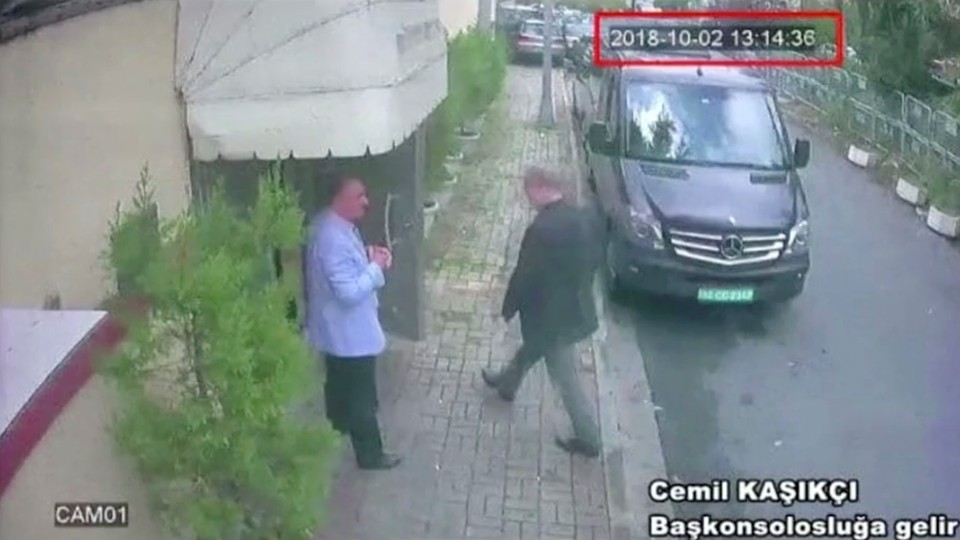 On October 2, Jamal Khashoggi entered the Saudi consulate in Istanbul to obtain paperwork in order to get married to his Turkish fiancée. The Saudi journalist and dissident hasn't been seen or heard from since then, though there has been no shortage of morbid speculation about his fate.
Saudi Arabia has hardly been a beacon of press freedom at the best of times. But the new crown prince, Mohammed bin Salman, ushered in an era of optimism, allowing Saudi women to drive for the first time and unveiling a plan to modernize the kingdom's economy and wean it off its overreliance on oil exports. Yet as the Committee to Protect Journalists noted last month, the climate in this "new" Saudi Arabia is even more repressive for journalists. That's what prompted Khashoggi, a longtime insider, to leave the country and write critically about it. According to Reporters Without Borders, the media-watchdog group also known as RSF, more than 15 people in Saudi Arabia have been detained since last September, and "in most cases, their arrests have never officially been confirmed and no official has ever said where they are being held or what they are charged with."
But even in this climate, the speculation about Khashoggi's fate is exceptional. Rob Mahoney, the deputy executive director of the Committee to Protect Journalists, told me that if it turns out that Khashoggi was butchered inside the Saudi consulate in Istanbul, as has been widely reported, "then, yes, it's an escalation as far as journalists are concerned."
Khashoggi's fate reflects a larger pattern of violence inflicted on journalists around the world this year. Year after year, reporters are detained, abducted, and, with some frequency, killed. As Margaux Ewen, the North America director at RSF, told me, "We're seeing targeted killings even outside war zones."
Since January 2018, RSF points out, 57 journalists have been killed, along with 10 citizen journalists and four media assistants. The numbers are already higher than the figures at the same time last year. Additionally, 155 journalists have been imprisoned, along with 142 citizen journalists and 19 media assistants.
"We're ultimately seeing that the press is no longer viewed as a key component of democracy but are more and more viewed as the opposition, the enemy, those that only want to criticize," Ewen said. She added, "It doesn't really help when the president of the country of the First Amendment, the United States, repeatedly refers to journalists as enemies of the people and denigrates their work, compares their negative coverage to fake news. It really sends the wrong signal … in a way that can really embolden other countries who haven't been repressive in the past to start being repressive."
What this does, she said, is embolden already authoritarian regimes, such as Saudi Arabia, to believe there won't be true consequences for their actions. Indeed, though the U.S. State Department has called for an investigation into Khashoggi's disappearance, President Donald Trump said Monday, "I am concerned about it. I don't like hearing about it. Hopefully that will sort itself out. Right now nobody knows anything about it."
Mahoney said that while the State Department's statement was "encouraging … President Trump was in Saudi Arabia just last year, and has made a lot of his relationship with the royal family, therefore it would seem appropriate that he would call for a thorough investigation for such a high-profile journalist who is resident in the United States writing for The Washington Post."
Whether it is due to relative silence from the White House or some other reason, this year has been violent for journalists around the world. One of the highest-profile press-freedom cases occurred in Myanmar, where last month a court sentenced Wa Lone and Kyaw Soe Oo, Reuters journalists who were arrested in December, to seven years in prison for reporting on the Myanmar military's killing of 10 Rohingya Muslims.
In Bulgaria, Viktoria Marinova, the television journalist, was raped and killed last Saturday in Ruse, a northern city, one day after she hosted a program that discussed alleged fraud involving European Union funds. A man has been arrested in Germany in connection with her killing, which officials say appears to be unrelated to her work as a journalist.
In February, Ján Kuciak, the Slovak investigative journalist who was part of the Organized Crime and Corruption Reporting Project consortium, and his fiancée were killed at their home outside Bratislava in what prosecutors say was possibly a contract killing related to his journalistic work. Kuciak had been looking into the links between political corruption and Italian organized crime. Three people have been charged with the killings.
But it remains unclear who ordered the assassination of Maltese journalist Daphne Caruana Galizia, who was killed by a car bomb in October 2017. Caruana Galizia, who was part of the Panama Papers investigation in Malta, had published allegations that linked Malta's prime minister and his top associates to offshore companies.
Mahoney said the slaying of journalists in Western countries in particular is disturbing, and "it's partly because more and more journalists are taking up the challenge to report on corruption, organized crime, human trafficking, being aided by the release of documents like the Panama Papers and other document dumps."
"That statistically, I suppose, would increase the odds that they're going to upset corrupt officials and criminals," he said. "But the fact that it's happened in the EU country or EU-accession countries is disturbing, because in those countries, one is supposed to have the rule of law and functioning judiciary, and police force."