How to Respond to a Diplomatic Crisis Like Khashoggi's Disappearance
"This is not a good example on how to handle these situations."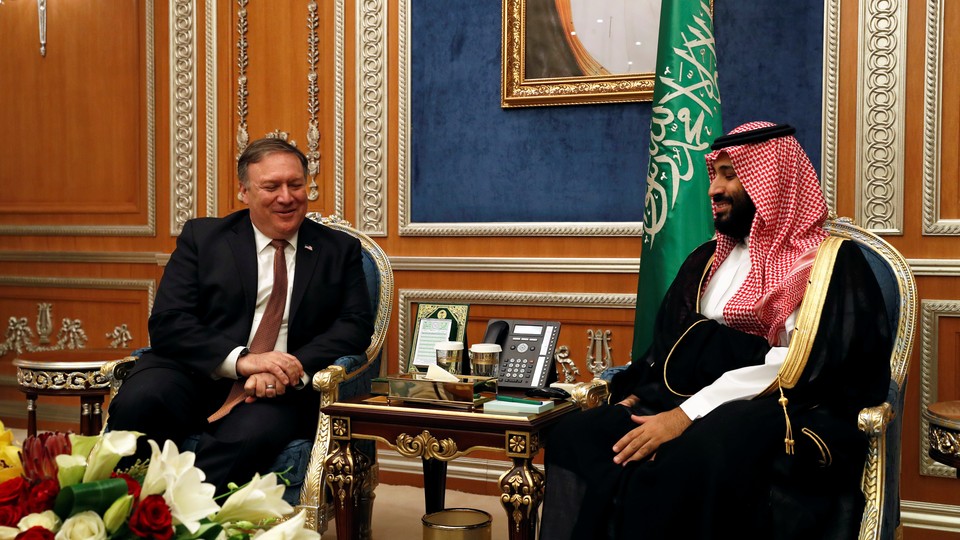 Details of audio leaked to Turkish news media, confirmed Wednesday by a Turkish official to The New York Times, revealed that the Saudi journalist and dissident Jamal Khashoggi was beheaded and dismembered by his killers inside the Saudi consulate in Istanbul on October 2.
Khashoggi's disappearance, the Saudis' alleged role in it, the leaks from Turkey, and a bipartisan eruption of anger at Saudi Arabia in the U.S. Congress have presented the Trump administration with a major diplomatic test: It must extricate arguably its closest ally in the Muslim world from this crisis, placate an often difficult NATO ally, and assure lawmakers that the guilty will be punished.
I spoke with former U.S. diplomats who dealt with a range of challenges during their time in government service. They told me that "every diplomatic crisis is sui generis." Yet their comments suggest that there are clear steps to take when a crisis emerges.
A timely response
Wendy Sherman, the Obama-era undersecretary of state for political affairs, told me that it's important not to let crises drag on "because you lose complete control of the narrative." "The president's reluctance to deal with this in any forthright manner at the start means that he now looks like he's not only behind the curve but on the wrong side of history altogether," she said.
Sherman contrasted the Trump administration's response to the Khashoggi affair with the Obama administration's response in 2011 to an Iranian plot to assassinate the Saudi ambassador to Washington, D.C. The plot was uncovered following the arrest of an Iranian man who had traveled to New York from Mexico. Sherman said that the U.S. worked closely with Mexico and Saudi Arabia to determine what the facts were and shared them with the international community. "We had all of our embassies go in at the highest level possible with talking points that we got out within 24 hours so that we could build worldwide condemnation for such a daring, and irresponsible, and potentially catastrophic event," Sherman said.
Balancing relationships
President Donald Trump has maintained that the U.S. will not suspend arms sales to Saudi Arabia as a possible punishment for the alleged murder. Part of the reason for this is the fact that the kingdom plays a key role in the U.S. pressure campaign against Iran. It also maintains steady oil prices and supplies, and will support any eventual U.S. plan for peace between the Israelis and the Palestinians.
As Christopher Hill, a veteran U.S. diplomat who served as the ambassador to Iraq, told me: "The U.S. has made it very clear that the administration has put all of its Middle East apples into this Saudi basket … To have this come out … about a close ally is highly problematic," Hill said. While allies often behave problematically during conflicts, "the utter, apparently premeditated nature of this is not the same as having some hideous, awful situation in some distant village where it turns out the good guys are not so good," he added.
"We continue to want to have a relationship with Saudi Arabia for strategic reasons, for geopolitical reasons, because the administration wants to push back against Iran's malign behavior in the region," Sherman said. "But you have to walk and chew gum in relationships." She contrasted the Trump administration's approach to the Obama administration engaging with Russia in nuclear negotiations with Iran while also sanctioning Moscow for invading Ukraine. "You have to be able to … manage what are always complex issues with countries, ones in which the ethical dimensions and the ethical dilemmas are often quite profound," Sherman said.
The public face
At the outset, the Trump administration was tight-lipped in response to Khashoggi's disappearance. Eventually, the White House expressed concern while ruling out a suspension of weapons sales to the kingdom. Trump said he was concerned at the reports of what had happened to Khashoggi. But the president also said he'd been assured that the Saudis knew nothing about it. He later suggested that "rogue" elements may have been behind the alleged killing. In an interview with the Associated Press on Tuesday, Trump appeared to compare the allegations of murder against Saudi Arabia to those of sexual assault made against Supreme Court Justice Brett Kavanuagh. The U.S. State Department, for its part, called for a full and transparent investigation into Khashoggi's disappearance.
This week, Trump dispatched Secretary of State Mike Pompeo to Riyadh and Turkey, and urged caution before rushing to conclusions while the Saudis completed their investigation. After Pompeo's visit to Riyadh on Tuesday, the secretary told reporters: "I don't want to talk about any of the facts. They didn't want to either, in that they want to have the opportunity to complete this investigation in a thorough way." Those remarks came after he was photographed smiling with the Saudi crown prince, adding to the criticism that the Trump administration simply wants this story to go away. "Nonverbal signals matter," Sherman said. "Secretary Pompeo's lighthearted, grinning meeting with the crown prince conveyed acquiescence and acceptance, [of the Saudi version of events] not tough talk and a search for the truth."
Sherman added that Trump himself had made it clear he doesn't want to undermine the relationship with Saudi Arabia in any way. "The irony is that he has not only not made progress here, he has deepened, I think, the crisis for himself, and he's given Iran a step up inadvertently," Sherman said. "This is not a good example on how to handle these situations."
The out
Ultimately, any resolution of this crisis will have to placate the Saudis, Turkey, and the U.S. Congress, while preserving U.S. interests in the kingdom. Already, news reports suggest that the Saudi investigation will find that prominent rogue elements carried out the alleged killing, and that the crown prince was unaware of what happened to Khashoggi.
"That will probably be part of the diplomatic way forward to try and create a track that allows Western governments to maintain the intimacy of relations with Saudi Arabia and lock in associated economic and strategic interests while allowing them to simultaneously point a finger at those responsible," said Julien Barnes-Dacey, who is the director of the Middle East and North Africa program at the European Council on Foreign Relations. "The question is where [Crown Prince Mohammed bin Salman] fits into this mix—and that's probably the critical issue that is hanging over this entire saga, given the increasingly apparent linkages between those who are alleged to have been involved in the murder and MbS himself."