Understanding the Jamal Khashoggi Case and Its Consequences
To comprehend the dissident Saudi Arabian journalist's death and why it matters, start here.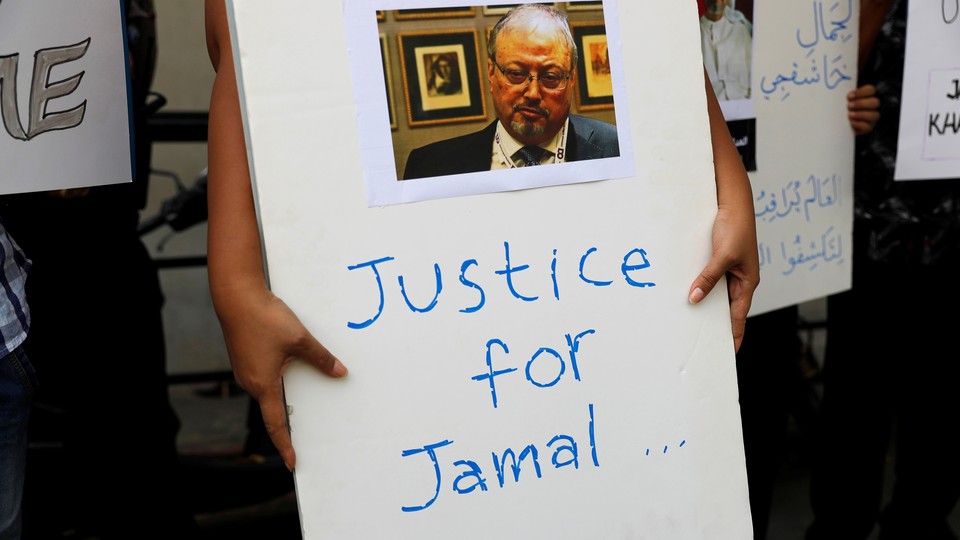 Jamal Khashoggi walked into the Saudi consulate in Istanbul on October 2 and never left. For more than two weeks, the world awaited answers about his disappearance. Days later, information began to leak from Turkish security officials and said that Khashoggi had been killed in the consulate. Over the weekend, the Saudis acknowledged that Khashoggi had been killed—but they said it was an accident, the result of a fight gone awry. On Tuesday, Turkish President Recep Tayyip Erdoğan called Khashoggi's death a "planned operation" while revealing few details. President Donald Trump at first cast doubt on Turkey's account of what happened to Khashoggi and pointed out that Saudi Arabia is a valuable economic partner for America, though he said this week that he also is "not satisfied" with Saudi Arabia's explanation of Khashoggi's death.
During the uncertain days following Khashoggi's abduction, writers at The Atlantic tried to make sense of the U.S.-Saudi Arabia relationship and other questions—about the role of a free press around the world, about America's allies in the Middle East, and about President Trump's worldview.
To understand what's happened over the past three weeks, read these 10 articles:
1) The Disappearance of a Saudi Critic Signals a Broader Danger for Journalists, by Krishnadev Calamur
Khashoggi's death is not an isolated incident of violence against a journalist. The trend is on the rise in many parts of the world:
Khashoggi's fate reflects a larger pattern of violence inflicted on journalists around the world this year. Year after year, reporters are detained, abducted, and, with some frequency, killed. As Margaux Ewen, the North America director at RSF, told me, "We're seeing targeted killings even outside war zones."
2) What the Disappearance of Jamal Khashoggi Portends, by Graeme Wood
The term dissident is often applied to Khashoggi, but dissent in Saudi Arabia looks different than it does in America and Europe:
[He] was well connected in both London and D.C., but he did not dream of transforming Riyadh into either. He dissented from his rulers only modestly, and in our conversation, he affirmed his allegiance to the king and acknowledged that the House of Saud should rule the kingdom in perpetuity. He contested certain policies that the crown prince had implemented or was preparing to implement, in his view, unwisely.
3) The End of American Lip Service to Human Rights, by David Graham
Saudi Arabia's brazen treatment of a dissident—even a mild one—has led many legislators, policy makers, and writers to question the value of maintaining a close relationship with a country whose values are so different from America's. But human rights don't actually drive American policy, David writes:
For now, at least, we're seeing the end of American lip service to human rights. Past U.S. administrations were willing to overlook abuses by allies—including, notably, Saudi Arabia—but continued to rhetorically support human rights and frown at abuses. The Trump administration is either unwilling or uninterested in going even that far.
4) Why the U.S. Can't Quit Saudi Arabia, by Kathy Gilsinan
The reason America won't make moral proclamations about its policy toward Saudi Arabia is because of the pragmatic partnership between the two nations. Like it or not, the U.S. needs Saudi Arabia, Kathy explains:
Yet the shared interests remain powerful, and have sustained the relationship through numerous crises in the past—including a 1973 oil embargo during the Arab-Israeli war and the revelation in the wake of the September 11 attacks that 15 of the 19 hijackers were Saudi. Since then, the Saudis have positioned themselves as a key ally in the fight against al-Qaeda and then ISIS.
5) The Irony of Turkey's Crusade for a Missing Journalist, by Krishnadev Calamur
Since Khashoggi's kidnapping happened in Turkey, Erdoğan, the country's autocratic ruler, has taken the lead on getting to the bottom of what happened. But that belies Turkey's own problem with journalists:
President Recep Tayyip Erdoğan has strangled the free press, but his country has emerged as the source of grisly information about Jamal Khashoggi's disappearance.
6) Turkey Is Treating the Khashoggi Affair Like It's Must-See TV, by Borzou Daraghi
Erdoğan is controlling the Khashoggi narrative and releasing information in bits and pieces. Turkey's citizens are used to this:
Regular consumers of Turkish media are accustomed to stories based on a mix of authentic material and bits of misinformation. For reporters dependent on single government sources, it's near impossible to independently verify what they're being handed.
7) How to Respond to a Diplomatic Crisis Like Khashoggi's Disappearance, by Krishnadev Calamur
America must now navigate the complicated diplomatic aftermath of Khashoggi's killing. Former U.S. diplomats offer their wisdom to the Trump administration:
Khashoggi's disappearance, the Saudis' alleged role in it, the leaks from Turkey, and a bipartisan eruption of anger at Saudi Arabia in the U.S. Congress have presented the Trump administration with a major diplomatic test: It must extricate arguably its closest ally in the Muslim world from this crisis, placate an often difficult NATO ally, and assure lawmakers that the guilty will be punished.
8) The U.S. Loved the Saudi Crown Prince. Not Anymore., by Krishnadev Calamur
Saudi Crown Prince Mohammed bin Salman made enormous diplomatic strides with influential American lawmakers this year. Khashoggi's killing reverses those gains:
[Jared] Kushner has reportedly told Trump to continue supporting MbS, because he believes the crisis will pass. Although that might be true, the Khashoggi affair could taint MbS's plans to remake the Saudi economy.
9) Mike Pompeo's Worldview? Do As Trump Does., by Uri Friedman
The confusion surrounding Khashoggi's disappearance has presented a test for Trump and his administration. For Secretary of State Mike Pompeo, who said on a trip to Turkey last week that he didn't "want to talk about any of the facts," Khashoggi's death offers insight into his worldview:
Even when they are thousands of miles apart, President Donald Trump and his secretary of state, Mike Pompeo, act in symbiosis.
10) Jamal Khashoggi's Friends in Washington Are in Shock, by Scott Nover
Almost immediately, Khashoggi's disappearance became political fodder. But for his friends and family, the situation is simply tragic and awful:
His death is a tragedy, an international crime, a threat to a free press and democracy everywhere. But to those who knew him as a person, the loss is even more tragic—deeply felt, shocking, incomprehensible.