Saudi Arabia Does a Big Favor for Iran
With its alleged hand in the disappearance of a dissident journalist, the kingdom stands accused of the sort of actions it usually calls out the Islamic Republic for carrying out.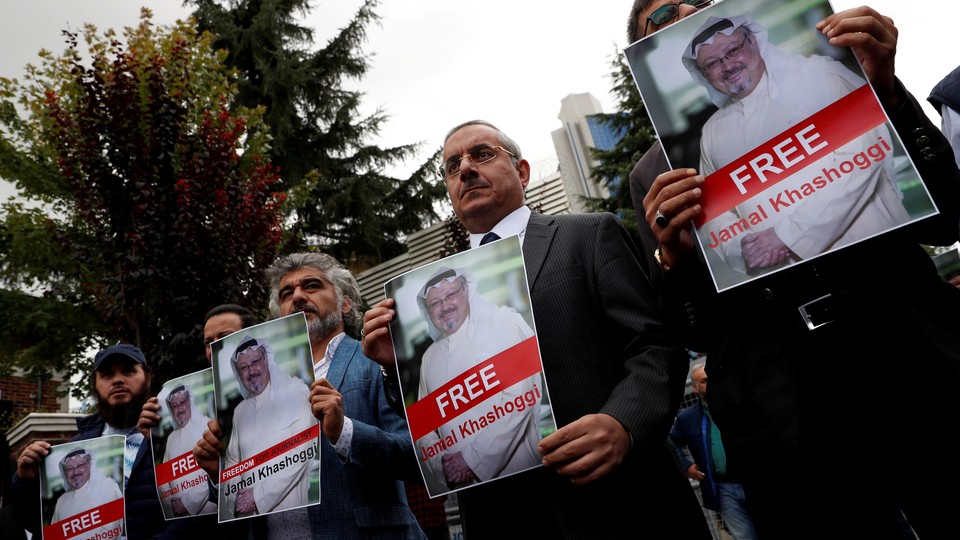 When the Trump administration talks about "severe punishment" for a country in the Middle East, it is generally referring to Iran, a country whose regional influence troubles both its Arab neighbors as well as the United States. Yet on Sunday, President Donald Trump used those words to describe what could happen to Saudi Arabia— arguably the closest U.S. ally in the Muslim world— if investigations determine that the regime is complicit in the disappearance of Jamal Khashoggi, a dissident journalist.
"Well, there's a lot at stake. There's a lot at stake. And maybe especially so because this man was a reporter," Trump told CBS's 60 Minutes in an interview broadcast Sunday. "There's something … really terrible and disgusting about that, if that were the case. So we're going to have to see. We're going to get to the bottom of it and there will be severe punishment." (Trump reiterated that Washington won't suspend arms sales to Saudi Arabia over the case, because, in his view, it would adversely affect the U.S. economy.) And, as if to ensure that the discussion of the case won't end anytime soon, the state-run Saudi Press Agency quoted a source earlier Sunday as saying the kingdom rejects "threats or attempts to undermine it," adding that the kingdom will "respond to any action with a bigger one." (A subsequent tweet Sunday from the Saudi Embassy in Washington later walked back that language.)
On Monday, Trump tweeted that he had spoken to King Salman, "who denies any knowledge of whatever may have happened" to Khashoggi, a Saudi citizen and U.S. resident. "He said that they are working closely with Turkey to find answer. I am immediately sending our Secretary of State to meet with King!"
The Khashoggi affair represents a dramatic change in fortunes for Saudi Arabia, which until just two weeks ago was being lauded for its social and economic reforms. Saudi Crown Prince Mohammed bin Salman, known as MbS, was widely being acclaimed as the face of the modern kingdom. He gave interviews in which he outlined his plans, took the opportunity to say Iran's supreme leader "makes Hitler look good," and accused Iran of being behind "any problem in the Middle East." There was a darker side to the announced Saudi reforms, however—arbitrary arrests, a costly war in Yemen, a clampdown on dissent. But that drew little rebuke from the West as long as Iran maintained its support for terrorist groups; its influence in Iraq, Syria, Lebanon, and Yemen; its ballistic-missile program; and its continued threats against Israel.
Saudi Arabia is not only a close U.S. ally: President Trump and Jared Kushner, his son-in-law and senior adviser, have boasted about their closeness to the kingdom and its royal family, and the Trump administration has generally remained quiet over Saudi Arabia's internal repression, its military intervention in Yemen, and its blockade of Qatar. But the alleged killing of Khashoggi was different. Not only did his alleged murder occur in Istanbul; he is also a U.S. resident and a prominent journalist with a column in The Washington Post.
In other words, Saudi Arabia has allegedly done what it and others regularly accuse Iran of doing. The Islamic Republic might be better known for its abysmal human-rights record—it executes gays, arrests dissidents, and persecutes minorities—its support of Hamas and Hezbollah, and its backing of Bashar al-Assad in the Syrian civil war, but it also allegedly sends assassination squads to kill dissidents overseas and was said to be behind the 1995 bombing of the Argentine Israelite Mutual Association, a Jewish community center in Buenos Aires, that killed 85 people.
It is for reasons such as this that the United States and its allies have sanctioned Iran heavily over the years. Relations improved somewhat in the Barack Obama years because of the nuclear agreement, but they have worsened dramatically since Trump withdrew the United States from the accord in May. Last week, Mike Pompeo, the U.S. secretary of state, said the object of U.S. pressure was to convince "Iranian leaders to behave like a normal nation." Yet Iran has watched mostly in silence as Saudi Arabia is being excoriated in the West precisely for not behaving like a normal nation.
Al-Monitor, a website that focuses on Middle Eastern news, noted that much of the Iranian media's coverage of the Khashoggi story focused on relations between Turkey and Saudi Arabia. "A rift between Saudi Arabia and Turkey could be welcome news to the Iranian government," Al-Monitor wrote. "While Iran and Turkey disagree on a number of regional developments, particularly on the Syrian civil war in which they are backing opposing sides, the two countries have deep economic ties. Any conflict between Saudi Arabia and Turkey could allow Ankara-Tehran ties to deepen further while simultaneously isolating Saudi Arabia, Iran's rival."
(One ironic side effect of this controversy is that Turkey, which under President Recep Tayyip Erdoğan has crushed dissent and shredded the free press, is the source of much of the information about what happened to Khashoggi. Saudi-Turkey relations, uneasy at the best of times, are strained over Ankara's support of Qatar, which is the subject of a Saudi-led blockade.)
Prior to Trump's interview, the Trump administration's own public response to the Khashoggi case had been muted. Part of the challenge the U.S. faces is formulating a response to the alleged Saudi action without alienating perhaps its most important ally in the Muslim world. U.S. and Saudi interests converge on a host of issues: stable oil supplies, Islamic extremism, and Iran's influence in Iraq, Syria, Lebanon, and elsewhere. But the U.S. Congress's move to trigger the Global Magnitsky Act, which gives the president 120 days to decide whether to impose sanctions on anyone involved with Khashoggi's disappearance, could complicate matters: At best for Saudi Arabia, the issue remains in the news for that period, compounding the kingdom's PR nightmare; at worst, the kingdom is sanctioned by its closest ally. Meanwhile, Iran, a country that is routinely called a bad actor and sanctioned, can point to Saudi Arabia and say: You're no better than us.