The 'Silent Majority' Fighting Germany's Far Right
A march in Berlin this weekend will demonstrate whether the German activists who oppose the country's rising far right are serious.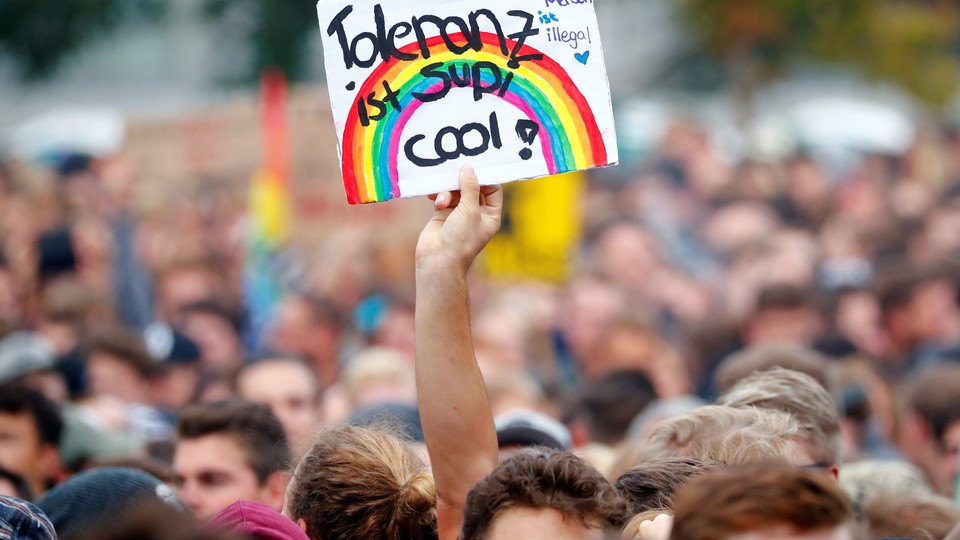 BERLIN—In early September, as the sun set on one of this city's final summer evenings, dozens of activists gathered at a bar in the lively Kreuzberg neighborhood to devise a plan to try to save their country from the far right. Much of the discussion concerned the details of a march taking place tomorrow in Berlin that they hoped would help reinvigorate the open-society values they felt defined their country.
Plans for the demonstration were well underway before the stabbing death in late August of a 35-year-old German citizen, allegedly by immigrants, in the eastern city of Chemnitz. After the incident, cadres of far-right and neo-Nazi groups descended on the town. Along with Chemnitz citizens, they chased down civilians who appeared to be foreign, harassed journalists, and openly flashed Nazi salutes. Counterdemonstrations followed, prompting calls from politicians for a "silent majority" to oppose the actions of the far right. A concert organized a week after the stabbing, whose slogan was "There are more of us," drew 65,000 people to Chemnitz eager to display their defiance of the extremist groups.
Tomorrow's demonstration will be the first significant test of whether that opposition can be sustained. Its organizers think it can: They are preparing for a show of force in the tens of thousands. Their readiness to help channel the outrage of a newly engaged silent majority is tempered, though, by a growing frustration with Germany's political class.
As the meeting in Kreuzberg came to an end, the activists lingered, smoking hand-rolled cigarettes and signing up to hang flyers or help with online recruitment. Franziska Nedelmann, a lawyer and one of the organizers, told me her group wanted "to make clear that things we always thought were clear and not in danger are in danger"—in other words, to show that Germany has worked hard to wrestle with its past and create a society that respects human rights, religious freedom, and the rule of law, she said. But in the wake of the events in Chemnitz, Nedelmann's not so sure just how entrenched those values are. She's eager to see if the silent majority shows up tomorrow.
Activists like Nedelmann have said that Germany's political leaders—particularly those in the center—also have a role to play. They need to articulate a platform that keeps their citizens from drifting to the far right. That platform should address pervasive concerns that social services are disappearing and pensions are shrinking, but it should also reimagine the immigration system without indulging in xenophobia, the activists have said. Nedelmann and her colleagues are worried that people will continue pushing to the extremes, widening the growing social rift, without a political solution. And there is a fear, supported by new polling charting the far right's continued rise, that if Germany divides, the silent liberal majority politicians have called upon may not endure. "We need to make a point to show that we expect another political discussion, another political culture," Nedelmann said.
The far right announced its reemergence in Germany with the ascendance of the Alternative for Germany (AfD) party into Parliament in last year's federal elections. Powered by its anti-immigrant message, the AfD took the third-most seats of any party, while Chancellor Angela Merkel's Christian Democratic Union (CDU) and the center-left Social Democrats (SPD) saw their totals plummet from elections four years earlier. They were forced to renew a coalition neither really wanted in order to form a majority government.
Carl Berning, an expert on the far right at the Johannes Gutenberg University of Mainz, said the AfD's success was precipitated by its ability to transform immigration into a political issue. "Not in a sense of, Is immigration good for the economy or not? but, How does immigration affect national identity, affect our value system?" he said. "They changed the narrative." The AfD's leadership also managed to toe the line between populism and extremism, he said. Even as some elements of the party flirt regularly with neo-Nazi sentiments, its leaders have retained voters who might be uncomfortable with those associations by exploiting their fears about the impact of immigration.
Friedrich Burschel, an expert on neo-Nazism at the Rosa Luxemburg Foundation in Berlin, explained in an email that the images out of Chemnitz seemed to have awakened Germans to just how strong a hold right-wing extremism has taken on their country, how easily the far right can be mobilized, and how the shame of associating with it is beginning to vanish. Average citizens had no qualms about "mingling with organized, wholesale Nazis in the street. This is quite new and alarming," he wrote. Indeed, in the wake of the Chemnitz demonstrations, the AfD has actually seen its fortunes rise: Those new tallies in September showed the party actually outpolling the SPD for the first time ever, and now running second only to the CDU.
In response to the events in Chemnitz, the political center and left demanded that citizens more openly show their opposition. That call resonated with Burschel, who said he has seen a growing silent majority among church congregations, trade unions, welfare organizations, and other communal bodies, working to prevent the erosion of their cherished open society. "I believe that there still is a majority of what could be called constitutional patriots who are now deeply concerned by what is happening on the right," he wrote, pointing to the thousands who trekked to Chemnitz for the concert. But they must keep showing up, he added. "Otherwise we lose again."
Among the activists who have already spent years trying to mobilize against AfD, there is a sense that the silent majority will keep showing up. Seebrücke (or "Pier") is a new network of local groups organizing to change policies its members believe are contributing to the deaths of refugees and migrants attempting to cross the Mediterranean to Europe. The movement launched in June after Italy blocked Lifeline, a migrant rescue ship run by a German organization, from docking. Seebrücke's first public demonstration came just a few weeks later in Berlin, and drew some 12,000 people, according to Laura, a spokesperson for the group. (She asked to be identified by only her first name out of concern for her safety.)
Groups like Seebrücke have a critical role to play, Laura said. They can champion their specific issues, but also counter the ideology of the far right, whose "opinions get validated unless they are opposed by huge parts of the population." But in the wake of Chemnitz, she bristled at how politicians appeared to be putting the burden on citizens. "The notion of the public needing to do more is offensive to those who do a lot," Laura said. "The politicians also have responsibilities." Activists and civil-society groups can channel outrage, but they can't enact policies in response to that outrage—that's the job of politicians, she said.
Those politicians still have a ways to go. The CDU and SPD have struggled to respond to the AfD's fearmongering messaging, which successfully ties issues like rising rents and plummeting pensions to Merkel's decision in 2015 to open Germany's borders and admit hundreds of thousands of immigrants and refugees. "People are afraid they will lose their standard of living," Richard Hilmer, the managing director of the political-research firm Policy Matters, told me. Both the CDU and SPD have failed to make the case that "immigrants should be welcomed."
Instead, scared of losing voters to the AfD, some members of the governing coalition seem to be retreating to the right. This summer, Interior Minister Horst Seehofer, who also leads the Christian Social Union (CSU), threatened to blow up the ruling coalition over demands for a more restrictive immigration policy. It's no secret why. Polls ahead of state elections in Bavaria scheduled for the day after the Berlin demonstration show the party now slipping below 40 percent; for a party that once won absolute majorities in the state, this is alarming.
The CSU, in turn, has put the ever pragmatic Merkel in consistently difficult positions, as she attempts to accommodate some of Seehofer's demands in order to keep her coalition intact, while dealing with her own party and its inconsistent approach to immigration. The situation also poses a dilemma for the SPD, which is pushing for a more streamlined, open system, but is hobbled by its role as the junior partner in the governing coalition. "It's not very convincing to voters," Hilmer said of all the jockeying within the ruling coalition.
At the meeting to plan tomorrow's rally, talk toggled between frustration with politicians and alarm at the far right's ascent. The activists said they felt a responsibility not to just cow the far right, but to rouse the political left and center to restore a fast-disappearing equilibrium. "There was a long time where Germany said, 'We are one of the only countries that worked on the past. We really fought against the Nazis.' For everybody, it was clear there were no-go's," Nedelmann said. "Now those no-gos are gone … We don't know if it was just a bubble or if society never really changed. So now we get to find out."