France's Jews Look to Pittsburgh 'Across a Narrow Bridge'
"What's been a reality for us has now become a reality for them," said one worshipper at the Mouvement Juif Libéral de France in Paris.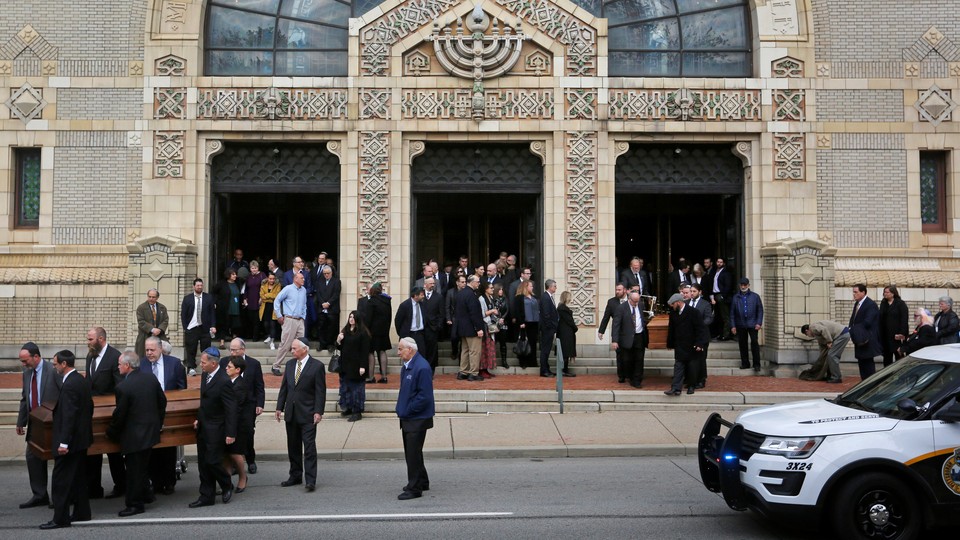 PARIS—So many times in the past few years, as France underwent a wave of terrorist attacks that killed hundreds of people from 2012 to 2016, American Jews would send solidarity to France. The tables now seem to have turned.
At a memorial here this week, from a dais adorned with American and French flags, a rabbi at the Mouvement Juif Libéral de France, a Reform synagogue, read aloud the names of the 11 victims killed at the Tree of Life synagogue in Pittsburgh. Several hundred worshippers and guests had gathered, along with French public officials, and lit 11 memorial candles. The assembly sang Hebrew prayers and psalms, and the congregation's rabbis spoke of the need for public officials to call out anti-Semitism in all its forms—around the world.
"We thought that the U.S. was a safe place for Jews. It was really shocking to hear about the shooting in the synagogue. For one, it makes you realize that nowhere in the world is safe for us," Yael Hollenberg, an editor at a Jewish magazine, Tenou'a, told me when I asked her why she had come to the memorial service. "What's been a reality for us has now become a reality for them," she added.
Hollenberg took no pleasure in what she was saying. And neither did Rabbi Delphine Horvilleur, who helped organize the memorial service. After the many attacks in Paris, "I had so many American friends telling me, 'It'll never happen here,'" in America, she told me.
At the memorial service, Horvilleur spoke of how in Hebrew, the word dvar means both "word" and "thing," and how hateful anti-Semitic words can so quickly turn into hateful actions. She spoke of how Jews through the centuries had always been seen as the very embodiment of "otherness," targeted for a range of wildly contradictory accusations—for being too bourgeois and too radical, for being too rich but also feeding off the state.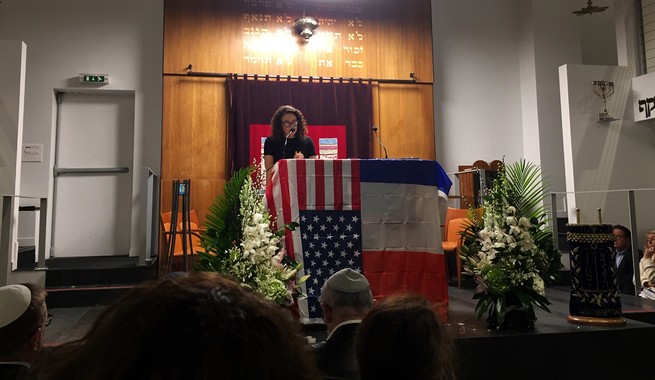 If there was an overall message to the memorial service, it was the same one that France has slowly come to understand in recent years, as it has fallen victim to multiple terrorist attacks: that what begins as anti-Semitism, what begins as attacks on Jews, quickly shifts to attacks on open society at large.
For years in France, there was a sense in political circles and in the mainstream media that Jews were somehow routine targets, mostly of Islamist violence. In 2012, when an Islamist militant shot and killed a rabbi and three children outside a Jewish school in Toulouse and three French paratroopers of North African descent, the attacks were seen as a one-off.
Instead, they foreshadowed a season of terror, in which 239 people were killed between January 2015, the attacks on the satirical magazine Charlie Hebdo and a Kosher supermarket; November 2015, the attacks on the Bataclan concert hall, Stade de France, and cafés across Paris; and July 2016, when a driver in a truck mowed down people strolling along a promenade in Nice. In Paris this year, a Holocaust survivor was murdered in a robbery that might or might not have been motivated by animus to her religious beliefs, but that nevertheless prompted an outpouring of solidarity and a march against anti-Semitism.
The years of attacks have also led to a dramatic uptick in security at Jewish sites across France. Outside the Mouvement Juif Libéral de France, there were at least eight guards in bulletproof vests, some holding submachine guns. To enter, visitors had to open a bulletproof door, then wait in a sealed vestibule where security guards checked their belongings before opening a second door leading inside. This is now standard in synagogues in France and elsewhere in Europe, where armed guards have been the norm since Palestine Liberation Organization attacks on Jews and Jewish sites across the Continent in the 1970s and '80s. After the Pittsburgh killings, France's interior minister called for a heightened police presence outside Jewish sites in France.
At the memorial service, one of the congregation's rabbis, Yann Boissière, spoke about the security. "We know it's necessary, but is it really effective?" Rabbi Boissière asked. He addressed the elected officials present, including a deputy interior minister and a prefect of the Paris police, and called for "a massive education program against anti-Semitism." It might take 20 years, he said, but France at every level needed to show "zero tolerance against hatred and hatred against Jews that we have to call out as anti-Semitism."
Back in April 2015, this magazine published a cover story by our now-editor, Jeffrey Goldberg, that has become part of the conversation about anti-Semitism in Europe. Its headline asked: "Is It Time for the Jews to Leave Europe?" The story was more complex than the question it posed, but some European Jews found the question itself offensive—a product of a kind of alarmism that thrives in an American Jewish community whose sense of self draws heavily on the belief that America is safe but Jews elsewhere are at risk—especially in Europe, with its dark history. This is what happens there, the thinking goes, not here. Well, after Pittsburgh, there turns out to be here.
Rabbi Horvilleur said asking whether Jews should leave France was never the right question, and certainly isn't now. "I think after Pittsburgh this question has become obscene," she told me. She pointed to a recent column in Haaretz, the Israeli daily, by the journalist Anshel Pfeffer: "From Pittsburgh to Paris, Five Lessons for Jews Everywhere," and said it had resonated. The first lesson is: "Respect every Jew's homeland." "In the wake of the attacks in France, Belgium and Denmark earlier this decade, there was a pervasive tone from Jewish-American writers of 'What are Jews still doing in Europe?'" Pfeffer wrote. "It is disrespectful to Jews to suggest that they have no business living in their chosen homelands."
"Don't question the right of fellow Jews to live in security in Pittsburgh or Paris, as you expect them to respect your right to security in your hometown," he continued. "By questioning that right, we are doing the anti-Semites' job for them. And no, moving to Israel is not the solution. It's an individual choice that the overwhelming majority of Diaspora Jews are not considering."
The tectonic plates of history, and Jewish history, are shifting. The distance between Pittsburgh and Paris has collapsed. How governments and Jewish communities contend with that will define the shape of society in the years to come.
Back at the memorial service at the Mouvement Libéral Juif de France, the gathering concluded with everyone singing Simon and Garfunkel's "Bridge Over Troubled Water" and then a famous prayer by the late-18th-and early-19th-century Jewish mystic Rabbi Nachman of Breslov: "The whole world is a narrow bridge; the important thing is not to be afraid."