The Dangers of a Neo-Nazi Woodstock
Residents of an east German town forced to host a far-right music festival are asking: Where do we draw the line?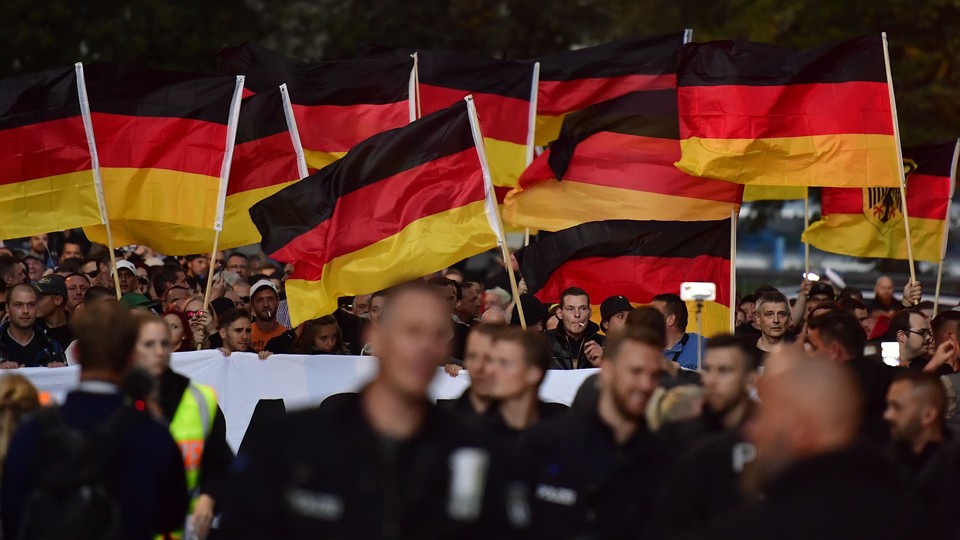 APOLDA, GERMANY—On a recent sunny October afternoon, in a verdant field in central Germany, a vast stage stood beside a cluster of tents, concession stands, and porta-potties awaiting the arrival of some 5,000 attendees. It could have been the site of a music festival practically anywhere in Europe. But this was Rock Gegen Überfremdung, or, roughly, "Rock Against Foreign Inundation," a sort of Woodstock for neo-Nazis, billed as one of the largest festivals held by Europe's resurgent far right. Walking past the site, I could see the white memorial tower of the Buchenwald concentration camp gleaming from a hilltop in the distance.
As in many parts of Europe, Germany is experiencing a wave of nativist populism, sparked by the arrival of 1 million asylum seekers in 2015. Last year, that movement propelled the right-wing Alternative for Germany party into Parliament, and it has stoked a heated debate over migrants, even as the number of newcomers has dropped. In September, riots ripped through the east German towns of Chemnitz and Köthen after two local killings, reportedly committed by asylum seekers. Mobs attacked bystanders who looked like foreigners; some raised Hitler salutes. The images splashed on television screens shocked Germany into a collective bout of soul-searching.
Along with the new nationalist surge, there has been something of a renaissance of neo-Nazi culture in German states like Thuringia, where Rock Gegen Überfremdung is held. Only 3 percent of Germany's population live in Thuringia; yet by some estimates, it hosts around a third of the country's far-right concerts. This has thrust local authorities into a pitched battle to clamp down on this flourishing far-right scene, placing Thuringia at the center of a conflict between Germany's embrace of free expression and the fear that some of these expressions are posing a threat to its democracy. That conflict played out in spectacular fashion last weekend— from a back-and-forth struggle in the courts to street skirmishes and police helicopters in a tiny Thuringian town.
Like many parts of former East Germany, Thuringia is an economically depressed state. Local leaders say that has made it a fertile recruiting ground for the far right, and something of a hub for neo-Nazi events. There's also its convenient location, smack in the center of Germany. MOBIT, a watchdog group that monitors the far right, has found that neo-Nazi figures are also buying up cheap property in Thuringia that they then use for rechtsrock (the name used for extreme-right rock) events and lodging. Other local leaders I spoke with complained that for years Thuringia ignored the neo-Nazi scene because its events were small and protected by free-speech laws.
Until recently, Thuringia was hosting around 30 far-right concerts a year, according to MOBIT. By 2017, the state had hosted at least 60; Christoph Lammert, a MOBIT spokesperson, said he expects similar numbers this year. Some events, he told me, take the form of a dozen people with an acoustic guitar gathered at a bar. Others draw a few hundred. But several annual rechtsrock events now draw thousands of people. "The general Nazi scene is still rather small, but they're breaking more into the general public's awareness," Lammert said. "They're taking some of their arguments into the mainstream."
2017's Rock Gegen Überfremdung in Thuringia was organized by Turonen, a controversial network monitored by German intelligence, and brought out more than 6,000 people. Among the bands scheduled to play were Gigi & Die Braunen Stadtmusikanten, or "Gigi and the Brown Town Musicians," a reference to the Nazi paramilitary. Another was Die Lunikoff Verschwörung, or "The Lunikoff Conspiracy." Its songs include lyrics like: We love our country, but hate this state. You will see it rise, our seed, and then there is no mercy, our hatred is far too great.
But just a few hours before this year's Rock Gegen Überfremdung was set to begin, local authorities won a court battle that effectively blocked concertgoers from the site. This marked the second time since August that the state had managed to block a location set up for the event. Yet none of the politicians, protesters, or police milling around the empty concert grounds looked relieved: This time, the rechtsrock organizers had adapted to their struggle with authorities, and had preemptively registered an alternate site.
The concert was quickly moved to Apolda, a nearby town of some 22,000 people. Like most of Thuringia, Apolda has struggled economically since reunification in the 1990s. But it still boasts an idyllic main square, complete with a brightly painted old town hall and an antique bell that rings on the hour. As the clock struck six last Friday, cordons of police surrounding the Marktplatz began admitting several hundred concertgoers. Most were men, covered in tattoos and piercings, walking with a a stiff swagger. They wore sweatshirts bearing slogans like Adolf was great, Defend your Race, and Defend Europe. As they streamed in, the square became a sea of red, white, and black—a nod to the former colors of both Germany's Nazi and imperial flags. Counterprotesters, scattered after the sudden location switch, were barely visible.
Soon, a truck hauling a portable stage rolled in to loud cheers. Over a crackling, hastily assembled sound system, a speaker addressed the crowd: "Music is an important weapon against the people who want to tell us that we're in the wrong. But we are right. What happened in Köthen and Chemnitz shows we are right—and that we have the right," he said. "Criminal foreigners?" he asked. "OUT!" the crowd chanted back. "I won't tell you the rest," the speaker said. "Because that's against the law." A heavy-metal band followed, rasping out lyrics, of which the only discernible bits were lines like "all this scum" and "shit on your grave."
"This is just—wow. We are doing this in the middle of a town," one of the concertgoers said. He told me he had come all the way from the Czech Republic. "Where I come from, this would never be allowed … We do our gatherings somewhere secret."
Far-right concerts aren't just parties for neo-Nazis—they are critical opportunities to fund-raise and network. MOBIT activists and local journalists I spoke with estimated that, after expenses, large concerts in Thuringia can make 100,000 to 250,000 euros in profit through tickets, merchandise, and food sales. This is despite the fact that, technically, Rock Gegen Überfremdung isn't even a concert: Right-wing organizers register such events as political demonstrations, which are subject to fewer restrictions under German laws guaranteeing freedom of assembly.
Attendees at these events manage to skirt legal bans on direct references or symbols relating to Adolf Hitler and National Socialism. Some shirts at the concert, for instance, read 12 Golden Years, a reference to the Third Reich's rule from 1933 to 1945. Raising fists between songs, attendees chanted, "Free, social, and national!"—just about the closest you can get to cheering for National Socialism without defying the constitution. One attendee, a man in his mid-30s and covered up to his neck in red and black tattoos, told me these concerts were an opportunity to express his resentment toward the state. "It's not possible to change anything in Germany with the elections we have," he told me. "The system is rigged."
Ultimately, that night only some 700 of the most determined concertgoers arrived in Apolda after the location switch. As Georg Meier, Thuringia's silver-haired interior minister, watched from afar, he insisted that even if the sight of neo-Nazis in a town square was shocking, it was better to have a smaller crowd rather than allowing several thousand to amass more freely for hours on the nearby field. "They'll have a big loss now," he said. "They weren't able to sell their drinks and their food. That's a lot of sausages, a lot of beer that they paid for and couldn't sell … It's not a 100 percent victory, but, I would say, an 80 percent victory."
The next morning, however, it was clear that an 80 percent victory did not feel like nearly enough for some locals. Ritvana Gjura, a 22-year-old Albanian student in Apolda, told me she was followed the previous night by drunken concertgoers, who were debating whether she was German. She shook off her hoodie to show her blonde hair and raced to a friend's home. "I don't understand why they didn't just let these people do their concert in a field somewhere. Now they're here, in the middle of our town" she said. "The situation here with the neo-Nazis already worried me, but these days, it feels scary."
Hours before day two of Rock Gegen Überfremdung was scheduled to kick off, Gjura and other locals were busy setting up Autumn Fest in the Marktplatz. Autumn Fest was a previously scheduled celebration with music, games, and food stalls, but when local leaders realized their square had been registered for the rechstrock concert, they hastily transformed it into a campaign to stall the neo-Nazi gathering. The plan was to keep the festival going as late as possible, until courts legally mandated them to hand over the square to concert organizers. The courts had ruled against a last-minute petition from Apolda's officials to cancel the concert on the grounds that the bands were inciting violence and therefore should not be protected by free speech. "We are still just reacting to what they do. I want to be the ones acting and blocking their events," Rüdiger Eisenbrand, the mayor of Apolda, told me. "I don't understand this: How am I, a representative of democracy, the one battling the courts, which are allowing this to happen in the market center of a town?"
This latest struggle with the courts reflects a growing debate over how the state should interpret free-speech laws when it comes to extremist views—and also over the laws themselves. "We need to make some changes to the law," Cristoph Victor, a refugee-rights activist, told me as he made pizza at Autumn Fest. "This is a big, strategic struggle … Unfortunately, Germany has changed, and it may have changed forever. It is the only way to protect our democracy."
At Autumn Fest, the organizers unfurled a giant banner reading For an open and democratic Apolda. The smell of grilling bratwurst wafted through the crowd, as children drew rainbow hearts with sidewalk chalk and played with hula hoops while their parents danced awkwardly to Manfred Mann's cover of "Blinded by the Light." At the edge of the square, "antifa" activists staged a sit-in. Police arrested them, one by one, to clear the way for the rock concert, as right-wing concertgoers massed along a barrier erected between the two sides—drinking, cheering, and flipping their middle fingers. As the jeers on the edges of the square grew louder, Victor suggested that the Afghan, Eritrean, and Syrian refugees playing soccer at the festival head home. Townspeople preparing to hand over the square sang hymns; some teared up. But the boom of the metal bands striking their opening chords, mixed with the shrill whistles blown by antifa protesters, began to drown the melody out.
Suddenly, bottles began to whizz overhead as angry—and, by that point, very drunk—concertgoers clashed with the police. Before the concert could even really begin, the police were shutting it down. Many of us began to choke on the pepper spray the police had sprayed into some angry rechtrockers' faces, and soon a helicopter arrived, shining beams overhead for massive columns of police to break up the crowd. Cheers erupted among the antifa protesters, watching drunken far-right concertgoers self-destruct. But as one organizer announced the concert's end, he dropped an angry warning: "Later you will wish we had only made music."
Eisenbrand looked quiet and dazed as he shrugged off congratulatory salutations. This may have been the end of one chapter, but there would be many more ahead—if not for his town, he said, then for some other poor, tiny town in Thuringia. "This wasn't a win because of something we accomplished," he said. "Now they're only going to become more angry, more determined."
The mayor asked me if I knew the story of the hedgehog and the hare, a typically gruesome Brothers Grimm fairy tale in which a confident hare agrees to race against the hedgehog, thinking it an easy victory. But the hedgehog conspires with his wife to trick the hare by staking out both ends of the field, thus always appearing to be in the lead. Eventually, the hare runs so much, he bleeds to death and dies.
Eisenbrand smiled bitterly: "I feel we are like that hare. We just keep on running."