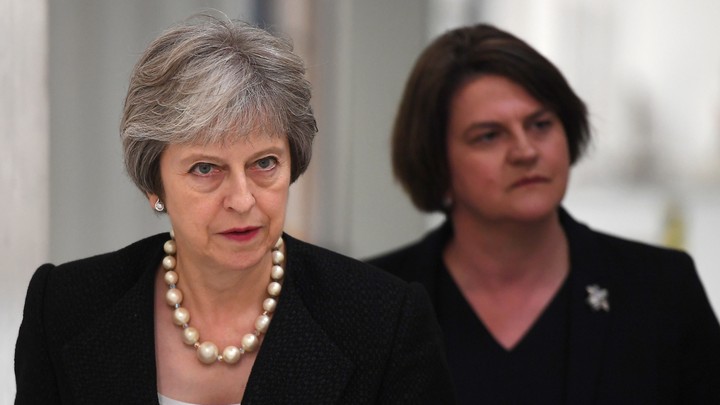 LONDON—British Prime Minister Theresa May has faced her fair share of resistance over Brexit: from the opposition Labour Party, from the Euroskeptics within her ruling Conservatives, and even from members of her own cabinet. But the latest rebellion isn't just from the usual suspects. Now, it's coming from the small Northern Irish party that is propping up May's government—and it could bring the whole government down.
Arlene Foster, the leader of Northern Ireland's Democratic Unionist Party (DUP), issued a stern warning to May's government following her visit with European Union negotiators last week. Foster reaffirmed that her party would oppose any Brexit deal that sees Northern Ireland leave the EU on terms different from those of the rest of the United Kingdom—including proposals to keep Belfast within the EU's customs union alone. This plan, known as the "Irish backstop," is an insurance policy agreed to in principle by U.K. and EU negotiators in December to prevent the implementation of a hard border between Northern Ireland and the Republic of Ireland in the event the U.K. and the EU fail to achieve a future trade deal. Ideally, negotiators hope, the plan will never need to be used.
Though the DUP's opposition to this backstop idea isn't new, the ultimatum attached to it was: The party's Brexit spokesman warned that unless British negotiators ruled out a backstop for Northern Ireland alone, they would be prepared to vote against the government on important legislation, such as the upcoming budget vote. This radical move comes at a critical time in Brexit negotiations, which reached an impasse over the weekend after U.K. and EU negotiators failed to reach a consensus on the backstop issue. It also leaves May with an impossible choice: Failing to appease the DUP on the backstop could endanger her premiership. But failing to finalize a deal with the EU before the end of the year could put the country one step closer to leaving the bloc without any Brexit deal at all.
Read: Can Britain deal with 'No Deal'?
So how did a small Northern Irish party go from being the power broker propping up May's government to the one threatening to tear it down? The DUP, which votes with May's ruling Conservatives to maintain their parliamentary majority, has always opposed any plan under which Northern Ireland would leave the EU on different terms from the rest of the U.K. This opposition stems from deep concerns among Northern Irish Unionists (or those who want to preserve Northern Ireland's status as a member of the U.K.) that any divergence between the two could lay the groundwork for reunification between Northern Ireland and the southern Republic (an outcome favored by Nationalists). Unionist fears aren't necessarily unwarranted: A recent poll found that support for Irish reunification could increase by as much as 56 percent if Brexit creates a hard border between Northern Ireland and the Republic.
Edward Burke, an assistant professor in international relations at the University of Nottingham, told me these fears aren't the only reason Unionists are opposed to the backstop. "You are essentially cutting off part of the United Kingdom in a way that will be regulated by EU rules," he said, adding that it would put Northern Ireland under a framework in which it would have no say. Such an outcome would be "glaringly humiliating" for the U.K.
Read: Northern Ireland could be Brexit's biggest casualty.
To that end, May has argued that any such backstop should be applied to the whole of the U.K. in order to prevent divergence with Northern Ireland, and that any such arrangement must have a fixed end date. Brussels, however, has long insisted that the backstop must be specific to Northern Ireland. The EU chief negotiator Michel Barnier has also said that an expiration date on the backstop wouldn't work either, noting that it would only be effective if it applies "unless and until" it is no longer needed.  
With negotiations deadlocked and a solution to the concerns over the backstop nowhere in sight, the DUP reaffirmed on Monday that it would act on its threat to stall the government's legislative agenda, including through a vote against the government's budget. Such a vote could hurt May just as much as an attempt to trigger a general election, Anand Menon, the director of the London-based research institute U.K. in a Changing Europe, told me. "In normal times, the implications would be massive," he said. "Under normal circumstances, the government would fall."
In a statement that appeared to downplay the threat of a DUP rebellion, a Downing Street spokesman pointed out that only an explicit vote of no confidence in the prime minister can trigger a general election. While losing a budget vote would certainly weaken May on its own, it wouldn't lead to her ouster.
Whether the DUP is ready to make good on its threat, or whether this is just a case of political brinkmanship, remains unclear. Still, without a parliamentary majority and with her own party fundamentally split, May will need all the support she can get to push her Brexit deal through Parliament.
When I asked Menon whether he believed the DUP would act on its threat, he said they would. "The problem is there's an awful lot of signaling going on at the moment and that's what makes it complicated. Labour is saying they're going to vote against, the [hardline Conservative Brexiteers are] saying they're going to vote against, the DUP is saying they're going to vote against. But there is a lot of scope for those positions to change between now and whenever the vote is," he said, adding: "We don't know how genuine people are."
We want to hear what you think about this article. Submit a letter to the editor or write to letters@theatlantic.com.