Can Brazil's Democracy Withstand Jair Bolsonaro?
The far-right former military officer will be Brazil's next president, but the country's legislature and courts may yet restrain him.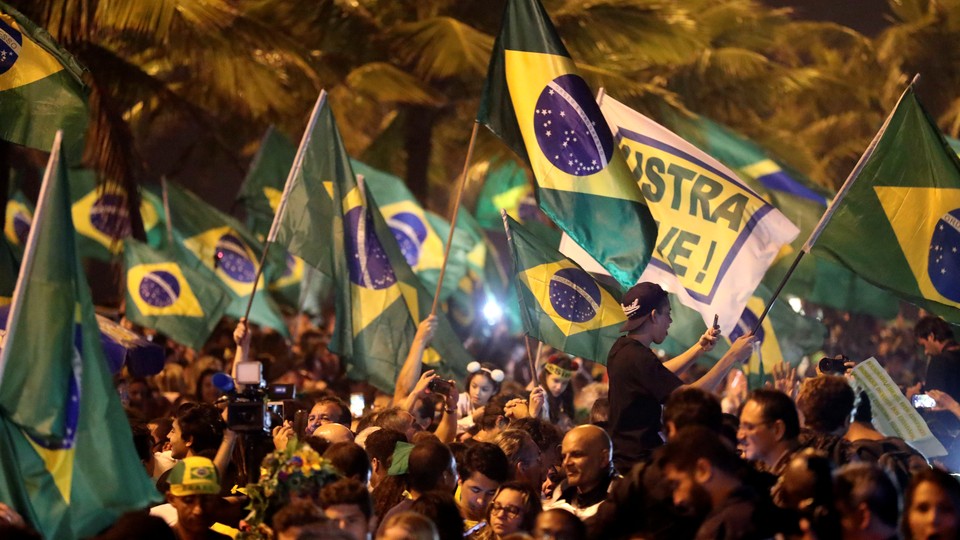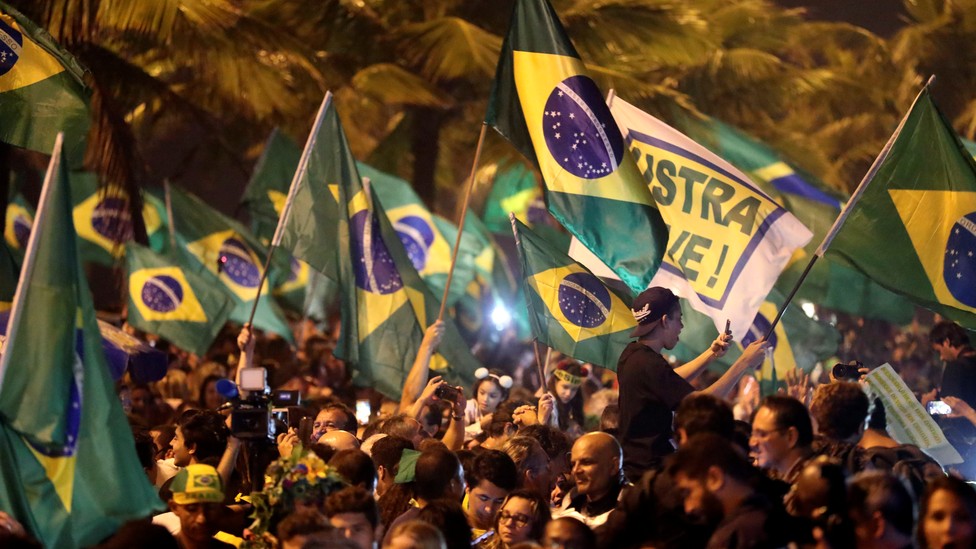 RIO DE JANEIRO—Carlos Alberto da Silva opposes Jair Bolsonaro's plan to arm Brazil's citizenry, the way he degrades women and gays, and his aggressive defense of the country's last dictatorship. But da Silva, a textile-delivery worker in Rio de Janeiro, still voted for him on Sunday.
"I don't think he's great, but I want to see if he can change things, because we have to do something about security and about education and the economy," said the 48-year old da Silva, voting in a run-down school in the poor, violent Complexo da Maré network of favela slums. "If he tries to install a dictatorship, the Senate and everyone else would stop him, right?"
Many in Brazil, and around the world, are asking similar questions.
Bolsonaro, a far-right congressman and former army captain, was elected Brazil's next president on Sunday, winning 55 percent of the votes cast in a runoff. He will take office in the world's fourth-largest democracy on January 1.
Despite the comfortable margin of victory, Brazilians were hesitant to endorse his political program, or any other. The country has compulsory voting, but more than 30 percent of the bitterly dissatisfied electorate cast blank votes or abstained—the highest percentage since full democracy returned in 1989. Unusually, many Bolsonaro voters say they don't want him to actually fulfill his hyperaggressive campaign promises, which makes it especially hard to predict what will happen once he takes office.
As a congressman and presidential candidate, Bolsonaro is one of the most extreme figures in global electoral politics. He mixes Rodrigo Duterte's bloodlust with Recep Tayyip Erdoğan's disdain for secularism and democratic institutions, and he has spent his 27-year political career keeping alive the ideology that powered South America's brutal 20th-century military regimes. He has recently promised "a cleansing never before seen in Brazilian history," and to ban all "bandit" political opponents from the "fatherland."
But it's far from clear how Bolsonaro will actually govern as president. Though Brazil remains a young democracy, its institutions have teeth. In just the past two years, Congress impeached the last elected president, Dilma Rousseff, and the courts sent her wildly popular predecessor, Luiz Inácio Lula da Silva, to prison. The pair, both members of the relatively moderate Workers' Party, were felled as Latin America's largest country suffered a deep recession and as the political class was blown apart by a huge corruption scandal (though Rousseff was removed for violating budget regulations). Bolsonaro, who has has repeatedly flirted with the idea of a coup, may not be as inclined to accept such checks on his power.
"Some Bolsonaro supporters see a lot of his most outlandish proposals as something he just said to shock people, or that could never actually happen," said Oliver Stuenkel, a professor of international relations at the Fundação Getúlio Vargas university in São Paulo.
That view, he warned, was naive. Brazilians should look to leaders in countries like the Philippines, Hungary, Poland, and Turkey, where democratic norms and practices have been steadily eroded. A core minority of the population was fully behind Bolsonaro, he noted.
"There will be confrontations with Brazil's institutions," Stuenkel said.
Bolsonaro has said he will stop the demarcation of territories for indigenous tribes and open up the Amazon for expanded exploration. He has vowed to categorize certain types of political activism as "terrorism" and imprison members of the Workers' Party, and he wants civilians to be able to carry guns. All of that would require a delicate negotiation with Brazil's unwieldy political system, and pushing reforms through a legislature that includes 30 political parties will prove difficult. At the moment, only about 40 percent of Brazilians support his gun proposals. Much of his power to work with—or intimidate—the rest of government will likely depend on his popularity, and whether the economy gets going again.
There are also, however, aspects of Bolsonaro's program that don't actually require any congressional action or judicial approval.
Police here have admitted to killing more than 5,000 people last year. While officials typically insist that officers are acting in self-defense, police are routinely accused of employing extrajudicial killings, and the number of fatalities is likely even higher than government figures show. Cops are already being told they will be given cover if they fight crime with more violence in the future, so 2019 could be a much bloodier year. Attacks on journalists and minority groups have also already spiked.
Rio de Janeiro, the state Bolsonaro represents in Congress, is in many ways emblematic of Brazil's implosion. It hosted both the soccer World Cup and the Summer Olympics in 2014 and 2016, respectively, and then saw public finances collapse, leading to an explosion of violence.
Not far outside the school where da Silva voted Sunday, young men stood by the highway selling obviously stolen cellphones near burning piles of trash. Teachers at the school say students often don't come to class, because there is a shoot-out taking place near their home. Violence is widespread—locals complain that the milícia, paramilitary groups that include off-duty police officers, act with impunity and that nearby slums are controlled by drug gangs. Even that has not been enough to convince everyone of Bolsonaro's solutions.
Paloma Costa, a 34-year-old unemployed biologist who was voting in the same neighborhood as da Silva, recounted how, at her father's funeral last year, stray bullets from a nearby gun battle wounded her sister. Covered in stickers supporting Bolsonaro's opponent, Fernando Haddad, she voiced worry over the president-elect's plans.
"Bolsonaro's not going to make us safer," she said. "He's going to make us less free."