A Brazilian Far-Right Populist and the Women Who Like Him
New polling data show that Jair Bolsonaro's social conservatism, law-and-order positions, and anti-corruption stance appear to be trumping his history of sexism.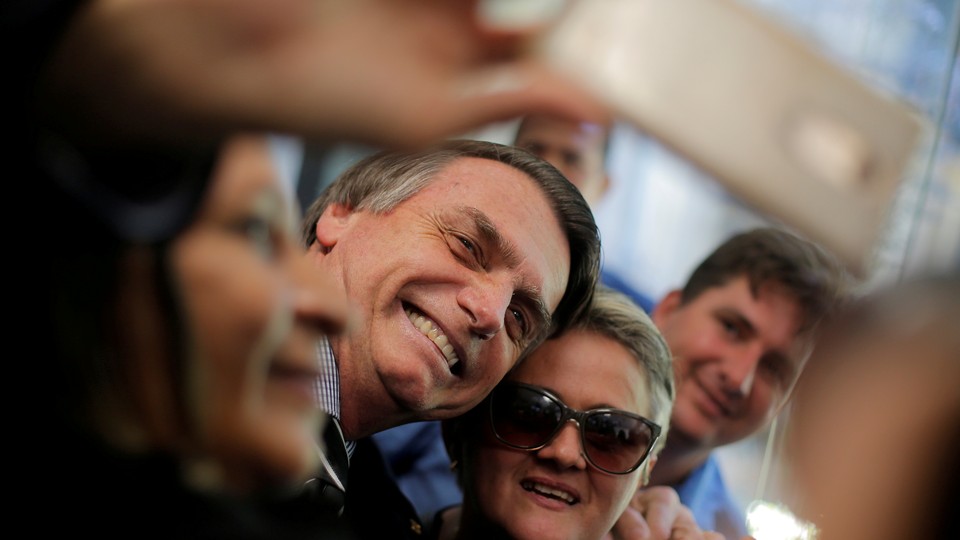 In Brazil, there's a video that just won't go away. It shows a young male congressman, dressed in a suit and tie, sparring with a female congresswoman as photographers and journalists encircle them. The subject of the argument has been lost over the 15 years since the video was shot. What hasn't been lost is the man's words or his actions. "I wouldn't ever rape you, because you don't deserve it ... Slut!" he says, before jabbing her in the shoulder and sending her stumbling backwards. Today that man, Jair Bolsonaro, is well on his way to becoming Brazil's next president.
Ahead of the first round of Brazil's presidential election this weekend, the latest polls show Bolsonaro, a right-wing congressman from Rio de Janeiro, pulling past his opponent Fernando Haddad, the leftist former mayor of São Paulo. He took the reins of the Workers' Party (PT) from ex-president and would-be candidate Luiz Inácio Lula da Silva, who remains jailed on corruption charges in connection with the far-reaching Operation Car Wash corruption probe. Over the past couple of years, the investigation has snared politicians of all the major parties and business tycoons for alleged shady dealings. The election is slated for October 7, but most people are confident (and the polls suggest) that the race will go to a runoff between the top two vote-getters, which means the election will actually be decided on October 28. Between the two elections, the top finishers will absorb the votes of the 11 candidates who didn't make the cut.
According to the most recent numbers released by the polling group Datafolha, 32 percent of Brazilians support Bolsonaro, compared with 21 percent for Haddad. Hope for a more centrist candidate has dimmed in recent weeks: The 11 other candidates, who include environmentalist Marina Silva, former economic minister Henrique Meirelles, and a man who missed a televised debate because he was fasting in the mountains, trail the two significantly.
Even as Bolsonaro inches toward victory, many progressive Brazilians are puzzled by how a man who has dubious economic know-how and has openly expressed nostalgia for the country's military-dictatorship past could rise so forcefully to the top. Although he often states that he intends to punt many issues to the courts, Bolsonaro has repeatedly denigrated gender nonconformity and homosexuality. He has even been fined for saying he didn't "run the risk" of having a gay child because his kids were "taught well." He has stated that he is against the legalization of abortion. When recently asked during a national broadcast what he would do to address the fact that Brazilian women earn, on average, 25 percent less than men in the same position, he refused to offer any solution. Last weekend, hundreds of thousands of women gathered in cities across the country for the largest female-led protest in Brazil's history, to march against Bolsonaro.
Yet recent polling by Datafolha showed that support for Bolsonaro actually rose after the women's march. Although 49 percent of women said they would not vote for him (even if they didn't know whom they would vote for), support for Bolsonaro among women also rose 6 percentage points, from 21 percent to 27 percent. That's the largest shift in the demographic groups polled by Datafolha in the days following the march. Some observers are talking of a backlash—the possibility that the march actually aggravated female voters.
The motivations of Bolsonaro's female voters are varied, of course. But many of the women who support him are willing to shrug off his record on issues that directly affect them because they believe that his social conservatism—which is tangled up with religion—and his promise of a new, more capitalistic chapter for Brazil outweigh the criticism.
In recent weeks, I have interviewed several dozen female Bolsonaro supporters from across the country. I expected them to trend rich and white, and to come largely from southern Brazil. My suspicions largely held true. My dermatologist in Rio de Janeiro, whose purse costs more than my monthly rent, told me that although she disagreed with Bolsonaro's sexist stances, she couldn't bring herself to vote for the PT. A flight attendant in southern Brazil also mentioned her disgust for Lula as reason enough to vote for Bolsonaro. But even way out in the middle of the Amazon, where the boats serve as public buses and high heels have no place, I discovered women who spoke passionately about why Bolsonaro should be Brazil's next president.
What follows are two varied examples of Brazilian women, with different realities and motivations, who hope to help usher Bolsonaro into office.
---
Giovanna Minutti, 29, is a publicist from the city of Campinas, in São Paulo state in southeastern Brazil. She is white, grew up wealthy, attended only private schools, and eventually married a doctor; she recently had her first child. She sees no option in this election besides Bolsonaro. "A vote for the Worker's Party is a vote for more of the same; they were already in power for 14 years. I compare what is going on here with the U.S., where you all chose Trump because he had a proposal that was totally different from the others. I think it is the same thing here. We need a new chapter," she said. Many poor people in Brazil remember the PT's reign as a time of progress: A wide-scale public-housing program helped ensure stable living conditions for thousands, and many Brazilians jumped out of poverty. But even though the PT governed during the economic boom years of the early 21st century, Minutti remembers things differently: "Everything they did, they did through corruption. That's how the country ended up in this situation today. You can't do wrong and expect things to go right."
Minutti's reasons for voting for Bolsonaro are many, but above all else, she responded to his social conservatism. "He defends the family," she said. Most of the women who protested last weekend, she said, were "the homosexual feminists." While she doesn't consider herself homophobic, she does not identify with them. "They judge Bolsonaro as being homophobic and machista," or macho and sexist. "I don't agree with all of Bolsonaro's proposals, but I just don't want more of the same." She also cares about security. Bolsonaro has positioned himself as the tough-on-crime candidate and has suggested the idea of legalizing gun ownership for private citizens. "He will make the criminal-justice system more tough on crime," she told me. "I've been assaulted seven times. I can't take another revolver to my head."
Minutti, who is much better off than the average Brazilian, also believes her economic interests are best protected by Bolsonaro. If Bolsonaro doesn't win, in fact, she and her husband intend to move to the United States. "Do you know that the Workers' Party is driving Brazil toward communism? That's where all this is headed. They're going to turn Brazil into Venezuela. And I don't want to raise my child in a Venezuela."
In the Amazon, I met a woman whose daily reality is totally different from Minutti's. Rosangela Ferreira dos Santos, a 53-year-old mother of eight with indigenous heritage, sells coconut-flavored snacks and banana chips at a stand in the center of the small town of Alter do Chão, located along the banks of the Tapajós River in the northern Brazilian state of Pará. Like approximately 45 million Brazilians, she earns only the "minimum salary," which is 954 Brazilian reais, or $244, a month. Sometimes she makes less. "A minimum salary would be a good month," she said as she rearranged the snacks in her shack with hands worn like a pair of old gloves.
When I asked Ferreira why she planned to vote for Bolsonaro, she shouted passionately: "He's the only one that's not corrupt! … There are no charges cited against him." Although some voters in Brazil will vote for Bolsonaro out of anger toward the PT, that sentiment doesn't capture her motivations. "I'm not one of those people who hate the PT. I just think it's pretty strange that people will vote for them when everyone knows they are corrupt. I mean, they are obviously so corrupt that their leader is in prison."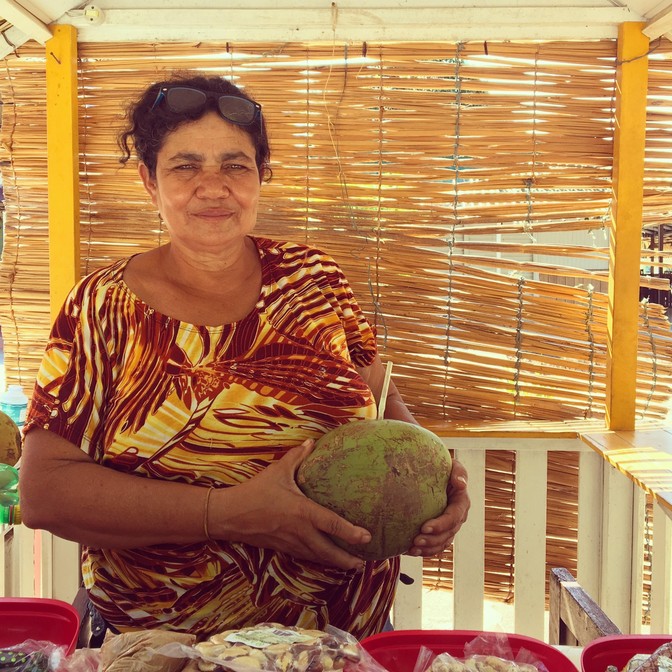 There is another key reason Ferreira will vote for Bolsonaro. "He is the only one who has used the name of God in his campaign," she said. Religion plays a major role in the electoral politics of Brazil, and although Ferreira is a churchgoing Mormon, the beliefs that inform her vote are the same beliefs that inform the vote of many evangelicals and Catholics in Brazil. She showed me a WhatsApp message her pastor had sent to the congregation, urging them to elect someone who will defend God, the Christian religion, and the "traditional family." Like Ferreira, similarly religious evangelical Brazilians polled with one of the lowest rates of rejection for Bolsonaro—only 36 percent. On the other hand, 66 percent of atheists reject Bolsonaro.
"I believe in the traditional family," Ferreira said. "I believe in kids respecting their parents. I believe in the hierarchy of a family, with the father at the top, in teaching kids the right rules. And I don't want our schools teaching children about sex."
For Ferreira, the women's march only underscored why Bolsonaro will get her vote. "A lot of the women who protested in the streets against Bolsonaro are lesbians," she said. "Those women who show their breasts in the street? You want to tell me that's what a woman is? I don't think so. That's not a woman who represents me." And  Ferreira rejected the idea that Bolsonaro is sexist; she believes it's just tough talk from the campaign trail. "He might be rude or aggressive, but at least he's authentic. The other politicians say all the nice things, but they're just phony. And he won't be rude once he gets into office. He'll change and straighten up after he wins."
---
For the women and men who protested in last week's march against Bolsonaro, and those who have used the anti-Bolsonaro #EleNão ("Not Him") hashtag on social media, the position of women like Minutti and Ferreira is entirely mystifying—sickening, even.
Maira Toledo is a 30-year-old psychiatrist from the state of Minas Gerais. She marched in the streets last weekend against Bolsonaro, and has posted missives on Facebook calling for friends to vote against him. "Bolsonaro represents a lot of the prejudices that people possess, and that they end up not manifesting publicly because they know they will be rejected. So I think he has become the spokesperson of those prejudices." She believes some women will vote for him "because they lack knowledge and information. They don't understand the history of the feminist movement or what it represents."
Toledo also suspects that religion will play a major role in the election and in women's voting: "The religious discourse makes some women think Bolsonaro is the best choice. They think he is in favor of the family and a Christian. But this is a complete distortion. Because he is in favor of what family? His family. Not other families or family structures." She added that many women in Brazil "believe that the man must be the head of the household, but we have been fighting hard for equal rights here. It doesn't have to be this way."
She sighed deeply when asked about the possibility of a Bolsonaro win. "If he wins because of women, I will feel very, very bad. I will think we've made an error somehow in not helping women see that he is a step backwards."
"I think Bolsonaro is going to win, because I think the women who support him have been afraid to speak out and make that public," says Ferreira. Even though the polls show a horse race, Ferreira believes that female voters will drive a Bolsonaro victory come Election Day. "Everyone on Facebook criticizes them when they say they will vote for him. But wait until Election Day. You'll see."