Brazil's Fiery Far-Right Presidential Favorite Channels Trump
At a moment when few Brazilians trust their government, the controversial, ultraconservative Jair Bolsonaro looks poised to win.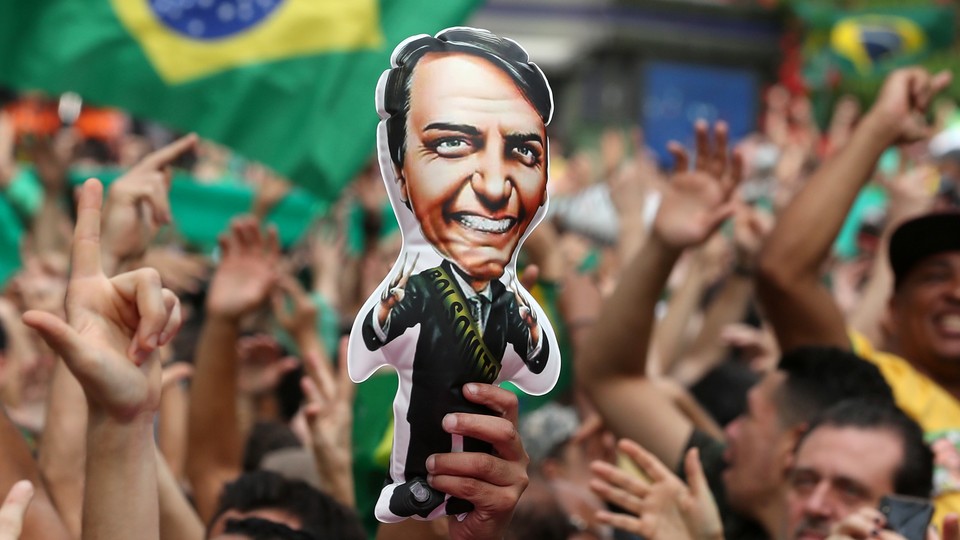 Tomorrow, Brazilians head to the polls for the first round of presidential elections. Running on the Social Liberal Party slate is Jair Messias Bolsonaro, an ultraconservative military officer turned politician and likely top finisher. If he's one of the top two vote-getters, he'll be the favorite in the runoff election, slated for October 28. His likely opponent: former São Paulo Mayor Fernando Haddad, who is running in place of former President Luiz Inácio Lula da Silva—Bolsonaro's arch-nemesis—who is currently serving a 12-year sentence for crimes of corruption and money laundering.
Many analysts have compared Bolsonaro to President Donald Trump. His appeal lies in his defiance of political correctness and his rejection of the political establishment. He's praised the military junta that ruled the country for 20 years; told a female lawmaker he wouldn't rape her, because she wasn't worthy of it; said he was in favor of torture and punishing gays; and said that descendants of freed slaves who received reparations are lazy. He has also said he'll only accept the election results if he wins. The list of Bolsonaro's outrageous claims goes on. So why do 35 percent of Brazilians say they'll vote for him on Sunday?
Brazilians are turning to Bolsonaro because they fear for Brazil's future if it follows the current status quo. For them, a moribund economy on the verge of a financial crisis, a never-ending stream of corruption scandals, and levels of violence that their unpaid or underpaid police can't handle are the legacy of 14 years of government by the Workers' Party (PT). While it may seem inconceivable that anyone in a country ruled for two decades by a military junta would support a candidate who has flirted with its restoration, large swaths of Brazilians are doing just that.
Perhaps even more worrisome: Many Brazilians are now questioning the premise of democratic institutions that have continuously deeply disappointed them. They're turning to Bolsonaro out of desperation and anger at an establishment that has failed them on so many levels. For them, the only way out is a leader who labels himself as the total antithesis of that establishment.
The story of that establishment began in 1988, when Brazil emerged from military rule and embraced a democracy that promised to fuel economic growth, stem inflation, and turn the country into a South American giant. And, for a while, Brazil seemed to be on track to achieve those goals. Once the PT got to power, millions rose out of poverty, thanks in part to the commodities boom. But the good times didn't last. Prosperity has waned, and much of the country's riches were stolen by those elected to office. Petrobras, the country's state-owned oil company, lost $5 billion to corruption and saw its market value go down by $250 billion. And those elected to office—tasked with representing the interests of all Brazilians—took millions in bribes to please a select few. It's this memory of what the country lost that also makes Bolsonaro an attractive alternative. "He's the only one who promises to shrink the size of the government, to end this cycle of corruption … There is a level of dirtiness in the system that just seems impossible to be cleaned," Ricardo Barbin, a lawyer in the city of São Paulo, told me.
The country's institutions also face a crisis of legitimacy. Many of the 35 percent of Brazilians who intend to vote for Bolsonaro feel the government has let them down time and again. According to Latinobarómetro, a nonprofit that studies public opinion in Latin America, only 8 percent of Brazilians trust the government—that's the lowest percentage in the region. Even Venezuelans are more satisfied with democracy than Brazilians are.
Da Silva, Brazil's former president and the face of the PT, tried to run a presidential campaign from jail up until the supreme electoral court ruled against him and denied all of his appeals. When it became clear that he'd have to either give up his party's candidacy altogether or choose a replacement, he chose Haddad. For many Brazilians, the idea of Haddad as a Lula proxy is their worst nightmare. Because for them Haddad means continuity with Lula and the PT's corruption.
"It's too much corruption and not enough spending in education and health, or trying to bring jobs back," Natalia Ribeiro, a receptionist in São Paulo, told me. Carlos Henrique Bernardes, a teacher in Pouso Alegre, an industrial city in the southeast state of Minas Gerais, told me that he'd "never vote for a candidate in the Workers' Party. Never. Not after everything that happened."
"I'm not a Bolsonaro fanatic," Barbin told me when I asked him why he was planning to vote for Bolsonaro. "I'm open to new ideas, and when I look at all the candidates running for president, none of them is proposing anything new, except for Bolsonaro. He's the only one that promises to undo what Lula and so many behind him have done. He's the only one willing to take on the monstrous size of the state and shrink it so much that it becomes much harder for anyone to steal … Lula is Brazil's greatest crook, and everything he and his party have done prevented Brazil from taking off."
Indeed: Thirty-one percent of Brazilians identify corruption as their country's No. 1 problem, while 80 percent of Brazilians don't believe enough has been done to fight it. Last year, almost half of Brazilians were in favor of restoring a military junta if corrupt politicians weren't punished by the judiciary. Today, less than half of the country's population believes that democracy is preferable to any other form of government. This declining trust in institutions has led Brazilians to consider their alternatives. One study on antidemocratic tendencies shows that Brazilians are comfortable with authoritarianism.
Even then: Recent polling shows that the majority of Brazilians still want to live in a democracy. That feeling is also shared by the majority of Bolsonaro voters, who don't see a Bolsonaro presidency as at odds with the idea of democracy. Part of that may be due to Bolsonaro's successful strategy to soften his pro-military rhetoric, triggered by his rising popularity, which in turn has made him even more popular.
For Fábio Oliveira, a computer technician who also lives in Pouso Alegre, Bolsonaro will get his vote because he "promises to fight crime." In 2017, Brazil broke its own record for the number of murders in a single year (63,880), according to the Brazilian Forum of Public Security. Rapes also rose 8 percent, to 60,018. Military tanks patrol the streets of Rio de Janeiro, while one police officer is killed every day.
Those who call Bolsonaro supporters "ignorant" would be surprised to see his popularity among Brazilians with college degrees go from 27 percent to 43 percent in less than two months. Wealthier Brazilians, too, see Bolsonaro as their chosen candidate. Young Brazilians are also attracted to a "less traditional candidate," especially as the country's collective memory of what ruling by a military junta was like begins to fade. And, despite his macho rhetoric, polls show that 26 percent of women plan to vote for him. That number is double what it was two months ago. For Ribeiro, the comments Bolsonaro has made about women bother her. But she also "can't imagine living through another four years under the Workers' Party leadership."
Many of Bolsonaro's supporters don't seem to worry about the impact of some of their candidate's claims. "There are enough checks and balances in place in the system of government that would never allow for anything too extreme to take place. I'm not looking for someone to marry; I'm looking for someone who can get the country out of this mess, someone who's a patriot, who isn't corrupt," Barbin said. "It's a four-year bet."