Latin America Gets Its Own Migrant Crisis
"Venezuela is no longer a pressure cooker. It's a time bomb waiting to explode."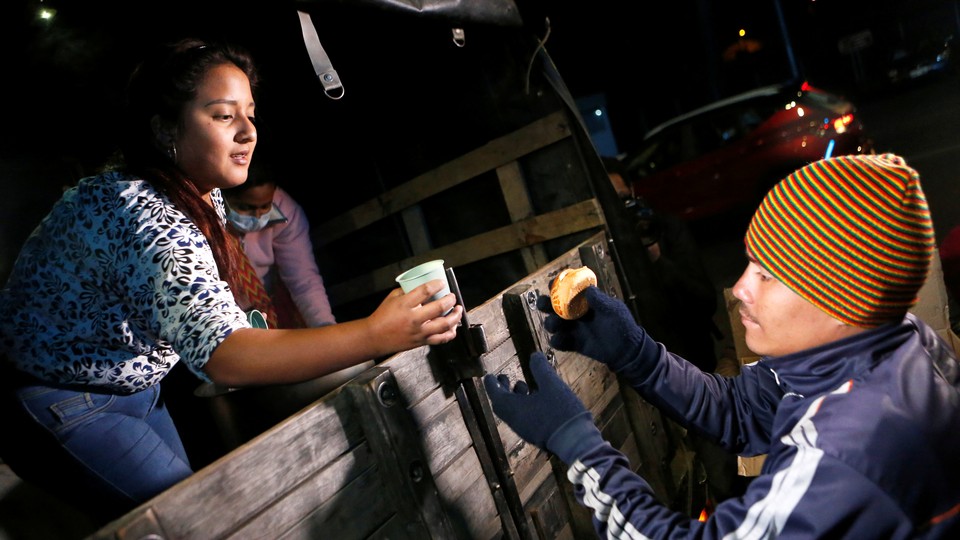 Four months ago, 22-year-old Lusiana Garcia, a mother of two pregnant with her third child, escaped an abusive relationship and an incompetent dictatorship. She boarded a bus in Valencia, Venezuela's third-largest city, to travel 18 hours to Cucuta, a town about 480 miles away and across the border in Colombia. "I only had money for one ticket," she told me on the phone through an interpreter. "So I had to carry my children the whole way."
Garcia and 2.3-million Venezuelans like her have left their country thanks largely to the gross mismanagement of what was once Latin America's richest nation. The inept dictatorship of Nicolas Maduro has unleashed a crisis that could rival the European migrant crisis of 2015. Like that crisis, this one may well alter the political dynamics of Latin America and usher the kind of toxicity the region has so far largely avoided.
Several Latin-American countries have begun preparing for the increased flow. Last month, Brazil sent troops to the border to maintain order after Brazilian residents attacked Venezuelan migrants, and Peru declared health emergencies in two provinces where health officials had warned of migrants spreading measles and malaria. Maduro has blamed outside forces for waging an "economic war" on his country, and insisted the estimated numbers of those leaving aren't atypical.
"We are all stakeholders in the Venezuelan crisis and few countries more so than Colombia," Francisco Santos, the Colombian ambassador to the United States, said last week at the Center for Strategic and International Studies (CSIS), a Washington think tank. "If we do not collectively address possible ways in which we stop the downward spiral in our neighboring country, there will be no other agenda to discuss with the White House or with anybody else."
Santos, whose country of 48 million people is now home to 1 million Venezuelans, likened the situation to the European migrant crisis. "Germany received 1 million refugees from Syria in three years," he said. "We received that in one year. … Imagine what this flow is going to do to Latin America, … [which] hasn't had those types of problems."
The roots of the Venezuelan crisis lie in the economic policies of Hugo Chavez, Maduro's predecessor and political mentor. In the 2000s, Chavez instituted generous social-welfare programs, nationalized many industries, and offered free, or highly discounted, oil to countries like Cuba in exchange for doctors and political support. This was possible because the price of oil—the lifeblood of Venezuela's economy—was near record highs, filling the country's coffers with billions in export revenues.
Following Chavez's death in 2013, Maduro followed many of his mentor's policies. But the sharp drop in global oil prices, along with the dramatic decline in Venezuela's oil production, ensured that its economy, which is also highly reliant on imports, ran out of export revenue to pay for foreign goods. U.S.-led economic sanctions imposed on the country in response to the precipitous democratic decline under Maduro exacerbated the crisis.
Maduro's economic policies essentially created a situation in which Venezuelans can't buy goods, even if they have the money to do so. Chronic shortages force many people drive over the border to Colombia to buy supplies. Those who can leave, do. Under Chavez, "we had access to medicine—even if it was Cuban medicine," Garcia said. But under Maduro, "I couldn't give my children food, medical attention, anything at all. I was having trouble with my husband, and that's when I decided that with everything happening, I had to get away." Her mother already lived in Cucuta. Every time they talked, she said, her "mom used to say that food was easy to sell here." So she left. "I saw an opportunity to generate an income for my family."
Today, Garcia sells juice and cake in Cucuta, earning about $50 a week. "It's not enough," she said, "because I still have to pay for utilities, rent, and food." But it's more than what she was earning in Venezuela selling chips. "It's been wonderful," she said of Cucuta where she now lives with her mother, her mother's partner, her 24-year-old sister, and 17-year-old brother. "I cannot really complain. I feel like I've received more support here than at home."
Not everyone fleeing Venezuela has been as fortunate as Garcia. Trish Bury, the deputy director of programs in Colombia for the International Rescue Committee, which began working in Cucuta in April, told me that her group is seeing unaccompanied minors from Venezuela at a rate four times that of other emergencies around the world. Domestic violence is common, she said, as is overcrowding, and many Venezuelans are on the streets, begging. But Bury also worried about what she couldn't see: "The exploitation, abuse, trafficking," as well as illegal work, and child labor. "Thousands of people are pouring across the Simon Bolivar bridge [that leads to Cucuta from Venezuela] every day," Bury said. "You'll see people ... not carrying anything because they're coming over just to get food from soup kitchens, or they're picking up supplies to take back to Venezuela. But then you'll also see a lot of people who look middle class who are just taking what they can—a lot of people carrying suitcases."
If the European migrant crisis is any indication, Venezuela's neighbors are unlikely to remain welcoming for long. European nations like Germany and Sweden, which opened their arms to migrants in the early days of the crisis, quickly soured on the new arrivals, with dramatic political consequences. There's also the fact that Latin-American nations are far poorer than those in the European Union—something that's sure to become a destabilizing political issue for a place like Colombia, Santos, the Colombian ambassador, said.
Citing sympathetic coverage in Colombia of the migrant crisis, Bury said that while Colombia is more accepting of newcomers than other places, "the situation [with Venezuelans] is a bit newer. … But when we're talking about almost 2 million people coming into the country, there will be a limit for sure."
Matthew Reynolds, the top official for the United States and the Caribbean at the UN High Commissioner for Refugees, said the Venezuela crisis is one of the largest his agency has seen. "This is on the scale of Syria," he said at the CSIS event. He said 330,000 Venezuelans had so far filed asylum claims in other countries; 137,000 of those came in the first six months of this year. Latin America's generous refugee policies have allowed nearly 600,000 Venezuelans to move and stay in another country, he said. UNHCR has raised a little more than half its goal of $146 million to provide for Venezuelans both outside and inside the country, he said. "Given the continued increase of outflow and needs, far more resources will be needed in 2019," he said. At the same event, Marta Costanzo Youth, who oversees the Office of Europe, Central Asia and the Americas at the U.S. State Department's Bureau of Population, Refugees, and Migration, said: "This is not something that one country, that the United States alone, is going to be able to provide support for, although we are the leader in providing funding for this. We've continued to look at other options for increasing our funding in this area."
The Trump administration's pressure campaign on the Maduro regime began last fall when it moved to restrict the regime's access to the U.S. financial system, in effect barring the Venezuelan government's ability to issue bonds to raise funds. Washington also imposed sanctions last year on Maduro and his senior officials, freezing funds they may have in U.S. banks. Although those measures have restricted Venezuela's access to the U.S. financial system, they did not touch Venezuela's oil industry, as many critics of the regime in Washington had urged. Venezuela remains the fourth-largest source of U.S. oil imports and one of the top sources of U.S. oil exports.
Still, such steps served as confirmation to Caracas that Washington wants to oust Maduro, as it tried and failed to do with Chavez. A recent report in The New York Times that the Trump administration held secret meetings last year with Venezuelan military officers to discuss plans to overthrow Maduro are likely to bolster those suspicions. U.S. officials decided not to help the plotters, the Times reported. But Santos, the Colombian envoy, emphasized that any political solution in Venezuela cannot include Maduro. "It is too late and too naive to think that a solution will happen without regime change," he said.*
Indeed, though some U.S. and European sanctions are now in place against the Maduro regime, the Venezuelan leader has successfully turned to China and Russia— permanent, veto-wielding members of the UN Security Council—for financial and diplomatic support. As long as Maduro and his allies remain in charge of Venezuela, people will continue to leave. "Venezuela is no longer a pressure cooker," Santos said. "It's a time bomb waiting to explode."
---
* This piece originally misattributed the quote to Marta Costanzo Youth.