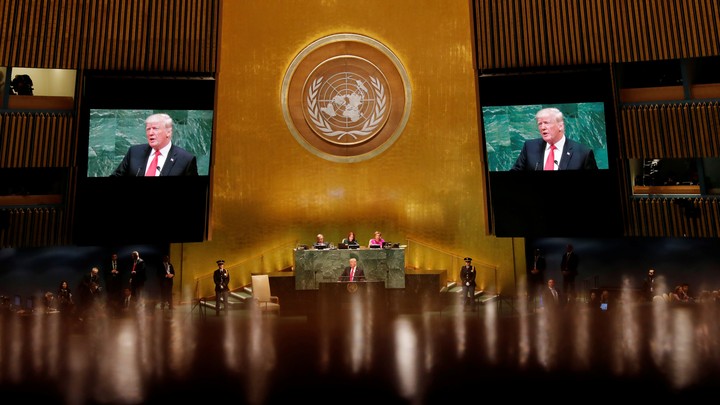 NEW YORK—The giggles that greeted Donald Trump's boasts at the United Nations about his accomplishments were widely interpreted in the United States as mockery on the part of world leaders who knew better. But from my perch in the hall that day, this wasn't so clear. The laughter also seemed to spring from familiarity. One way to translate the snickering that grew as Trump claimed he'd gotten more done than any president in history, and as he punctuated the hyperbole with a signature "so true," was as a collective, knowing nod from the assembled dignitaries. There he goes again, they appeared to be saying. Classic Donald.
If 2017 was the year Trump stormed the United Nations, extolling national sovereignty and threatening to "totally destroy" a UN member state before the bewildered international body, 2018 was the year the United Nations adapted to the changing climate that Trump's deeply disruptive conduct of foreign affairs has produced. The American president at this year's annual General Assembly wasn't a revelation. He wasn't a laughingstock. He was, instead, a force to be reckoned with one way or another.
Some world leaders backed down and agreed to play by Trump's rules. Japanese Prime Minister Shinzo Abe, fresh off of celebrating the virtues of multinational free-trade agreements during a speech to the General Assembly, agreed on the sidelines of the UN gathering to a major concession: entering into negotiations on a bilateral trade agreement with the United States in order to prevent Trump from slapping tariffs on Japanese auto exports and to potentially lift the steel and aluminum duties Trump has already imposed on his nation. At a press conference after the announcement, Trump crowed that Japan was increasing its purchases of American military equipment and liquefied natural gas to rectify the trade deficit between the two countries. A Japanese trade official was less exultant. Noting that Abe had repeatedly tried without success to persuade the U.S. president to rejoin the transpacific trade pact that Trump withdrew from immediately after taking office, he described bilateral trade talks as "a better arrangement than nothing."
Donald Trump's UN press conference gave a tour of his worldview.
Other leaders demonstrated that they'd learned how to play to Trump's predilections while still largely getting their way. As part of his effort to coax a reluctant United States and North Korea toward an agreement on peace and denuclearization, South Korean President Moon Jae In stroked Trump's ego, telling his American counterpart during a meeting in New York that "you are, indeed, the only person who can solve this problem," which "no one has been able to solve in the decades past." Then he went on Trump's favorite television network, Fox News, and amplified the message, noting that none of the diplomatic progress with North Korea so far would have been possible without Trump's bold decision to become the first American president to meet with North Korea's leader. Trump took note. At his press conference on Wednesday—during which he warned against the kind of devastating war on the Korean peninsula he once threatened, rhapsodized about Kim Jong Un's "beautiful letters," and stated that he had "all the time in the world" to strike a deal with North Korea, all of which must have been to Moon's delight—Trump urged every reporter to watch the South Korean president's interview with Fox News. "What he said about me last night was an unbelievable thing," Trump marveled.
But while Moon seemed intent on bringing Trump along on his campaign to transform the Korean peninsula, in other cases the nations represented in New York this week appeared reconciled to moving forward without the United States—even as many held out hope that America, with or without Trump at its helm, would soon see the error of its ways and once again provide the ballast to multilateralism that it alone can offer.
On Wednesday, for example, UN Secretary-General António Guterres presided over an event on the organization's new nonbinding Global Compact for Safe, Orderly, and Regular Migration, which has been approved by every UN member state except the United States and Hungary, led by the populist-nationalist Viktor Orbán. (The previous day, with Guterres sitting behind him, Trump had condemned the compact as an infringement on American sovereignty. The leader of a self-styled nation of immigrants had argued that the "only long-term solution to the migration crisis" is to make the countries that immigrants are leaving "great again.") Lamenting the "xenophobia, intolerance, and racism" that "unregulated, unmanaged migration" has spawned, Guterres applauded the 191 nations still supporting the initiative. The compact "recognizes that while every sovereign state has the prerogative to govern its borders, our interdependent world demands solutions that are anchored in cooperation and our pursuit of the common good," he said.
In a joint statement on Monday and in remarks at a UN Security Council session chaired by Trump on Wednesday, Britain, France, Germany, China, and Russia all reaffirmed their support for the Iran nuclear deal despite America's withdrawal from the agreement last spring. They also agreed to establish a financial vehicle in the European Union in an attempt to keep trade with Iran flowing as the United States reimposes sanctions on the Iranians. While the Trump administration is trying to isolate Iran, it is actually the United States that finds itself alone because of its unilateral exit from the nuclear pact, Iranian President Hassan Rouhani argued at a news conference.
Across town, at an event with top Canadian officials at the Council on Foreign Relations, Foreign Minister Chrystia Freeland spoke wistfully—and in the past tense—of the post–World War II period when there was "clear American leadership in the world" and "we all got used to calling the American president the leader of the free world." At a moment when Canada and the United States are at loggerheads over renegotiating the North American Free Trade Agreement, Trade Minister Jim Carr talked euphemistically about "diversify[ing] our trade" through agreements with the European Union and Asian and Latin American nations. (Prime Minister Justin Trudeau, for his part, revealed the strategy he has come to adopt to avoid a blowup with Trump: Be firm—imposing equivalent countertariffs to Trump's steel and aluminum tariffs, for example—but don't "escalate or respond in kind" to maintain "a constructive relationship with the president.")
Among the most notable adjustments to the Trump era at the United Nations was an escalating struggle over the soul of the international system. Speaking to the UN General Assembly shortly after Trump, French President Emmanuel Macron directly countered the American president's vision of self-interested, fiercely independent states collaborating only if and when their interests overlap—and the specific policies on trade, climate, Iran, and other issues that derive from it. Rejecting both the "survival-of-the-fittest approach" to international affairs and the notion that today's global tumult is an "interlude in history before things return to normal," Macron advocated for a "new world balance" involving multiple powers that seek new ways to remedy the inequities of globalization.
The victims of climate change are already here.
"Never forget that the genocides that led to your being here today were fueled by the language we are growing accustomed to, because they were fueled by the demagoguery we applaud, because we are currently seeing … international law and all forms of cooperation crumbling, as if it were business as usual—out of fear, out of complicity, because it looks good," Macron declared.
On Thursday, another young leader, New Zealand Prime Minister Jacinda Ardern, made a similar but less Trump-centric case during her first appearance at the UN General Assembly. Her country's isolated position "at the bottom of the South Pacific" has not made it insular, she said—in fact, just the opposite. And climate change was a prime example of what she called governments' obligations "to their people and each other." Ardern noted that "there is a grinding reality in hearing someone from a Pacific island talk about where the sea was when they were a child, and potential loss of their entire village as an adult. Our action in the wake of this global challenge remains optional. But the impact of inaction does not. Nations like Tuvalu, the Marshall Islands, or Kiribati—small countries who've contributed the least to global climate change—are and will suffer the full force of a warming planet. If my Pacific neighbors do not have the option of opting out of the effects of climate change, why should we be able to opt out of taking action to stop it?"
"In the face of isolationism, protectionism, racism," Ardern continued, "the simple concept of looking outwardly and beyond ourselves, of kindness and collectivism, might just be as good a starting point as any."
We want to hear what you think about this article. Submit a letter to the editor or write to letters@theatlantic.com.
Uri Friedman
is the managing editor at the Atlantic Council and a contributing writer at
The Atlantic
. He was previously a staff writer and the Global editor at
The Atlantic
, and the deputy managing editor at
Foreign Policy
magazine.