Trump Disses Trudeau on the World Stage
The U.S. president complains about Canada: "We're not getting along at all with their negotiators."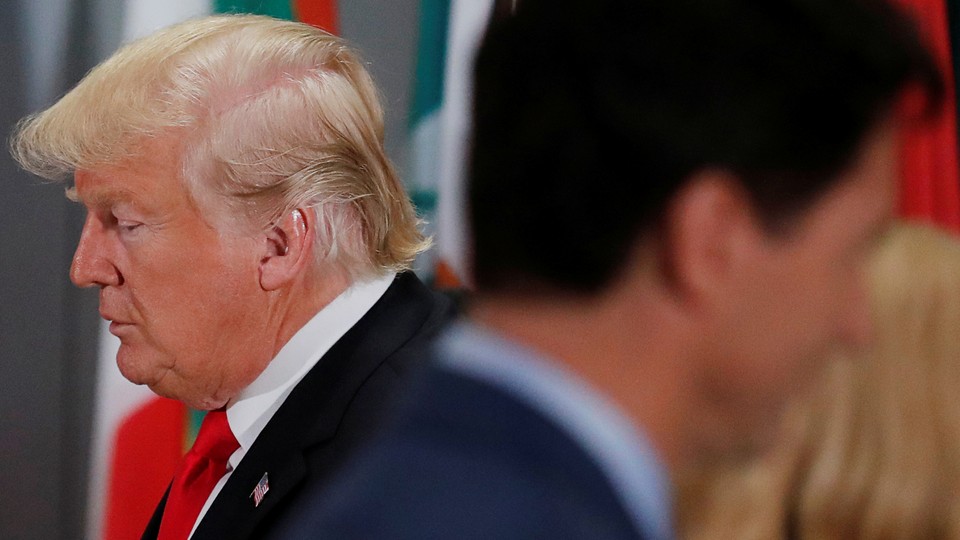 In what may have been the frostiest moment for U.S.-Canada relations in months, President Donald Trump said Wednesday that he'd rejected a request to meet with Canadian Prime Minister Justin Trudeau at the United Nations. Earlier, Trudeau also reportedly got a chilly reception from Trump when he approached the leader for a handshake.
Speaking at a press conference on the sidelines of the General Assembly, Trump said he'd passed on the chance to meet with Trudeau, because "his tariffs are too high and he doesn't seem to want to move." The two leaders have been locked in a rancorous effort to renegotiate the North American Free Trade Agreement. Trump also suggested he wasn't happy with Chrystia Freeland, who is leading Canada's trade negotiations. "We're not getting along at all with their negotiators."
The statement, which may be Trump's most direct hit against Trudeau since the G7 summit this summer, represented a possible new low in the deterioration of the U.S.-Canada relationship.
Relations between the two leaders weren't always so cold. In fact, early on in Trump's presidency, some observers spoke of a bromance blossoming between them. Trudeau was quick to congratulate Trump when he assumed office, and warmly noted that Canada has "no closer friend, ally, and partner than the United States."
But then, this summer, the U.S. announced it would impose steep tariffs on steel and aluminum imports from Canada. Trudeau quickly hit back, saying Canada would impose tariffs of its own on steel and aluminum imports from the U.S. "We are imposing dollar-for-dollar tariffs for every dollar levied against Canadians by the U.S.," Trudeau said.
By June, in the wake of a tense G7 summit in Quebec, Trump was calling Trudeau "meek and mild," "dishonest & weak." Although the U.S. president had just endorsed a joint communiqué at the summit, after hearing that Trudeau had spoken to the press about Canadian tariffs against the U.S., Trump took back his endorsement. He also threatened more tariffs against U.S. allies.
The fight over tariffs, which sparked fears of an all-out trade war between the two traditionally friendly countries, was a piece of a bigger dispute over NAFTA. The 1994 trade deal is meant to promote the free flow of goods and services between the U.S., Canada, and Mexico, but Trump has said he believes the trade deal hurts American industry. By August, Trump was announcing a separate trade deal with Mexico. Canada was effectively left behind, though Trump said it could join later.
Amid the attempt to renegotiate the deal, Trudeau said he had canceled a scheduled meeting with Trump in Washington because of a disagreement over a proposed clause. Snub often begets snub, and now Trump says he's rejected Trudeau in turn.
In a moment captured on camera that one reporter described as "awkward," Trudeau went up to shake Trump's hand at the UN and the two exchanged very brief words before the Canadian leader moved aside. After media outlets dubbed it a sign of "simmering tensions" and "lingering resentment," Trudeau played down the encounter, telling the press he and Trump talk regularly: "It was an interaction like so many are at the UN, quick but cordial. There are all sorts of opportunities for me to speak with President Trump, and that was not the time."