To Invite (or Not to Invite) Steve Bannon
Two magazines show that the question of how—or even whether—to engage incendiary figures remains very much unsettled.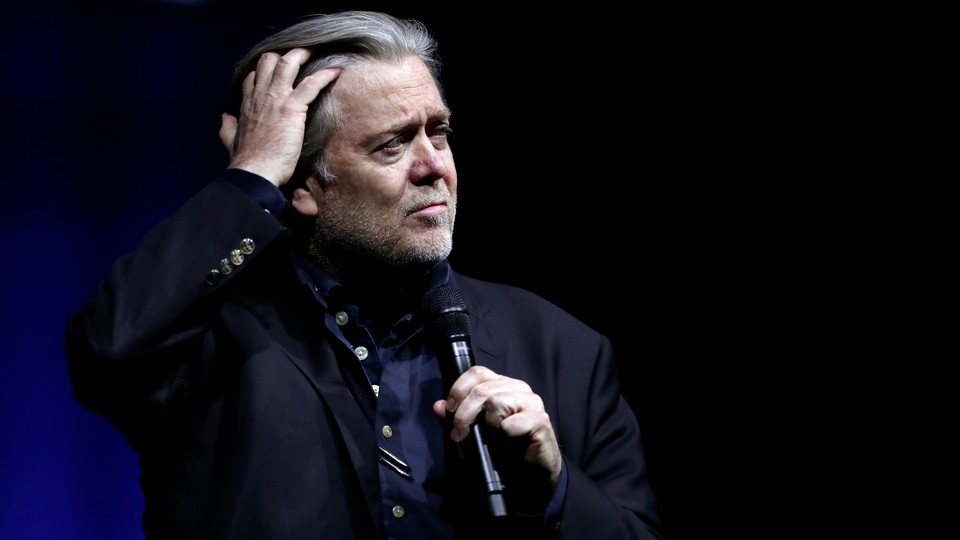 Two magazines planned to host events to interview newsmakers in front of audiences. Both invited the former White House chief strategist, and incendiary populist ideologue, Steve Bannon. Both faced nearly immediate backlash—outraged tweets, threatened dropouts from invited speakers. Both published statements explaining the invitation.
But that's where the similarities stopped. On Monday night, less than 24 hours after The New Yorker revealed that Bannon would be headlining its annual festival, the magazine's editor, David Remnick, announced that the former Breitbart News executive was no longer invited—a decision Bannon slammed as "gutless." The next day, The Economist's editor, Zanny Minton Beddoes, issued her own statement to say that Bannon's invitation to the magazine's "Open Future" festival still stood.
Ultimately, it's a story about two businesses making different business decisions under similar circumstances. But it's also more than that. It gets to fundamental questions about how news organizations deal with people like Bannon—formerly fringe nationalist figures who have pushed their way into the mainstream in both the U.S. and Europe—and whether it's better to air and interrogate their views on the one hand, or avoid seeming to elevate or endorse them on the other. And it shows how those questions remain unsettled nearly two years into the era of Donald Trump and Brexit.
In both cases, however, the reason for the Bannon backlash is pretty straightforward: Around the world, he is widely regarded as a populist ideologue with ties to white nationalists and neo-Nazis who propelled his brand of so-called alt-right politics into Washington—a feat Bannon is now trying to replicate in Europe. Within hours of The New Yorker's announcement, a number of its high-profile participants warned that if Bannon was attending, they wouldn't be. The director Judd Apatow said in a tweet that he would "not take part in an event that normalizes hate." Other attendees including Jimmy Fallon, Jim Carrey, Patton Oswalt, and Bo Burnham followed. Around the same time, The Economist began facing its own threats of dropouts, including from the writer Laurie Penny and the activists Blair Imani and Ally Fogg.
Remnick, in his statement for The New Yorker, insisted that Bannon's invitation did not constitute an elevation or endorsement of his illiberal views, as many critics suggested, and that Bannon remains a newsworthy figure as an architect of Trumpism. "By conducting an interview with one of Trumpism's leading creators and organizers, we are hardly pulling him out of obscurity," Remnick wrote. He added: "The point of an interview, a rigorous interview, particularly in a case like this, is to put pressure on the views of the person being questioned." Minton Beddoes, in her statement for The Economist, offered a similar rationale. "The future of open societies will not be secured by like-minded people speaking to each other in an echo chamber, but by subjecting ideas and individuals from all sides to rigorous questioning and debate."
The issue has surfaced before for media organizations on both sides of the Atlantic. In the United States, the political commentator Bill Maher stoked controversy for his decision to interview the former Breitbart editor Milo Yiannopoulos on his show. In Britain, the BBC Today program faced backlash for giving airtime to the former Breitbart London editor and Bannon ally Raheem Kassam.
And it's surfaced for the case of Bannon himself. In Britain, the Financial Times hosted Bannon at its "Future of News" event last March, where he was interviewed by the newspaper's editor, Lionel Barber. In a reflection defending the move, Barber wrote: "In my near-40 years in journalism, I have interviewed many people of questionable character … At no point have I applied a political litmus test to potential interviewees. It would never have occurred to me. But these are extraordinary times, when polarization has reached new heights and liberal democracy itself appears to be under siege."
The New Yorker ultimately ended up in a different place, despite starting from similar principles. Remnick concluded his statement by noting that The New Yorker Festival was "a different kind of forum" than, say, an investigative piece or a profile, not least because speakers get an honorarium "which does not happen, of course, when we interview someone for an article or for the radio."
There is the added twist of the differing cultural contexts in which The New Yorker and The Economist operate, in the U.S. and the United Kingdom respectively. The heart of it isn't really about free speech, as some have argued. No publication is obliged to give Bannon a platform, and they aren't curtailing his right to share his views by refusing him one (in fact, those views are well exposed already). If anything, European countries have historically taken a heavier hand in regulating certain types of speech than the United States (hate speech, for example, is protected under the U.S. Constitution, whereas U.K. law explicitly forbids it).
Still, there may be different expectations about the role of debate on each side of the Atlantic. "In the U.S., there's an expectation of some sort that debate is meant to be contributing to the enrichment of public understanding," Alan Finlayson, a professor of political and social theory at the University of East Anglia, told me. He noted that this isn't necessarily the case in the U.K., where "there's often a sense in which the debate is partly a theatrical performance … There's a place for a figure in politics who is seen as being an outsider, a kind of fool in the classical sense, a provocatory figure. Someone like Nigel Farage got lots [more] coverage in the U.K. than the Green Party, which for various periods had more seats than he ever did, [would ever get.]"
Remnick ultimately conceded to his critics that while interviewing Bannon, as countless others have done, is one thing, featuring him as part of a high-profile event is another. On the question of whether and how to engage figures like Bannon, then, The New Yorker has offered one answer; The Economist will soon test its opposite.