A Physical Public Square in the Digital Age
London's Speakers' Corner has endured as a symbol of freedom of speech for nearly 150 years, but some of its most loyal visitors say it's under threat.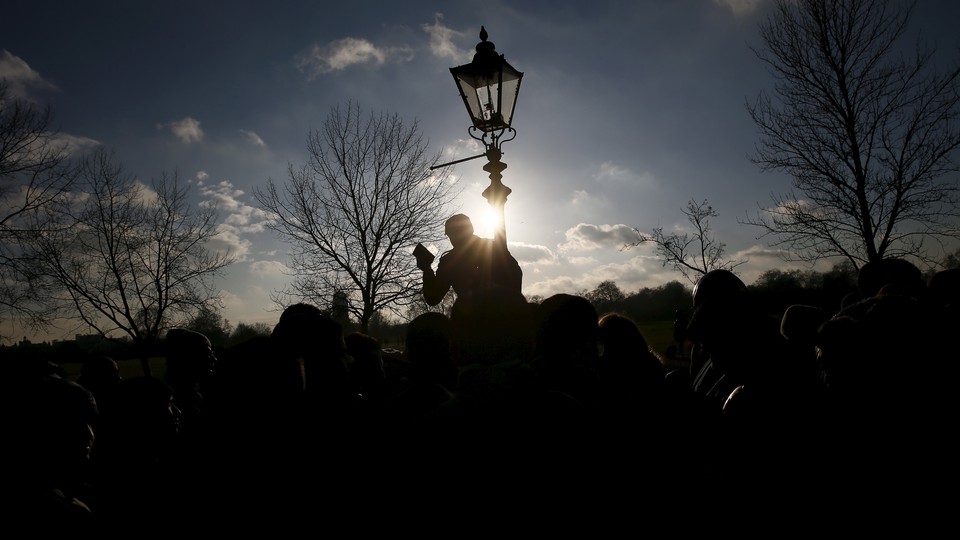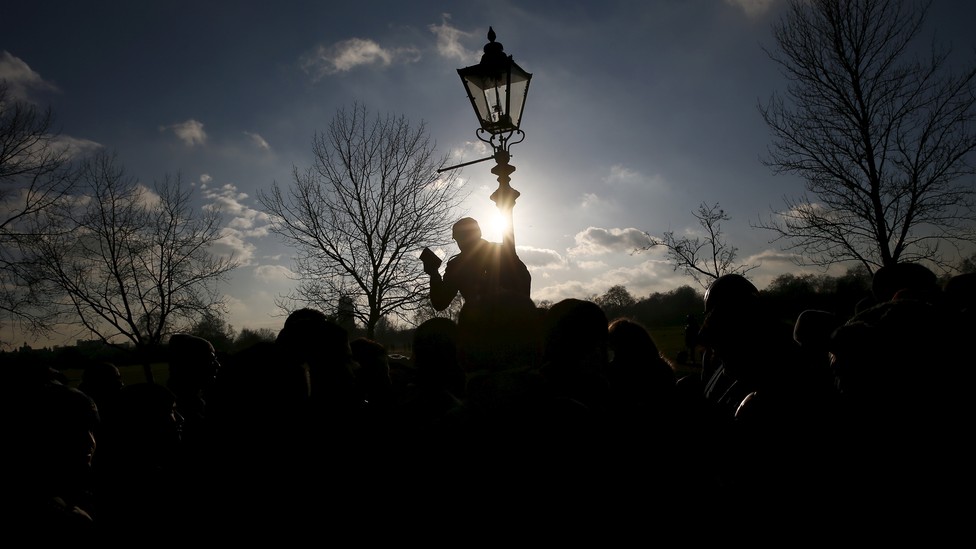 LONDON—London's Hyde Park may be one of the city's largest parks, but it's also one of its most typical. Across its expansive 350 acres can be found park goers doing the usual park things: weekend picnics, pickup frisbee games, or bike rides along its winding paths. There's an art gallery, a café, and a lake for swimming and paddleboating. And on its northeastern corner, every Sunday afternoon, there is something that looks a lot like chaos.
But it's not entirely that. In reality, it's just a crowd of people, most of them men, gathered around an individual preaching from a makeshift soapbox, occasionally heckling the speaker. What makes this weekly scene so remarkable, though, is that it's a collection of acquaintances and strangers having heated debates with one another about politics and religion—in real life, not over the internet.
Speakers' Corner, as the meeting place is formally known, isn't some relic of a bygone era. For more than a century, this shaded park corner has attracted hundreds, if not thousands, of people each week to debate, listen, and learn from the people speaking there. Its continued pull despite the advent of social media (and the deep political polarization that is often associated with it) is a testament to the enduring value of real-life debate—the kind that doesn't involve trolls and ad hominem attacks, but instead relies on a sometimes shifting community of people committed to engaging with one another week after week.
There's a reason the conveniences of Twitter, Facebook, and the comments sections haven't stopped people from coming to Speakers' Corner. For nearly 150 years, this designated assembly point in the middle of London has stood as an enduring symbol of freedom of speech. Though Speakers' Corner earned its unofficial status as a free-speech zone through an act of parliament in 1872, which granted people the right to speak and gather there, the space itself doesn't boast any special legal privileges compared with anywhere else in the city—hate-speech laws, for example, still apply. But in practice, the police only intervene when they perceive there to be a threat to public order. It's a tradition that has earned Speakers' Corner the reputation of being one of the few places where people feel welcome to show up and speak about whatever they want.
Karl Marx, Vladimir Lenin, and Marcus Garvey are among the many historic figures who have been part of that tradition. George Orwell, who once called Speakers' Corner "one of the minor wonders of the world," is another. He described it as a place where you could hear from "Indian nationalists, temperance reformers, Communists, Trotskyists … freethinkers, vegetarians, Mormons, the Salvation Army, the Church Army, and a large variety of plain lunatics."
Today, you're more likely to hear speakers preaching about religion than you are to find them calling for revolution. In my own visits to Speakers' Corner over the past few months, I've mostly come across speakers debating the virtues of Islam and Christianity, though I've also heard from devoted vegans, atheists, and flat-earthers. While some of Speakers' Corner's regulars show up each week, others only show up a few times a year. For those who make up this community, Speakers' Corner is merely "a reflection of the world," Heiko Khoo, a longtime speaker, told me. It's a place that he says offers a variety of views and perspectives that transcend the echo chambers people tend to find themselves in online. He noted that while the vast majority of debates he's seen there tend to be oriented around religion, "the mood generally reflects what is going on in society, as well as the unique combination of people who come to Speakers' Corner."
It's a community Khoo knows well. Having first started speaking there in 1986, he boasts a reputation for drawing some of the bigger crowds (ranging from as many as 30 to more than 100 people at any given time) through his talks on contemporary issues related to British and global politics. But he told me that the majority of the topics debated at Speakers' Corner tend to stray from what dominates day-to-day news headlines. "If Speakers' Corner was a reflection of the official political debate, then you would have on one corner someone discussing the customs union and its benefits," he said, in reference to Brexit. "We don't discuss these things … because it's a tedious, boring discussion and no one can actually answer it. It's not a philosophical question."
To an outsider, Speakers' Corner can look like complete mayhem—an unruly assembly of impassioned speakers preaching from makeshift soapboxes while entertaining testy exchanges with hecklers as tourists wander past in mild bemusement. Though there are usually multiple soapboxes going on at once, speakers tend to follow informal rules that prevent them from yelling over one another. "You need to stand 20 feet away from each other," Steve, a veteran speaker, told me. To the regulars, there is an order to the chaos. "If you go regularly, you realize the people who shout at each other are the same people who shout at each other every week," Philip Wolmuth, the author of Speakers' Corner: Debate, Democracy, and Disturbing the Peace, told me. As a photojournalist, he has been documenting Speakers' Corner for three decades, and in that time he said the space has always been self-regulated: "Obviously the police stand guard occasionally in case there is trouble, but anyone can turn up anytime. It's not governed by anything."
A platform with basically no regulation that allows people to shout at one another about anything—this could just as easily describe much of social media. But when I made this comparison to Khoo, he dismissed it. "Speakers' Corner is a living entity of human beings meeting in real life," he told me, saying that while the internet offers users an equal and often anonymous playing field, Speakers' Corner guarantees neither. "You have what the orator is capable of holding, and what the audience is capable of undermining. On the internet, you can just publish. You might get trolled or shouted at, but you still publish. At Speakers' Corner, if the audience is against you, you won't finish your speech—not unless you are really competent in holding the art of oratory in a random crowd."
He may have overstated the levelness of the internet playing field, however. One of many reasons Facebook and companies like it are facing backlash now is precisely because they're not quite the free and open marketplace of ideas they might have been mistaken for. Algorithms help determine what content is amplified, and to whom. Bots artificially trend divisive subjects or spread misinformation. Some users threaten or harass others. And if those at Speakers' Corner are limited in their reach by oratory ability, Twitter users, too, are all battling for a share of limited attention with the tools at their disposal.
But for all Speakers' Corner might have in common with social media, it's hasn't been replaced by it. If social media provides reach Speakers' Corner can't, real-life debate has its advantages over virtual. "It comes as no surprise that Speakers' Corner persists," Robin Mansell, a professor of new media and the internet at the London School of Economics, told me in an email. She noted that while new digital communications such as social media have the ability to complement or change the way people interact with one another, they "historically have not supplanted older means of communication, one of which is oration in public spaces."
Yet Speakers' Corner has been affected. In recent years, more and more attendees have begun filming the debates at Speakers' Corner—a new trend that has resulted in thousands of YouTube videos. While some of these videos have been viewed hundreds of times, others boast tens of thousands of views. "People are posting hours of unedited footage with terrible sound quality, even though they're using quite sophisticated equipment," Wolmuth said of the practice, which he described as tedious. "When the debates migrate from Speakers' Corner to social media, you can't intervene in the debate. You're just watching a film and you can leave a comment at the bottom. It's not the same as being in the park and stopping somebody from talking and saying, 'I disagree with you, answer my question.' It's a different process."
For others, the effort to put Speakers' Corner online isn't just tedious—it poses a threat. "What goes on in the comments is causing problems—it can get very inflammatory," Andy, a regular visitor to Speakers' Corner who requested I only use his first name, told me. Traditionally, he said, attendees debate every Sunday and then pick up where they left off the next week. "What happens now is during the week you will get all sorts of vicious stuff going on in the [comment] threads. In fact, last year it blew up into a serious confrontation between two groups."
Ian, another Speakers' Corner regular, told me that though he doesn't post videos, he does watch and regularly appear in many of them. Like Andy, he agrees that the videos pose a challenge to how Speakers' Corner usually works. "What happens at Speakers' doesn't stay at Speakers' like it did before," he said. "It goes on Monday, Tuesday, then on to the next week. And when next week comes, I have people come here and go, 'I want to debate you because I saw you in a video last week.'"
As heated as some debates can get at Speakers' Corner, violence is rare. But it has happened. In March, during a speech by the far-right activist Tommy Robinson, a fight broke out in the middle of the crowd that was filmed and later posted online. Khoo, the veteran speaker, told me he was manhandled by the crowd that day—video of which is also online. "[Robinson] likes to represent the oppressed British white working class … and the symbolism of Speakers' Corner is very strong for that," he said. "Things are quite volatile at the moment, on a knife-edge of tension. That's the danger."
A police officer who is familiar with the history and complexities of Speakers' Corner told me that social media has posed a challenge to maintaining public order in the area. "Basically what happens is you get this whirlwind of social-media angst and hate brought into Speakers' Corner," he said, noting that there is little police can do to stop the filming. "Park regulations were drawn up before the advent of today's technology. Can you imagine the impracticality of us saying, 'Sorry, can't film, turn off your phone?' It's impossible, can't do it."
In a recent article, The Times of London reported that Speakers' Corner is being "weaponized and exploited" by those with extremist and far-right views attempting to use the symbolic significance of Speakers' Corner to promote their own agendas. It's a characterization the officer said he doesn't disagree with entirely. "There are people in there who we have concerns with, I won't lie about that," he said of the park's more inflammatory speakers.
But for all the challenges the internet has posed to Speakers' Corner, he said it's not an existential threat. "Everything evolves, change happens," he said. "It's impossible to go back to the old ways of how it used to be. We can't police that, we can't make it that way unless the people who come to Speakers' Corner make it that way. The people make Speakers' Corner. So if you've only got people coming and talking about religion, that's what you've got."