Trouble in the Skies Over Europe
A major work stoppage by Ryanair employees symbolizes the frustrations felt by the continent's working class for the bureaucrats in Brussels.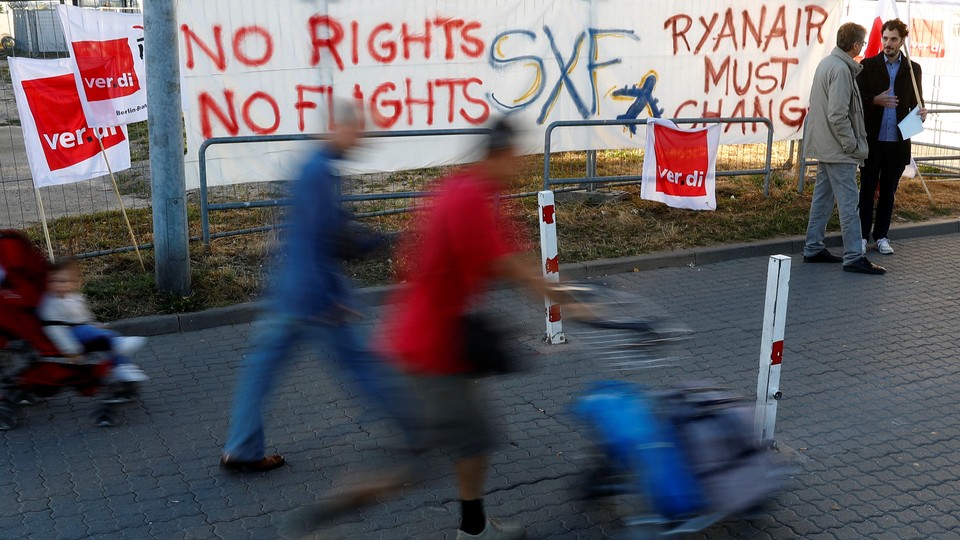 PARIS—Gustavo Silva, 32, is a flight attendant for Ryanair, the Dublin-based airline whose low-cost service has revolutionized travel across Europe. Silva lives in Tenerife, the largest and most populous of Spain's Canary Islands, and works out of the bustling Tenerife South Airport. He has been an employee of Ryanair, Europe's second-largest airline in terms of passengers, for more than seven years. With the carrier's dense web of flights stretching from the Baltic to the Mediterranean—a one-way ticket from Milan to Stockholm costs just 15 euros—Ryanair embodies a certain ideal of an interconnected, cosmopolitan Europe. The model comes with costs, however. And workers like Silva bear the brunt of them.
Like thousands of his fellow flight attendants and pilots in continental Europe, Silva has an unusual employment arrangement: Ryanair, which is based in Ireland, subjects him to Irish labor law. James Bartholomeusz, a spokesman for the International Transport Workers' Federation (ITF), told me that no other company of its size uses foreign-employment contracts as systematically as it does. This means that even though Silva is a Spanish citizen who lives and pays rent in Spain, his employment contract, including provisions governing vacation time and sick leave, follows the minimums permitted in Ireland.
This arrangement has become a major source of tension between Ryanair staff and management, and one of the chief reasons why unions across Europe representing the carrier's workers will strike on Friday. Seven unions representing flight attendants from five different countries—Belgium, Italy, the Netherlands, Portugal, and Spain—have backed the walkout. In anticipation, Ryanair has already canceled 8 percent of its 2,400 scheduled flights on Friday, affecting 30,000 passengers.
Friday's strike will mark a major escalation of a European labor campaign watched closely by unions and employers across the globalized transportation industry. It's one of the many battles whose outcomes will shape the future of labor in the European Union. At stake: whether ongoing economic integration will one day translate into improved working standards for the many, or instead continue to bolster a lopsided model that fuels popular frustrations with Brussels.
Representatives for Ryanair have downplayed the upcoming walkout. In a statement, they called it an "unnecessary strike by a tiny minority of cabin crew" acting on behalf of competitor airlines. "These repeated unnecessary strikes are damaging Ryanair's business and our customer confidence at a time when oil prices are rising strongly, and if they continue, it is inevitable that we will have to look again at our capacity growth this winter and in summer 2019," the chief marketing officer Kenny Jacobs said.
Demands from workers and their unions that Ryanair apply so-called local-employment contracts—which they say would improve working standards—have fueled unprecedented labor strife at the company. The unrest peaked in July, when flight-attendant unions led strikes that resulted in the cancellation of 600 flights, affecting 50,000 passengers. In addition, there were multiple walkouts by pilots in Ireland, Germany, and the Netherlands, who share a separate set of grievances over pay and seniority. (Dutch pilots plan to strike alongside flight attendants on Friday.)
Silva, who also leads the Workers' Union (USO) union section at Ryanair, which has endorsed the strike, said the use of Irish labor contracts is far from an arcane matter. He also said that many of his colleagues from across Europe often struggle to open bank accounts and standard cellphone plans in their home country. People laid off by Ryanair, meanwhile, can't access their unemployment benefits at home, he added. Many, too, must pay social-security contributions into the Irish system, making it tough for them to qualify for state-provided medical coverage in their country of residence. On top of that, Irish labor law tends to be less worker-friendly than its continental counterparts, according to the unions. Irish workers, for example, get only 20 days of annual paid leave, compared to 30 in Spain. "It's hard for us to have a normal life," Silva told me. "In Spain, we're seen as almost tourists."
For years, mere talk of a strike like tomorrow's would have been inconceivable at Ryanair. Michael O'Leary, the company's CEO and founder, once famously quipped that he would bargain with unions only "when hell freezes over." But union recognition finally came last year after a scheduling crisis triggered widespread flight cancellations, and signaled that the company might be struggling to retain staff. Over the past several months, negotiations have led to enhanced benefits for longer-tenured Irish pilots. Ryanair also cut two other deals covering pilots and cabin crew in Italy, the latter of which included a promise to eventually transition to local contracts (exactly when remains unclear). Negotiations have produced little beyond that.
Unions in continental Europe, in particular, have had little success at the bargaining table. They've called on Ryanair to immediately ditch Irish labor contracts and have demanded changes to a host of other labor practices, including the company's heavy reliance on third-party staffing agencies rather than the direct employment of crew. Some have also called for changes to what they consider an anti-union culture.
Sarkis Simonjan, 31, is a former flight attendant for Ryanair and a union activist with Belgium's National Employees' Union (CNE). Like many Ryanair employees, Simonjan, a Belgian citizen who lives in Brussels, not only worked on an Irish labor contract: He was never even technically employed by Ryanair. Instead, he said, his paycheck came from Crewlink, a Dublin-based staffing agency that describes itself as "the leading recruitment agency for Ryanair." On July 25, Simonjan participated in the Europe-wide flight-attendants' strike with his union, joining dozens of his colleagues on the picket line at the Brussels airport. "Even today, I can still clearly see the image," he said. "We could express ourselves—to tell them they can't treat us this way."
In response to his activism, Simonjan alleged that Ryanair began to formally reprimand him, leveling accusations of unjustified work absences that he said are false. On September 20, Simonjan was summoned to Ryanair's Dublin headquarters and fired by Crewlink representatives. The CNE is challenging his dismissal in a Belgian labor court, alleging a breach of union rights. In an email, Ryanair said the accusations are "completely untrue" and that Simonjan was "terminated for poor performance."
Ryanair's attitude toward unions has drawn stern criticism from the European Transport Workers' Federation (ETF), an umbrella labor organization tied to the ITF. Both have played key roles in bringing together different flight-attendant unions, publicizing their demands, and putting pressure on the company to lift labor standards.
"For decades now, Ryanair has held itself completely unaccountable to its workforce through the traditions of collective bargaining. That's been a purposeful and intentional business strategy that they have been on record deploying," Liz Blackshaw, a campaign coordinator with the ETF and ITF, told me. "What's happened more recently is … workers are starting to fight back."
It remains unclear whether European regulations are on their side. For example, there's considerable debate among lawyers and industry experts over whether EU law condones Ryanair's use of Irish contracts. In general, under EU law, companies must respect the employment laws of the countries in which they do business—low-cost airline carriers like the United Kingdom–based easyJet do just that.
The company's line received a major blow, however, in September 2017, when the European Court of Justice ruled that Belgian courts—not Irish courts—had jurisdiction over employment disputes involving a group of Belgium-based Ryanair employees. The case has since been referred to a Belgian labor court, which is expected to decide in early 2019 what Ryanair might owe the employees under Belgian law.
As that court case looms, there's the additional—and arguably deeper—question of how European legislators and regulators will respond. With Ryanair refusing to cave to union demands over national contracts, the ITF and ETF have called on European regulators to force the company's hand in the name of fighting "social dumping"—European labor-relations speak for when employers undercut labor standards by using low-wage workers. Last month, the heads of both federations wrote an open letter to the European Commission, asking it to propose legislation in EU Parliament that would expressly require airline carriers to employ workers on contracts that reflect the national laws of the country in which the workers are based.
Although no legislation is on the horizon yet, union pressure seems to be having a growing effect. On September 20, European Employment Commissioner Marianne Thyssen and Transportation Commissioner Violeta Bulc both told the press that they believed Ryanair should immediately adopt local-employment contracts. Still, as with most labor conflicts, the ultimate outcome of the dispute at Ryanair could depend on a simple factor: how many workers walk off the job.
Silva hopes to send a strong message on Friday. "The more countries are on strike, the more powerful we are," he said. With the July strikes, "it was already really, really powerful. We felt that history was being written before our eyes, to see the commitment of people from different cultures, from different origins, fighting for the same thing. It makes it seem like an easier challenge to overcome."