An Unlikely Alliance in Syria Comes Under Strain
A week after the Syrian military mistakenly shot down a Russian plane, Moscow said Israel was ultimately to blame.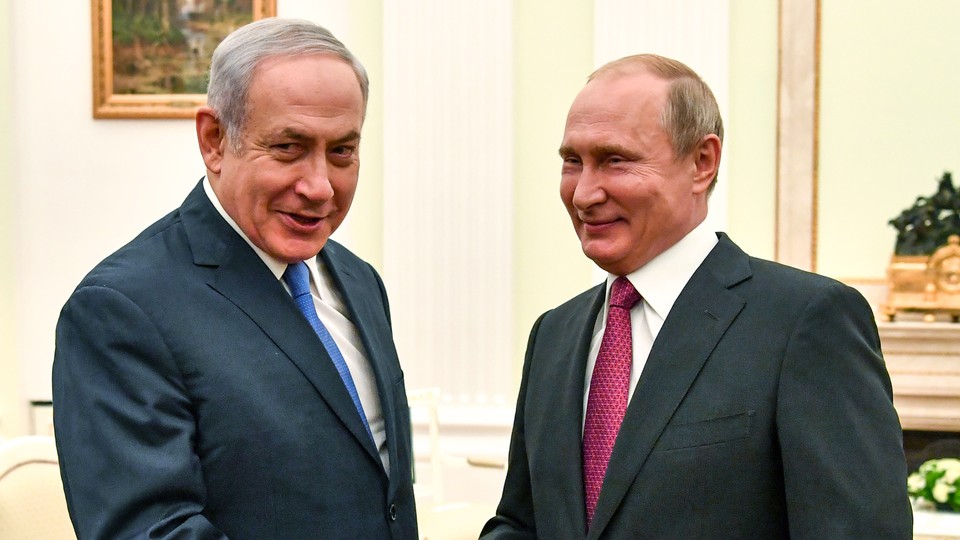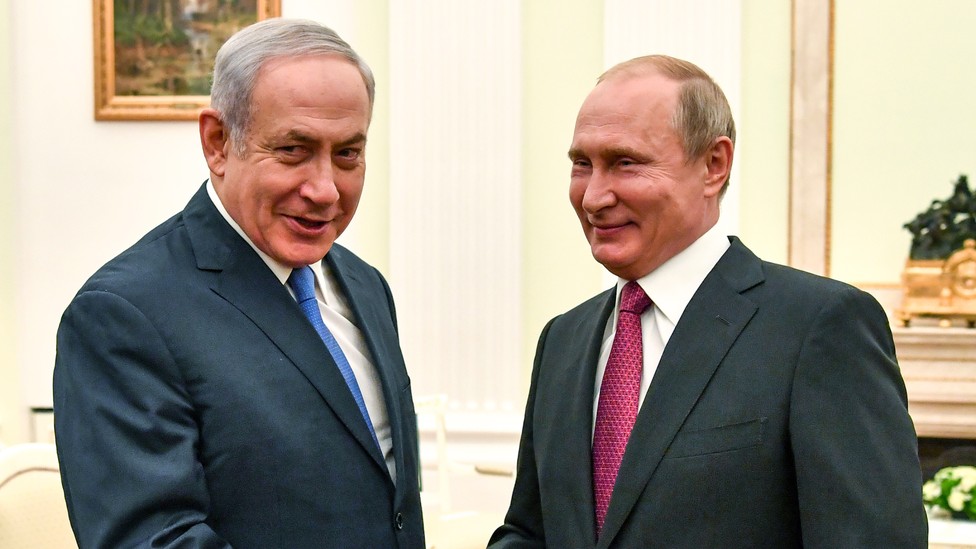 Russia's unlikely alliance with Israel in Syria is in peril. Today, Moscow announced that it would supply Syria with a sophisticated S-300 air-defense system over explicit Israeli reservations. The announcement comes one week after Syria shot down a Russian Ilyushin-20 over the Mediterranean, killing 15 Russian-military personnel. Syrian defenses had been targeting Israeli fighter jets that had bombed a Syrian facility from which weapons-manufacturing systems were about to be transferred to Hezbollah, the Shiite militia group, at Iran's behest; Russia, for its part, blamed the incident on Israel. The incident illustrated the complicated alliances in Syria's seven-year-long conflict, and how quickly they can unravel as Bashar al-Assad, the Syrian leader, looks set to remain his country's president for the near future.
Before Russia's military intervention in Syria, it seemed that Assad would go the way of other regional leaders swept away by the Arab Spring. But Russia's involvement, as well as support from Iran's Shia proxies, shifted the conflict in Assad's favor. His forces have defeated nearly all of the major factions opposed to his rule. ISIS, which at one point was a major fighting force, has been decimated, and is now being bombed by the U.S. in eastern Syria.
Then there's Israel: The Jewish state, which shares a border with Syria, wants to prevent Iran from establishing a permanent military presence there, and ensure that Hezbollah does not turn Syria into a base of operations to attack its territory. While doing this, Israel has also maintained a close alliance with Russia over the developments in Syria. Monday's announcement that it would supply Syria with S-300s is a setback for this alliance.
After last week's incident, the two sides appeared to have struck a conciliatory tone. As I reported, Russia's Defense Ministry accused Israeli pilots of using the Russian plane as cover, resulting in its downing. Russian President Vladimir Putin appeared to defuse the tensions when he said that the incident was the result of "a chain of tragic accidental circumstances."
But matters took a turn for the worse on Monday when Moscow said that the blame for the shooting-down of the Il-20 "lies entirely with the Israeli air force," adding that it would supply Syria with the S-300 system to ensure that such an event doesn't happen again.
Until last week's incident, Israel and Russia had managed to set aside their contradictory goals in Syria—for Russia, bolstering Assad, and for Israel, blocking Iran or its proxies from establishing a foothold in Syria—while coordinating military action. But Russia's announcement that it will send Assad S-300s will complicate that dynamic. The new missiles are far more accurate and, as the Israeli journalist Barak Ravid wrote in Axios, "could limit the Israeli air force's freedom of operation in Syria." Indeed, Israel has conducted hundreds of air strikes inside Syrian territory since the conflict began, but may now need to be more careful. If Syria does hit an Israeli plane, the potential for a regional flare-up involving not only Israel, Iran, Syria, and Russia, but also the United States, is high.
Given the potential consequences of last week's incident, Israel sent a top military official to Moscow to explain its version of events. Russia didn't buy it, insisting that while Israel didn't shoot down the plane, it was still responsible for what happened because the Israeli planes used the Russian aircraft as cover. Russian Defense Minister Sergei Shoigu said Monday that the S-300 systems would "cool hotheads" in Israel and "prevent ill-considered actions" against the Russian military.
Having said that, both countries need each other. For Russia, Israel is a vital regional ally that has close ties with Western countries, most of which have sanctioned Moscow for its actions in Ukraine and its alleged assassination attempts in Britain. For Israel, Russia represents, perhaps, the major country that can influence Iran's actions. Last week's fatal incident might be a temporary setback, but there is unlikely to be a permanent rupture.