Russia's Tangled Syria Policy May Prove Unsustainable
In the chaotic skies over Syria, one ally shot down a Russian plane, and Moscow blamed another.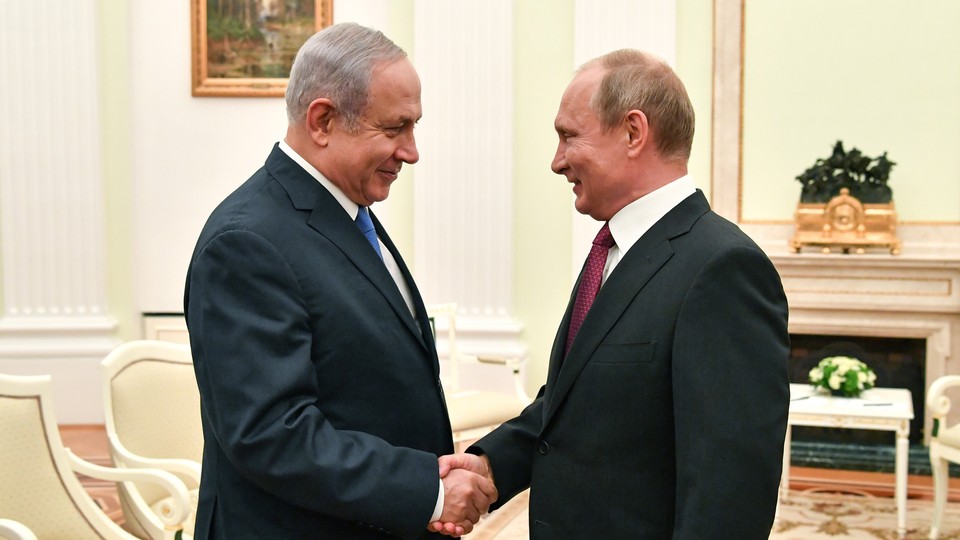 A Russian military plane was shot down over the Mediterranean on Monday—an incident that, despite being the direct result of antiaircraft fire from its Syrian ally, Moscow blamed on Israel, another of its de facto allies. The incident shows not only the clashing tangle of competing interests in Syria as the civil war nears its end, but also how easily that dynamic can rupture carefully cultivated relationships.
At issue is the Russian Ilyushin-20 aircraft shot down over the Mediterranean on Monday by a Syrian S-200 surface-to-air missile, an incident that killed 15 Russian military personnel. Russia's Defense Ministry said the aircraft was shot down after four Israeli F-16s flew into Syria.
"The Israeli pilots used the Russian plane as cover and set it up to be targeted by the Syrian air defense forces," the ministry said in a statement, labeling Israel's action a "provocation." The statement added: "As a consequence, the Il-20, which has radar cross-section much larger than the F-16, was shot down by an S-200 system missile."
Russia's Foreign Ministry summoned Israel's ambassador over the incident; Sergei Shoigu, the Russian defense minister, threatened his Israeli counterpart, Avigdor Liberman, with "countermeasures." Israel, which has previously equivocated about its military involvement in Syria, took the step of acknowledging the air strike and "expressing sorrow" for the Russian deaths. It said it was targeting a Syrian weapons facility. Russian President Vladimir Putin and Benjamin Netanyahu, the Israeli prime minister, were scheduled to speak to defuse the tensions, and indeed, Putin himself later called the incident the result of "a chain of tragic accidental circumstances," an apparent effort to tamp down the tension.
Israel and Russia have worked assiduously in recent years to cultivate a close relationship. Three years ago they agreed to coordinate military action in Syria to avoid the kinds of incidents that occurred Monday. At the time, Netanyahu, who has met with Putin more than half a dozen times since 2015, when Russia entered the Syrian conflict, said he and the Russian leader "agreed on a mechanism to prevent such misunderstandings." (The U.S., which operates in Syria's east alongside Kurdish fighters who battle ISIS, has a similar deconfliction agreement with the Russian military.)
This Russia-Israel coordination in Syria is significant given their competing interests in the country. Russia's military support, along with backing from Iran and Hezbollah, the Shia militant group from Lebanon, has ensured the survival of the Assad regime. Israel has meanwhile worked hard to see to it that Syria, with which it shares a border, does not become a place from where Hezbollah, which serves as an Iranian proxy, can attack its territory. For now, Russia has managed to balance its seemingly contradictory alliances with Iran and Israel, but Monday's incident shows how difficult this task will be as Bashar al-Assad prepares an onslaught on Idlib, the last major rebel-held part of the country.
Indeed, the Israel Defense Forces statement that expressed "sorrow" for the Russian deaths added: "Israel holds the Assad regime, whose military shot down the Russian plane, fully responsible for this incident. Israel also holds Iran and the Hezbollah terror organization accountable for this unfortunate incident." It alleged that the Syrian facility that was targeted was the place from which systems to manufacture weapons were about to be transferred on behalf of Iran to Hezbollah. "These weapons were meant to attack Israel, and posed an intolerable threat against it," the statement added.
Israel is keen to see Iran's presence in Syria end, but Russia has sent mixed signals on what it thinks Tehran's role in Syria's present and future should be. Moscow has both called for the "reduction, and ultimate elimination, of foreign forces and foreign fighters," and labeled the Iranian presence in Syria as "legitimate."
Israel's relationship with Russia hasn't prevented the two countries from clashing this year on several occasions when Israel attacked targets inside Syria that it said posed a security threat. In the most severe of those clashes, Israel struck a Syrian air base in February after an Iranian drone launched from the base entered Israeli territory. Israel had wanted to stage a larger response, but was reportedly talked back by Putin. Monday's incident may have ended with Putin calling it the result of "accidental circumstances," but with the various actors in Syria's civil war—including Iran—preparing to reap the rewards of its investment in Assad, such conciliatory words may not be enough to forestall conflict in the future.