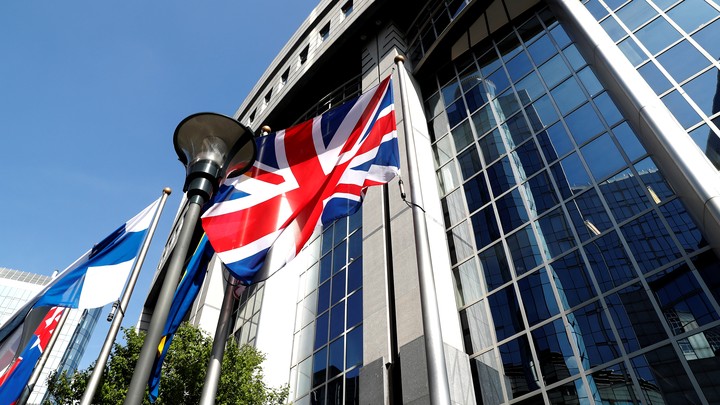 LIVERPOOL—Brexit negotiations between the United Kingdom and the European Union may have entered their final stage, but plenty of uncertainties remain. No one knows, for example, whether both sides will be able to negotiate a final deal by November. No one knows what negotiators will do to prevent a border on the island of Ireland. And no one knows if the U.K. will ultimately leave with a deal, or without one.
But one thing is certain: The U.K. is slated to leave the EU on March 29, 2019. When it does, Neena Gill will be out of a job.  
And she won't be the only one. Gill is one of 73 British lawmakers currently representing the U.K. in the European Parliament. Though Gill advocated for Britain remaining in the EU during the 2016 Brexit referendum, the region she represents in the West Midlands boasted the highest share of votes in favor of leaving in the country. Even with Brexit negotiations well underway, Gill's job is still far from finished. Now she is focused on ensuring that her region's views and interests are represented in Brussels, as well as in the final Brexit deal.
But representing Britain in an organization as it's preparing to leave hasn't been easy. When I met with Gill at the Labour Party's annual conference in Liverpool this week, she told me that her last two years as a British member of European Parliament (MEP) have been some of the most difficult—and the most frustrating. "The entire process has been a disaster in terms of not just the British image abroad and the way people view us, but also in relation to just doing what we used to be very good at, which was getting our key message across to all of our representatives," she said. Prior to Brexit, British lawmakers in Brussels might have known what the U.K.'s positions are on various issue areas. But now, with the seemingly constant infighting in Westminster over what kind of deal the U.K. should strike with the EU (or whether it needs one at all), there is no such clarity. "People would ask me, 'What exactly does the U.K. want?'" Gill said. "And frankly, for two years I haven't been able to give them an answer."
That isn't the only frustration. Gill said that ever since the U.K. voted to leave the EU, she and her fellow Britons' overall standing within the European Parliament has been reduced drastically. "I have views on proposals and legislation that are in front of me, and yet somehow they seem to be not as influential as they used to be," she said. "We used to be representing a large country—we had huge amounts of influence and what we said was taken seriously. Now, of course with leaving, it is taken less seriously … People will introduce me and say, 'This is Neena, and she's leaving.'"
Not everyone bemoans the U.K.'s new status in Brussels. Some, such as arch Brexiteer Nigel Farage, have eagerly awaited this moment. When it was revealed in a European Parliament report in May that British lawmakers and judges would be required to continue working in their role up to eight weeks after Britain has left the bloc, Farage said he would not be sticking around to complete his mandate. "Are you joking?" he told Politico in response to the report. "I will be leaving."
Gill said this type of rhetoric hasn't helped the U.K. in its negotiations with the EU. "We're in a difficult negotiation and you've got these Brexiteers who are offending all the people who we are negotiating with on a regular basis in parliament," she said. "It's quite different experiences, depending on where you're at in terms of [being] pro-Europe or anti-Europe. If you're anti-Europe, you don't really care what goes on—you're against everything anyway."
For British MEPs like Gill, though, there isn't time to be complacent. She said part of her job is making sure that her region is prepared for Brexit, and the adverse effects that may come with it. "Long-term, we do not know what the consequences will be on communities that are already very hard-pressed," she said, noting that many regions that voted overwhelmingly for Brexit, including her own, could be the hardest hit in the event the U.K. leaves with no deal. She added that major companies like Jaguar Land Rover are saying the lack of a deal or of a properly managed exit may compel them to go elsewhere, which would be a huge blow to the economy of her region. "It's very difficult to get that taken seriously. People think it won't happen … They want to believe this is all scaremongering when it isn't."
Can Britain deal with 'No Deal'?
It's taken seriously at the Labour Party conference, where sightings of EU flags and bollocks to Brexit stickers are almost guaranteed. This culminated Tuesday with an overwhelming vote by the conference's delegates in favor of a motion to keep all options—including a second referendum with an option to remain in the EU—on the table in the event British lawmakers are deadlocked over the Conservative-led government's negotiated deal. U.K. Prime Minister Theresa May has already ruled out a second referendum under "any circumstances."
When I asked Gill about calls within the conference for an option to remain in the EU, she told me she was "bemused" by the reaction there. "I never imagined that I would be walking into Labour Party conference and there'd be that many big European flags flying," she said. When she was first elected to the European Parliament in 1999, she said, Britons weren't as opposed to the EU—but that sentiment began to change after 2000. "Looking back, I think we should have fought harder not to let Europe be sidelined," she added. "It's only when you're about to lose something that you start to appreciate what it was."
We want to hear what you think about this article. Submit a letter to the editor or write to letters@theatlantic.com.