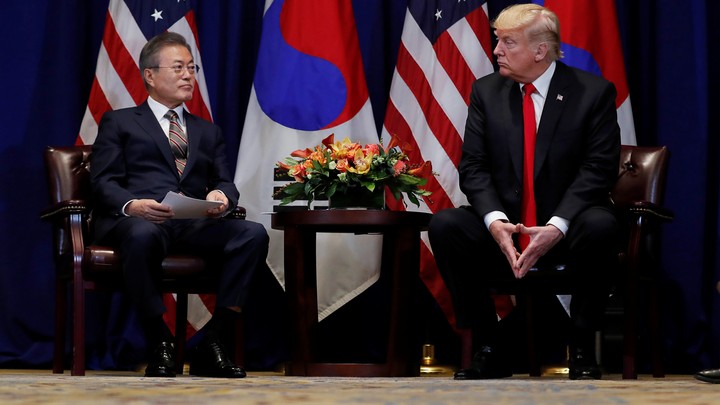 Updated on September 25 at 1:25 ET
NEW YORK—When Moon Jae In and Donald Trump met at the United Nations on Monday, South Korea's president hailed his American counterpart for helping guide nuclear talks to a point where "North Korea's decision to relinquish its nuclear program has been officialized to a degree that not even those within North Korea can reverse."
"You are, indeed, the only person who can solve this problem," Moon said of Trump, employing the kind of superlative language that Trump adores and that earned the American president guffaws during his address to the UN General Assembly on Tuesday. "Thanks to your bold decision and new approach, we are in the process of solving a problem that no one has been able to solve in the decades past." The North Korean leader, Kim Jong Un, who just met with Moon in Pyongyang and may meet soon with Trump for a second summit, "repeatedly conveyed his unwavering trust and expectations for you," Moon added. He went on to tell Fox News's Bret Baier on Tuesday night, in remarks Trump later told the UN Security Council he "very much [appreciated]": "All of my praise goes to president Trump."
But between these sessions of heaping on the praise, with Trump across town, South Korea's leader amped up the pressure on the United States during an appearance at the Council on Foreign Relations in New York on Tuesday. Hours after describing Kim's decision to denuclearize as irreversible, Moon characterized that denuclearization as contingent on the United States and other countries making corresponding concessions along the way. For North Korea to "embark on the road to complete denuclearization," he noted, according to a translation of his remarks, "the United States and the international community must end hostile relations and also … provide security guarantees to the North Korean regime."
North Korea talks are at a standstill—partly over peace.
A first step, he stated, would be a declaration to end the Korean War, which halted in an armistice in 1953. This would be merely a "political statement that announces the end of hostile relations" and launches negotiations for a more comprehensive peace treaty to replace the armistice, which would be concluded when North Korea's denuclearization is complete. And it would encourage North Korea to make additional moves toward giving up its nuclear weapons, such as shutting down its infamous Yongbyon nuclear complex, he argued.
Perhaps most notably, Moon declared that the "two Koreas" were in the midst of pursuing an end-of-war declaration, in what seemed like a pointed message from the conductor that the peace train was chugging ahead and the United States would be wise to hop on board. (Many of Trump's advisers, if not Trump himself, worry that such a declaration is premature and potentially perilous for U.S. security interests.)
Moon acknowledged that there is ample reason to be skeptical about North Korea's intentions. "We have had many agreements on denuclearization with North Korea in the past, but unfortunately they have all collapsed," he said. "It's only natural that we have plenty of suspicion regarding the true motives of the North Korean regime."
South Korea may have just helped break a nuclear impasse.
But then he earnestly made the case for overcoming that skepticism, toggling between speaking for himself and speaking for Kim Jong Un. He maintained that the current round of diplomacy "is completely different" than previous efforts because this time around talks are occurring at the highest political levels. Kim, Moon said, moreover promised Trump during their June summit in Singapore—"in front of the whole world" and thus in a way that "will be kept"—that he would relinquish his nuclear-weapons program in exchange for peace and new relations.
"If the two countries implement these measures in a sincere and genuine way, then I believe that we will be able to achieve complete denuclearization of North Korea this time around," Moon said. He cited "genuine measures" that North Korea has already taken: suspending nuclear and missile tests since November, "permanently dismantl[ing]" a nuclear-test site (international experts have not verified the degree to which the site has been dismantled), and pledging during Moon's latest summit with Kim to shutter a missile-engine-test site "under inspection from American experts," which "means that North Korea will no longer be able to engage in nuclear and missile provocations that threaten the United States and the international community."
In a striking readout of his conversations with Kim, Moon said the North Korean leader is aware of the criticisms that he is only engaging in nuclear diplomacy to "deceive people" and "buy time," but has responded that he has nothing to gain from doing so. "If he was indeed trying to deceive the United States, then he was very clear that he would be facing almighty consequences and great retaliation from the United States, which North Korea would not be able to withstand," Moon said. "This is why he's asking for the international community to trust his sincerity." He described Kim as "young," "candid," and someone who "respects elders" and "seems to have great aspirations to achieve economic development."
The South Korean president added that he's not alone in assessing Kim as sincere, and that Trump and Secretary of State Mike Pompeo have come away from meeting Kim with the same impression. And he gently reminded Trump of his promises. (Vox recently reported that Trump informally vowed to swiftly end the Korean War during his summit with Kim, though the Trump administration has not confirmed this.) "I think that President Trump has made a truly brave decision, and he has promised to provide security guarantees to the North Korean regime if it abandons its nuclear weapons," Moon said. "I believe that North Korea is trying to embark on the complete denuclearization process in return for security guarantees. Afterwards, they would be able to focus on economic development. I believe that this is the national-development strategy of North Korea right now."
Even as he prodded the United States to take a bold step in reassuring North Korea, Moon pushed back against the widespread concern that the U.S.–South Korea alliance is in danger, as South Korea focuses on an inter-Korean peace process and the United States fixates on North Korea's denuclearization. "Even after North Korea's denuclearization, and even after a peace treaty is signed, and even after reunification, the [South Korea]–U.S. alliance should remain in place in order to continue to uphold peace and stability in the Northeast Asian region," Moon said.
But when I met with Chun Yung Woo, a former national-security adviser to the conservative South Korean President Lee Myung Bak, a few days before hearing Moon speak, I found him much more worried about the future of the U.S.–South Korea alliance under the liberal Moon administration.
A top adviser to the South Korean president questions the U.S. alliance.
Chun admitted that the U.S., South Korea, and its partners are actually closer now to fully denuclearizing North Korea than they were during the six-party talks in the 2000s, which Chun participated in as the leader of the South Korean delegation. He acknowledged that North Korea, now that it has announced the "completion" of its nuclear force and has the technology and know-how to rebuild it from scratch in a year, might really be willing to give up its nuclear weapons in exchange for economic development, an end to its international isolation, and peace with South Korea and the United States—and that this could be a deal worth making.
But in promising all sorts of rewards to North Korea when Kim has yet to make major progress on denuclearization, and is instead offering largely cosmetic concessions while "continuing to build up their nuclear arsenal" and "produce fissile material," Moon is sending a signal that South Korea "attaches higher value to improvement in inter-Korean relations … than in denuclearization," Chun told me.
The South Korean government is keen on showing the "pretense of smooth coordination" with the United States and avoiding tension in the alliance, Chun said, but it ultimately views military hostilities on the Korean peninsula as a greater threat to South Korea than North Korea's nuclear weapons and is "determined not to allow U.S. policy to stand in the way of making peace with North Korea."
"If the U.S. is frustrated with North Korea's intransigence [on denuclearization], and Trump runs out of patience, he can no longer claim victory, and he has no other option but to return to military options, maximum pressure, then I think there will be a rift" in the alliance, Chun warned. "President Moon will be on a collision course with the U.S."
We want to hear what you think about this article. Submit a letter to the editor or write to letters@theatlantic.com.
Uri Friedman
is the managing editor at the Atlantic Council and a contributing writer at
The Atlantic
. He was previously a staff writer and the Global editor at
The Atlantic
, and the deputy managing editor at
Foreign Policy
magazine.