How Aung San Suu Kyi Lost Her Way
The former champion of democracy and human rights now tours the globe excusing the government's record of atrocity.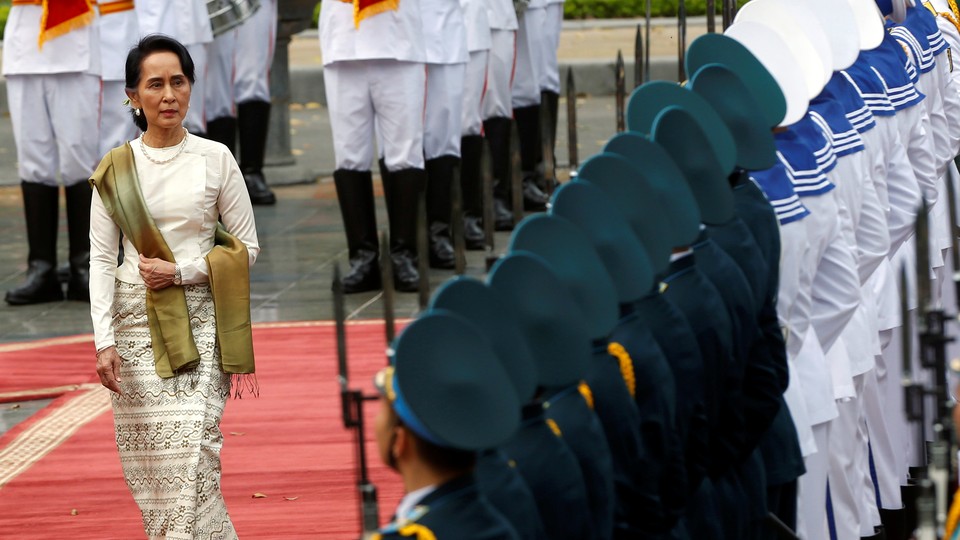 HANOI—Last month, Aung San Suu Kyi, Myanmar's de facto civilian leader, appeared at a panel hosted by Singapore's ISEAS-Yusof Ishak Institute. At the event, one attendee asked her what had surprised her most since taking power in 2016, citing a long list of struggles the country faces, from the sluggish economy to ethnic conflict. When she replied, "Nothing has really surprised me," the audience, perhaps anticipating a moment of introspection, laughed nervously as she said her party was well prepared to deal with the challenges despite having successfully addressed very few. She went on to describe the generals with whom she shares power as "rather sweet."
At the World Economic Forum's regional meetings in Hanoi earlier this month, she sat beside strongmen like Cambodia's Hun Sen, discussing regional development along the Mekong River and, in another speech at the same event, boasting about Myanmar's "quantum leaps" in digital connectivity. She also defended the jailing of two Reuters journalist who were arrested while investigating the killings of 10 men who were Rohingya, a persecuted Muslim minority group. "There are, of course, ways in which we, with hindsight, might think that the situation could have been handled better … But we believe that for the sake of long-term stability and security, we have to be fair to all sides," she said. Nikki Haley, the U.S. ambassador to the United Nations, later tweeted that it was "unbelievable" for her to justify the jailing of the two journalists and deny "the abuse the Burmese military placed on the Rohingya."
Suu Kyi's unflappable demeanor in the face of a repressive military, which once made her a darling of the Western press, now comes across as, at best, detached—and, at worst, as cruel and calculating. Over the past year, she has emerged from a period of self-imposed isolation to defend the Myanmar military's most recent campaign against the Rohingya. While Suu Kyi is constitutionally barred from serving as the president of Myanmar, she serves as the state counselor, a position that effectively makes her the head of the civilian government. She has enlisted a number of her former foes—veterans of the junta that ran the country from 1962 until 2011, who spent those years defending the very government that kept her under house arrest to stifle her pro-democracy movement. At the United Nations General Assembly today in New York, it will be one of these trusted old hands representing Myanmar, not Suu Kyi, who will skip the global gathering for the second consecutive year.
Suu Kyi's public-relations efforts have not eased the international condemnation directed at Myanmar for its treatment of the Rohingya. A recently published UN report laid out, in exhaustive detail, the military's alleged crimes not just against the Rohingya but against other ethnic minorities as well. Last week, the International Criminal Court (ICC) announced a preliminary probe into the mass deportation of the Rohingya. At the UN General Assembly, Myanmar will face considerable pressure from multiple countries to end the crisis. Members of the UN Human Rights Council adopted a resolution based on evidence from the damning UN report; part of the resolution calls for creating a body to prepare evidence of human-rights abuses for any future prosecution. The UN investigators who authored the report were barred from entering Myanmar, and the government has rejected the findings.
Yet Suu Kyi's coordinated public engagement, coupled with her reliance on old regime stalwarts, could stave off the worst: prosecution of generals by the ICC and Myanmar's return to diplomatic isolation. To shield itself, the current government has reverted to tried-and-true methods: blocking access to credible investigators, discrediting victims of atrocities, and questioning the legitimacy of international bodies—only this time with Suu Kyi as a formidable ally instead of as a foe. "We are back to … the Myanmar that has always existed," Charles Petrie, the UN's top diplomat in Myanmar from 2003 until 2007, told me. Suu Kyi and the military, which kicked Petrie out of the country for releasing a statement condemning the humanitarian situation in the country, share the same prejudices against the Rohingya, he said. "If you put that all together, there seems to be a common message coming out. It is not surprising. It comes from a similar vision of what the country should look like."
In 2011, the dictator Than Shwe stepped aside, ceding power to a quasi-civilian government as part of a carefully scripted power shift that took direct control of the country away from the military but preserved much of its political power. This transition also helped bring Myanmar back into the international community and, significantly, led to the lifting of sanctions. The Rohingya, though, saw little benefit from these developments. They are deeply reviled in Buddhist-majority Myanmar, where they are seen as illegal immigrants from Bangladesh, though they consider themselves native to Myanmar. Following bouts of sectarian violence in 2012 and '13, more than 120,000 Rohingya were confined to temporary camps within Myanmar.
When questioned about the plight of the Rohingya, Suu Kyi has offered little support. Instead, she has repeatedly said there is a lack of understanding, both domestically and internationally, of the complexities of the Rohingya situation. She has also cited the lack of "rule of law" as the reason for many of the group's problems. Some of Suu Kyi's backers believe she is unable to criticize the military and its campaign against the Rohingya because of her awkward power-sharing arrangement. The most ardent of these supporters fear a coup that would put the military back in power. Suu Kyi would lose her hard-won status as Myanmar's civilian leader if she stepped out of line.
Suu Kyi's own comments and actions, though, indicate something different. While speaking in Singapore in August, she dispelled rumors that relations between the civilian government and the military had deteriorated sufficiently that the civilian government should be fearful of a military coup. More tellingly, she has welcomed into her inner circle a small group of former diplomats who defended the junta while she was under house arrest.
The most prominent among these officials is Kyaw Tint Swe, who will speak in Suu Kyi's stead today at the UN. It will be a familiar setting for him: He served as Myanmar's permanent representative to the UN for much of the early 2000s, defending the military government against international condemnation for its human-rights abuses and violent crackdown on popular uprisings. In speeches and statements infused with isolationist paranoia, he depicted an alternate reality of the situation in Myanmar. "Myanmar has long been a victim of a systematic disinformation campaign launched by anti-government elements, generously funded by their foreign supporters," he wrote as part of a lengthy response to criticisms by the United States and other countries of Myanmar's human-rights failures in November 2007.
Kobsak Chutikul, a retired Thai diplomat, consulted an advisory panel created by Suu Kyi to address the Rohingya crisis. In July, he quit, citing a lack of meaningful progress. Kyaw Tint Swe and other former diplomats now working for Suu Kyi's government "have done this all their career, it is kind of second nature for them," he said. "It is second nature to deflect any criticism and try to stand up for the regime, whatever regime is in place." They are, he said, "defense lawyers who go to bat for their clients no matter what."
More than a decade later, Kyaw Tint Swe's defense of the military from criticism has hardly changed. This spring, he accused a delegation of U.S. officials of believing a "different narrative" than that of the government about what had occurred in Rakhine state, a person familiar with the meeting who was not authorized to speak to the media told me. The attendees "couldn't get a word in edgewise," the person said. In the same meeting, Kyaw Tint Swe lauded Myanmar's repatriation of Rohingya from Bangladesh in the early 1990s and told the officials not to worry about the current, stalled repatriation efforts. These repatriation efforts began after Myanmar's military operations to push the Rohingya into Bangladesh in 1992 and '93. The repatriation was a process Human Rights Watch described as "troubled from the outset," for forcing people who fled to Bangladesh to return to Myanmar against their will.
At the UN, Myanmar officials—who are from a ministry led by Suu Kyi herself—have employed similar tactics, obfuscating the question of Rohingya repatriation by griping with Bangladesh on bureaucratic minutiae (such as the forms that must be completed by displaced Rohingya to return to Myanmar from Bangladesh, according to UN officials). These officials have also been frustrated by what they see as Myanmar's attempt to shift blame for the Rohingya situation to be shouldered equally between the two countries, even though the current crisis was created internally by Myanmar's own military. "They do things to buy time and distract the international community," one UN delegate who asked not to be named because they were not authorized to speak to media, told me. "There has not been a change in narrative or mind-set."
Some observers say Myanmar is likely to get away without any formal international retribution as it sticks to its tested methods, citing the lack of progress over bringing to justice perpetrators of the war in Syria and noting that Myanmar has influential allies on the UN Security Council.
"It will work," Petrie said of the country's tactics, "but it will be at a cost for Myanmar. The cost will be on the growing dependency on China, and they will have to pay for the support they get on the Security Council."