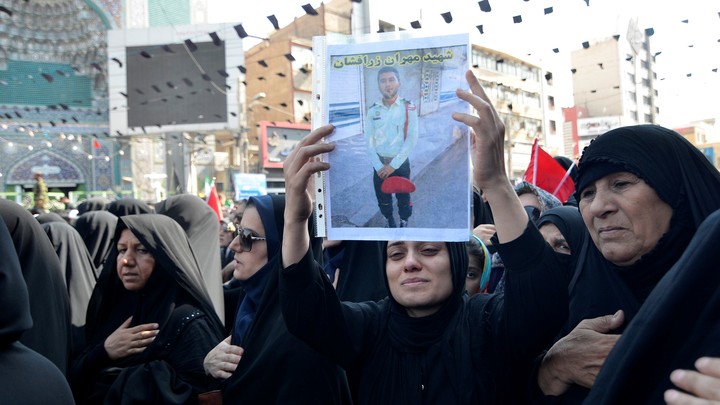 Gunmen opened fire during a military parade in Iran over the weekend, killing at least 25 people, including civilians. ISIS claimed responsibility for the attack Saturday in the southwestern city of Ahvaz, which came a year after it claimed a high-profile attack in Tehran. The Ahvaz National Resistance, an Arab nationalist group that opposes the Shia regime, also claimed responsibility. The four gunmen involved were killed.
Iran, however, accused the U.S. and its regional allies of being responsible. Nikki Haley, the U.S. ambassador to the United Nations, urged Iran to "look in the mirror."  
The fatal attack, the dual claims of responsibility, Iran's allegations against the U.S. and its other adversaries, and the American response once again highlight just how tangled and tense the regional situation is. The U.S. and its Arab allies are pressuring Iran to reduce its support for terrorist groups and its significant influence in Iraq, Syria, Yemen, and other countries; the Islamic Republic, despite the Trump administration's withdrawal from the nuclear deal, is continuing to assert itself around the region; ISIS, despite having lost most of its territory, continues to stage attacks.
ISIS's claims of responsibility have in the past generally proved at least somewhat credible—though the extent of the group's actual oversight of an attacker is rarely clear. Some high-profile attacks, such as the ones in Paris in 2015, were designed and executed by the group; others, such as the one in San Bernardino, California, that same year, involved militants inspired online by ISIS's propaganda. More recently ISIS has issued more dubious claims, including for last year's Las Vegas shooting. If indeed ISIS is found to be behind Saturday's attack, it shows that the group, which has long wanted to target Iran, retains the ability to strike inside the Islamic Republic, a Shia country where ISIS, a Sunni group, ostensibly has little support. This isn't the first time ISIS has struck in Iran. In June 2017, its militants targeted Iran's Parliament and the mausoleum of Ayatollah Ruhollah Khomeini, killing at least a dozen people and wounding more than 40. What makes the most recent attack much more dangerous, besides the higher death toll, is that it feeds into a bigger regional conflict depending on how Iran responds: ISIS is active in both Syria, where it is being targeted by the U.S., and in Iraq, where it continues to hold influence despite being defeated in its major urban strongholds last year.
The wars in Iraq and Syria have brought together a dizzying array of alliances in which one country may be tacitly allied with another in Iraq but at odds with it in Syria. But almost all the countries involved in the region agree on two things: They oppose ISIS and they oppose Iran (which oppose each other). An ISIS attack on Iran complicates matters for all of those actors.
If it is shown that the little-known Ahvaz National Resistance is behind Saturday's attack, as Tehran maintains, the implications could be no less severe. Iran says the Arab group is funded and trained by Saudi Arabia and the United Arab Emirates, the two countries that, along with Israel, have been at the forefront of confronting the Islamic Republic's policies in the region. Both those countries deny supporting the group. The group seeks a separate state in the oil-rich Khuzestan province, where the city of Ahvaz is located. Its leaders, many of whom live in European countries, did not provide direct evidence to bolster its claim.    
There were two predictable reactions in the aftermath of Saturday's attack: Iran's president, who will address the UN General Assembly this week, blamed the U.S. and its allies, and Haley, the U.S. ambassador to the United Nations, replied: "I think the Iranian people have had enough, and that's where all of this is coming from. But, having said that, he can blame us all he wants, but the thing he's got to do is look in the mirror."
Haley's remarks are not without merit: Iran supports terrorist groups such as Hezbollah, interferes in regional politics in Iraq and elsewhere, is developing a ballistic-missile program that can target Europe, continues to threaten Israel with destruction, is propping up Bashar al-Assad in Syria, and supports the Houthis in Yemen. Her remarks also don't represent the first time the U.S. has linked a terrorist attack inside Iran to Iranian policies. After the attack in Tehran in 2017, Iran's Revolutionary Guards Corps accused Saudi Arabia and the U.S. of ordering the attacks, but offered no evidence. A statement at the time attributed to President Donald Trump said: "We grieve and pray for the innocent victims of the terrorist attacks in Iran, and for the Iranian people, who are going through such challenging times. We underscore that states that sponsor terrorism risk falling victim to the evil they promote."
Trump signals an openness to talks with Iran.
The problem with Iran accusing the U.S. of orchestrating the latest attack is that it distracts from Iran's own difficulties protecting itself from such incidents one year after a similar attack. What's even more striking is that this is the second attack on a well-protected area. This says as much about Iran's ability to put in place security measures that prevent high-profile attacks as it does ISIS's ability to carry them out. The U.S. response, both then and now, appears to suggest that Iran's problematic domestic and foreign policies are to blame for terrorist attacks—ironically, a rationale lifted straight from the playbook of those who blame American foreign policy for the various attacks that have been carried out on U.S. soil since 2001, including the most recent ones claimed by ISIS.  
Speaking on CNN on Sunday, Haley said: "The United States condemns any terrorist attack anywhere, period. We have always stood by that." And she added: "The goal of what we want to try and do is make sure that we defeat ISIS. We will do that. We want to get the Iranian influence out. We're trying to do that. And we want to make sure that we hold Iran to account."
We want to hear what you think about this article. Submit a letter to the editor or write to letters@theatlantic.com.