Germany's Summer of Identity Crisis
The country's spy chief lost his job after undermining the government's view of the anti-immigrant protests in Chemnitz—only to be promoted to a higher position.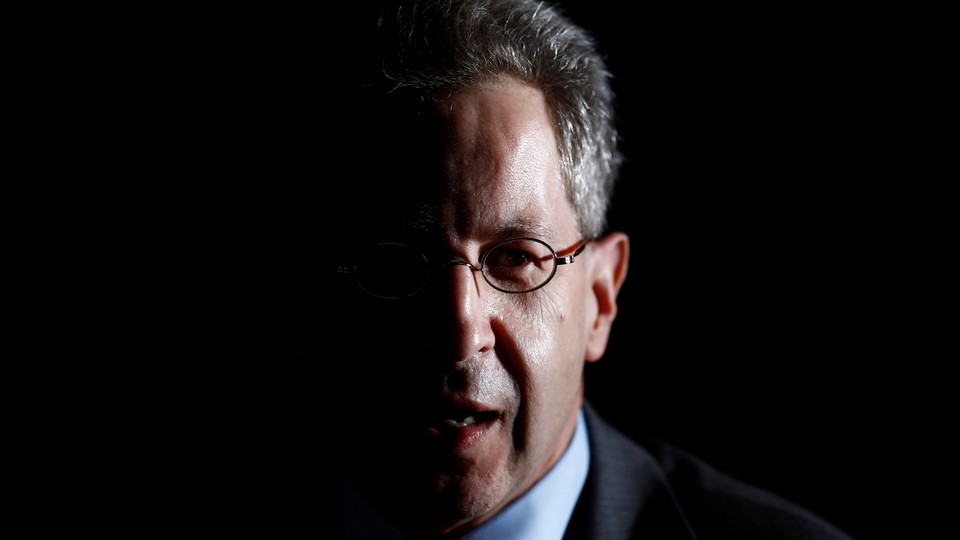 BERLIN—"Open societies can tolerate many different opinions, but not many different truths." So said Hans-Georg Maassen, the man who, until recently, ran Germany's Federal Office for the Protection of the Constitution (or the Verfassungsschutz), which monitors religious and political extremism. Addressing a symposium of intelligence officials in May, Maassen wanted to warn his colleagues of the dangers posed by an age of increasing disinformation. "If, via hybrid operations, falsehoods are spread, facts are manipulated, facts are suppressed, if opinions become facts and facts become opinions," he said, "citizens lose the reliable foundation upon which they make their political decisions."
It now seems a bit ironic that Maassen was the one to issue these warnings. On Tuesday, Chancellor Angela Merkel ousted him from his position after he made statements questioning the events that occurred in the eastern city of Chemnitz last month, when neo-Nazi and far-right groups led thousands of protesters in riots, proudly displayed Nazi salutes, and chased down immigrants and dark-skinned people in the streets following the alleged killing of a German man. Specifically, Maassen cast doubt on the authenticity of a video circulating on the internet that depicted one of these chases.
The Maassen story seemed to weave together a number of questions Germany is wrestling with—the rise of the far right, the debate over disinformation and reality, and the future of immigration policy. Though some of these questions have simmered beneath the surface since the end of World War II, recent debates over German identity, society, and history have thrown the country into something of an existential crisis: What does it mean to be German? And what is Germany's relationship to its own dark history?
Over the summer, such questions have plagued Germany. A showdown between Merkel and Interior Minister Horst Seehofer over immigration policy nearly brought down Germany's fragile government and highlighted the pressure the far-right Alternative for Germany (AfD) party has put on the country's traditional parties. Soon after that, the German soccer player Mesut Özil, who is of Turkish descent, quit the national team over what he deemed discriminatory treatment from team members and fans alike. His comments about the everyday racism in Germany directed toward those who don't look traditionally "German" prompted a wave of national soul-searching about what it actually means to be German. And the photos from Chemnitz forced difficult conversations about whether the country has learned from its past, and about the ways in which major cultural and economic differences in the former Communist East still persist. The situation shows "how nervous everybody is, and how little it takes to get the whole nation into a sense of general hysteria," Jan Techau, the director of the German Marshall Fund's Europe program, told me.
That's where Maassen comes in. As the head of Germany's anti-extremist intelligence agency, his job was to investigate the shocking images coming out of Chemnitz, especially after Merkel condemned protesters for "hunting" foreigners. His position, however, was not supposed to be a political one: Germany's intelligence chief is expected to avoid making overtly political statements.
Maassen did the opposite. In an interview with the German tabloid Bild published earlier this month, he was asked about his thoughts on videos that had appeared online showing far-right sympathizers in Chemnitz chasing down immigrants. Merkel had described the footage as "very clearly" displaying hate. Maassen was less convinced: "There is no evidence that the video circulating on the internet about this alleged incident is authentic," he told Bild, adding that it was likely "a case of targeted information" meant to "distract" from the 35-year-old German man's death that had sparked the protests in the first place. Maassen even referred to the fatal incident as a "murder," even as prosecutors were officially investigating it as a case of manslaughter. It was unclear, however, exactly which video Maassen was referring to: Several such videos have circulated through German media. He also failed to specify why he believed the footage had been faked, and expressed surprise that Merkel and other political figures had accepted it as fact so quickly.
A few days after speaking to Bild, Maassen came under fire for directly contradicting Merkel. He soon walked back his comments, claiming he had been "misunderstood" and that he was merely challenging people's interpretation of the video rather than its contents. But in Germany, it's common practice for journalists to clear quotes from public officials before printing them—he and his staff likely knew what they were doing when they let Bild publish his words. "He, of all the people we have, must be the cold-blooded, cool, analytical guy and not turn himself into a pundit," Techau told me. "That was a big misreading on his behalf, of the role he had to play in that situation."
Some figures in German politics and media have accused Maassen of being too cozy with the AfD: While it's common for the intelligence chief to disclose various threats to political leaders and organizations, Maassen met repeatedly with the AfD leader Alexander Gauland (who called the Nazi era a "speck of bird poop" in Germany's otherwise illustrious history) and also gave details of an intelligence report to an AfD member of Parliament. Media reports suggested that he even met with the ex–AfD leader Frauke Petry in 2015 to discuss how she could avoid surveillance, a claim Maassen has denied.
Maassen's comments were also particularly controversial because Germany's intelligence services have a "problematic" history of being negligent when it comes to the far right, Matthias Quent, the director of the Institute for Democracy and Civil Society in Jena, told me. The Verfassungsschutz was created when the country was still divided and West German officials saw communism as the primary threat. In the years since, it has been criticized for not acting against right-wing extremists with haste. After the AfD won 12.6 percent of the vote in Germany's federal elections last year, that issue took on an increased urgency. Experts have gotten "the impression that the Verfassungsschutz, [when it comes to] the right, is blind," Quent told me. "It has in its historical tradition this very special focus on the left, but lets the far right do what the far right is doing."
After his interview with Bild, Maassen quickly became a hero for supporters of the far right, who viewed him as a brave truth teller willing to defy the so-called lügenpresse ("lying press," a term that traces its roots back to the Nazi era). At a demonstration in Köthen, a city in the east German state of Saxony-Anhalt, one protester held up a sign saying Thank you for the truth, Mr. Maassen.
But leaders of Germany's other leading political parties, including the center-left Social Democrats (SPD), quickly called for Maassen's ouster. Ultimately, Merkel, Seehofer, and the SPD came to an agreement: Maassen would leave his post as intelligence chief to take a more senior role in the interior ministry under Seehofer. German media and observers from across the political spectrum promptly panned that compromise. Quent called Maassen's comments a "putsch attempt," noting he was clearly trying to undermine Merkel and her very critical response to protesters' actions in Chemnitz. "It's absolutely irresponsible to promote him to an even better job with even more power than now for a failure and for spreading conspiracy ideas," he said.
Techau noted, though, that the situation was indicative of both the current charged political atmosphere in Germany as well as the tensions between governing partners—all of which came to a head with Maassen's controversy. "Maassen was the guy who was standing in the middle, and who became kind of the lightning rod for all of this," Techau said. He was "the man onto which the whole dilemma was projected."