Donald Trump Issues a Scathing Rejection of 'Globalism'
In his UN speech, the U.S. president went after several countries and institutions—but perhaps none more so than the world order itself.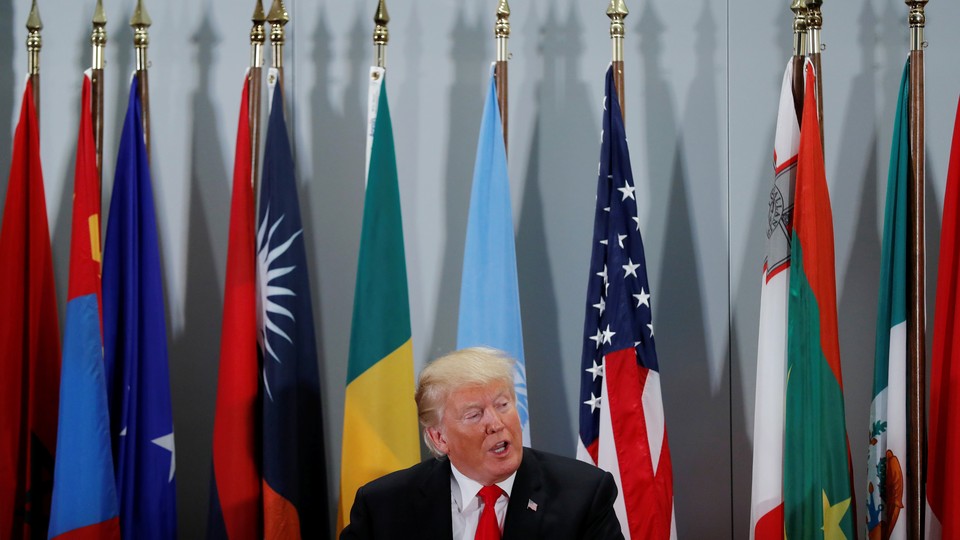 UNITED NATIONS—"We reject the ideology of globalism" in favor of the "ideology of patriotism." So spoke the American president from the pulpit, in the high church of the first ideology, before a congregation nominally convened in a spirit of global cooperation.
Ahead of his address at the annual gathering of the United Nations General Assembly, the buzz around the building was not about whether the world would witness a confrontational Donald Trump, but rather about who specifically the president would single out for attack. And while Trump lived up to the hype—condemning China for plundering the United States through unfair trade practices, Iran for wreaking havoc at home and abroad, and OPEC oil-producing nations for ripping off the rest of the world, to nervous murmurs and laughter among the dignitaries assembled in the grand hall—his adversaries escaped the kind of wrath he unleashed on North Korea during last year's UN General Assembly. Instead of once again dubbing Kim Jong Un "Rocket Man" and threatening to "totally destroy North Korea" over its nuclear-weapons development, Trump thanked the North Korean leader for the concessions he has made so far as part of nuclear negotiations. That wholesale reversal served as a reminder that while the president's harsh words for Tehran and Beijing were stunning, they were also subject to change at any moment.
More than going after a specific leader or country, Trump used this year's gathering to denounce the international system itself—escalating an argument he outlined in his 2017 speech for sovereign, self-interested nations to collaborate if and when their interests align. "America will always choose independence and cooperation over global governance, control, and domination," he said. By way of example, he touted his administration's rejection of the legitimacy of the International Criminal Court and its withdrawal from the UN Human Rights Council and Global Compact for Migration as examples of America's assertion of independence in the face of creeping "globalism." He vowed: "We will never surrender America's sovereignty to an unelected, unaccountable bureaucracy."
Again and again, Trump gave notice that there was a new sheriff in town—and that it was neither a global policeman nor a guardian of global interests. Trump cited his withdrawal from the Iran nuclear deal, his massive trade war with China, his new policies of restricting foreign aid to "friends," and reassessing America's role as the primary funder of the United Nations. He chalked them all up to his focus on advancing American interests, regardless of the fundamental challenges these moves pose to multilateral efforts to stop the spread of nuclear weapons, the global trading system, or international institutions as a whole.
Just before Trump spoke, UN Secretary-General António Guterres had stood at the same podium and warned of the profound dangers of a buckling international system in which public confidence in institutions is plummeting, a rising China is confronting a ruling United States as the great powers feud, populism and isolationism are on the march, and existential challenges such as climate change are growing acute at the very moment international cooperation is collapsing.
"Trust in global governance is … fragile as 21st-century challenges outpace 20th-century institutions and mind-sets," Guterres observed. "We have never had a true system of global governance, and much less a fully democratic one. But still across many decades we established solid foundations for international cooperation. We came together as united nations to build institutions, norms, and rules to advance our shared interests. We raised standards of living for millions. We forged peace in troubled lands, and indeed, we avoided a Third World War. But none of these can be taken for granted."
In 1963, John F. Kennedy, speaking in the same hall during another UN General Assembly, proposed an answer to the existential question of his time—and our time, too. "The science of weapons and war has made us all, far more than 18 years ago in San Francisco, one world and one human race, with one common destiny," Kennedy said, in reference to the nuclear age. "In such a world, absolute sovereignty no longer assures us of absolute security. The conventions of peace must pull abreast and then ahead of the inventions of war."
This week, one of Kennedy's successors delivered the opposite answer to addressing the challenges of the 21st century. Patriotism, not internationalism, brings security and prosperity, he argued. Absolute sovereignty is the ideal. "Sovereign and independent nations are the only vehicle where freedom has ever survived, democracy has ever endured, or peace has ever prospered," Trump proclaimed, with Guterres sitting behind him. "We must protect our sovereignty and our cherished independence above all."