Britain's Labour Party Could've Had a Good Summer—If It Could Have Stopped Fighting With Itself
The Conservatives' problems are an opportunity for a united opposition to step up. But the U.K. doesn't have a united opposition.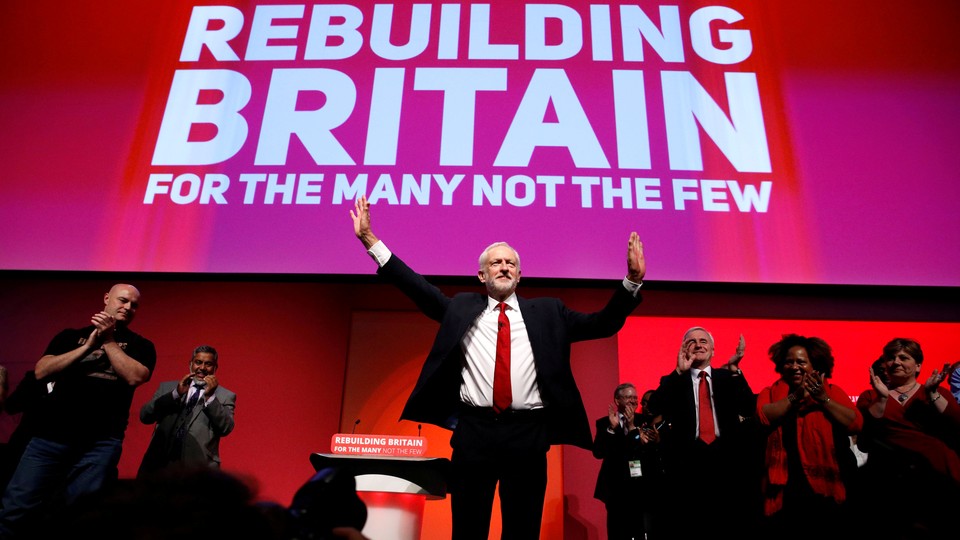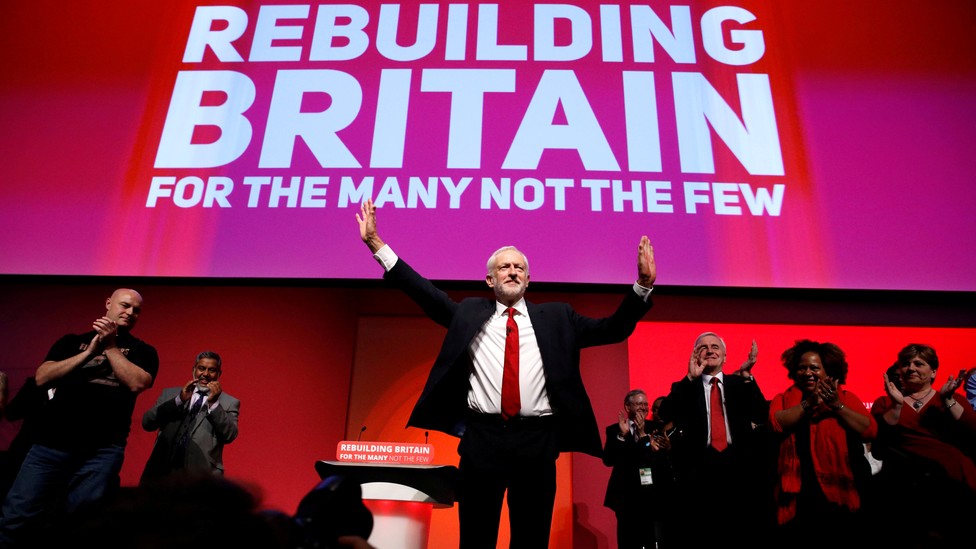 LIVERPOOL—It's been a long, turbulent summer for British Prime Minister Theresa May. Heck, it's been a long year. From her ill-fated decision to call for a general election last summer (one that, rather than adding to her ruling Conservatives' majority, lost it completely) to the party infighting, Brexit battles, and cabinet resignations that have followed since, May has spent much of the past year and a half lurching from one seemingly impossible crisis to the next. Throughout, she has proven herself profoundly weak, yet surprisingly stable.
It's an opportunity, perhaps, for a united and organized opposition to step up. But Britain doesn't have such an opposition. What it has is the Labour Party.
At its annual party conference this week in Liverpool, the Labour leader, Jeremy Corbyn, betrayed little hint of the party's internal divisions. "Where the Tories have divided and ruled, we will unite and govern," Corbyn said. "We represent the new common sense of our time, and we are ready to deliver on it."
But Corbyn's largely well-received speech capped off a summer of divisiveness and acrimony within the party that's every bit as severe as the Conservatives' problems: disagreements over Brexit and whether the party should support a second referendum, splits over its handling of anti-Semitism allegations, and growing divides between Corbyn's grassroots loyalists and his staunchest critics that some fear threaten to tear the party in two.
For one thing, of course, there's Brexit. Since Britain voted to leave the European Union in 2016, the Labour Party has maintained a position of what has been called "constructive ambiguity" on the issue, opting to promote itself as the party that could deliver a "better" Brexit than the current government, but without offering specifics. The drawbacks of this were clear in Liverpool, where Brexit supporters and opponents clashed over whether to essentially call for a second referendum. The debate spilled outside the venue, where some demonstrators held signs asking Brexit: Is it worth it?, while others responded with signs saying Yes it's worth it.
But that wasn't the most divisive issue. Though they didn't figure as prominently in any formal sense, the allegations of anti-Semitism that dogged the party and its leader throughout the summer inevitably lurked under the surface. Corbyn, who has personally ignited scandal himself, most recently with revelations that he once criticized British "Zionists" for having no sense of English irony, touched on the issue only briefly in his conference speech. He pledged to "eradicate anti-Semitism both within our party and the wider society," but did not address his own comments—which, for conference attendees such as Alex Richardson, a member of the Jewish Labour Movement, wasn't enough. "He hasn't shown contrition," Richardson told me. But Jo Bird, a recently elected Labour representative and a member of the Jewish Voice for Labour, told me it's not a priority for her voters. "We knocked on over 2,000 doors in that campaign just four weeks ago and nobody raised the issue of anti-Semitism or bullying," she said. They were more concerned with economic issues.
But perhaps the greatest division was invisible in Liverpool—one centered not on what was said and who was there, but on who was absent. Whether because of the anti-Semitism allegations or the populist direction in which Corbyn is steering the party, some regular conference attendees opted to sit this one out—or even leave the party altogether. Sam Stopp, a former Labour representative in London, told me that this was the first Labour conference he was missing since 2011—a decision he made after he formally left the party in April.
"Being in a political party is a bit like a marriage, and it would take an awful lot for you to walk out on it. It would have to get to the point of irreconcilable differences, and that was the point I got to," he said. One problem was the party's poor handling of its anti-Semitism allegations; the other was the rise of the left within the party. "The centrists are basically irrelevant now—it's not their party," Stopp said, adding, "Those who feel that they're clinging onto their Labour membership by a thread have not spent a load of money going to Labour conference … The people who have turned up are the Jeremy Corbyn ultras."
David Clark, a special adviser to former Foreign Secretary Robin Cook under former Labour Prime Minister Tony Blair, also decided to sit out the conference this year for some of the same reasons. The party split, he said, is much deeper than the popular framing of the "Corbynistas" versus the "Blairites," and includes people from the center or center-left like himself. He said the party has found ways to sideline Corbyn's critics, including through recent efforts to make it easier to remove sitting Labour lawmakers between elections. "The message it sends to people who are not Corbyn loyalists is that they're not welcome in the Labour Party and that they shouldn't be represented," Clark said. "You can't possibly win on that basis. You really can't."
To hear Corbyn's supporters tell it, though, he has won—and could go on to win even more. Under his leadership, the party's membership swelled by upwards of 35,000 people in the days following the 2017 general election, putting Labour's overall membership at more than 550,000—more than four times that of the ruling Conservatives. This uptick hasn't stopped in the wake of the party's summer of scandal, either. An estimated 470 people resigned from Labour in March in response to the anti-Semitism scandal; more than 1,000 people joined.
But that doesn't mean members like Clark will stick around. "I debate with myself constantly whether there is any point in staying, and up until this moment I've decided I should stay," he said. "But nothing is certain." His individual calculation is emblematic of the party's ongoing problems managing the split between the grassroots and the "establishment" members of the party. As Anand Menon, the director of U.K. in a Changing Europe, told me of the conference: "They've avoided an outright fight, but it doesn't mean they're united."