The Pop Star Risking Death to Bring Change
An interview with Bobi Wine about why he's returning to Uganda so soon after being brutally attacked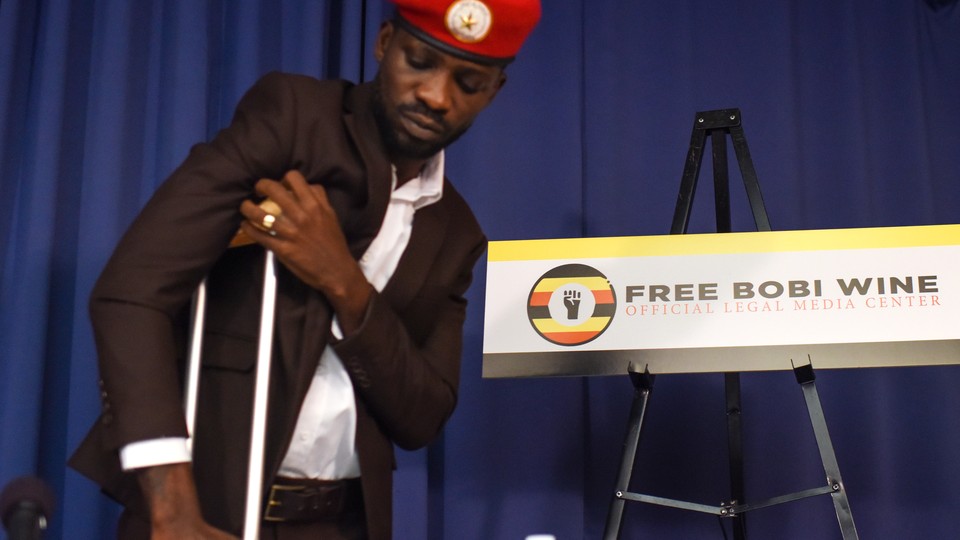 Editor's Note:
The author, a researcher whose work focuses on a range of politically sensitive topics in contemporary Uganda, is remaining anonymous to protect the safety of sources in the country.
These days, many conversations with the Ugandan pop star turned legislator Bobi Wine begin with inquiries about his health. When we met, on a gray morning in the final days of a trip he made to the United States for medical treatment, I started with just such a question.
Barely a month after he was violently arrested along with fellow opposition activists, and having survived what he said was torture at the hands of security forces, he described his recovery as ongoing: "I am better today than I was yesterday," he told me. I asked him how he was doing. He seemed optimistic. "Tomorrow I will be again better than today."
Indeed, the man in front of me looked far stronger and healthier than the one who had appeared before a Ugandan court martial on August 23, frail and bruised, too weak to stand. Now, against the advice of doctors, supporters, and many in the Ugandan diaspora, he has returned to the country where he was brutalized. "Uganda is my home," he told reporters. "I don't have another home. I am Ugandan, and I'm going back home."
Bobi Wine (born Robert Kyagulanyi) was already a musical celebrity in East Africa—with songs tackling corruption, poverty, and the failure of basic social services in Uganda —when he won a parliamentary seat in 2017. In one of the youngest countries on Earth, where 70 percent of the people have known no leader other than the current strongman, Yoweri Museveni, Wine, at 36, has sought to become the political voice of the demographic he has called "the grandchildren of the independence generation." He has advocated for peaceful democratization in a country with a long history of military coups, civil war, and repressive dictatorship. The resulting "People Power" movement has become the single greatest political threat Museveni has faced since seizing power in 1986.
In mid-August, following a confrontation between Wine's supporters and a presidential motorcade in the town of Arua, Museveni claimed a stone had struck a car in his convoy. In response, police and military descended upon opposition activists, gunning down Wine's driver, in what Wine assumes to have been an attempt on his own life (a fellow passenger attested to a Kenyan newspaper that the man was sitting in Wine's usual seat), and later arresting Wine and 32 others. Over the next two weeks, Wine was held in detention, charged with treason, and, by his account, repeatedly tortured (a claim the government continues to dismiss as "fake news" despite the legislator's visible wounds). In the face of mounting public pressure and an international outcry, on August 27 the regime released Wine on bail, ultimately allowing him to travel abroad to seek treatment for his injuries.
After he arrived in the United States on September 1, Wine slowly graduated from two crutches to just one to, at last, a carved wooden cane. But it was clear in our conversation that he was haunted by the fates of opposition activists less fortunate—less famous—than himself. He has repeatedly begun media appearances with a grim litany of the horrors he says others arrested with him endured: Night Asara, who Wine says was battered to the point of passing blood in her urine, and whose beatings, Voice of America reports, have left her needing braces on her knee, hand, and back; Atiku Shaban, whom cameras recorded fainting during bail proceedings, and who Wine believes to be so badly brutalized that he may never walk again; Francis Zaake, a fellow member of parliament, who after disappearing into custody on the night of the Arua violence was later reported by journalists to have been dumped outside a Kampala hospital, only to find himself still struggling for his life in an intensive-care unit more than a month later. The list goes on.
As Wine spoke of his fellow activists, I was struck, not for the first time, by the diversity of the names he listed. Uganda is exceptionally ethnically divided, home to more than 40 distinct languages, many as mutually unintelligible as English and Chinese. Throughout his three decades in power, Museveni has exploited these differences with what the journalist Helen Epstein recently described as "the skill of a malevolent anthropologist"—scapegoating certain ethnic groups while stoking rivalries and violence between others, in order to keep Ugandans' frustrations honed on one another rather than on the state. In the past, while himself exacerbating and violently capitalizing on ethnoregional tensions, Museveni has simultaneously succeeded in framing his opponents as tribalist thugs. Yet now those tactics seem to be failing him, as the People Power movement continues to gather steam across ethnic and regional lines.
"We invited people to disregard their ethnicity, their religion, [etc.], and said we are going by the simple fact that the first article of our constitution says, 'All power belongs to the people,'" Wine said. The salient division, he said, should not be among ethnicities but "between the oppressors and the oppressed."
He has seen this message most readily embraced by Uganda's massive youth population. Ironically, he noted, the balkanizing violence perpetrated by Museveni's regime has in some cases eroded ethnic divisions among younger citizens. Though a member of the Baganda ethnic group himself, Wine related that he was raised in a section of Kampala's Kamwookya neighborhood that "was called Acholi Quarter when I was growing up." The name referred to "the Acholis that thronged the city from northern Uganda when Museveni took over," fleeing violence from Museveni's troops in their home region. The resulting urban mix of ethnic groups, Wine said, weakened young people's attachment to their own ethnicity. "The elders have been convinced to believe that people who are not from their ethnic groups are their enemies," Wine reflected. But "as young people, we find ourselves [all] facing the same predicaments … [and moreover,] we find ourselves bound together because we are married across ethnical divides." Wine volunteered that while he, for example, is a Muganda, his wife, Barbie, hails from the president's ethnic group, the Banyankole. "My best friends are Nubians and Acholis," he added. "We are tied together. And most importantly, we are many: It is over 80 percent under 35—I am 36, so it is over 80 percent [of the population] who are under even my age."
Wine also attributed growing unity among Ugandan youth to a shared "sense of reality and unfairness" facilitated, in large part, by technology. "We are all on social media and all the injustices and atrocities are put clear for everybody to see." Prior to his arrest, one of Wine's political projects was a campaign against a new tax on social-media users, which he insists is designed to impede political organizing and the flow of information among the country's youth.
As for his future political plans, though the pop star has characterized himself as less a politician than "a musician who is conscious enough to take part in the liberation of Uganda," speculation has swirled regarding his presidential aspirations. When asked about the possibility, Wine demurred. "Many people from my generation have actually not considered the presidency, [because] we are not even free to rightfully run."
But if he did become president, would he step down after two terms?
"That is the normal thing to do," Wine responded. "That is the sober thing to do. And any leader should be proud to do that. That is what we are agitating [for]."
At times, he sounded uncannily like a young Yoweri Museveni, who more than 30 years ago famously declared that "the problem of Africa in general, and Uganda in particular, is not the people, but leaders who want to overstay in power." Cognizant of the echo, Wine always emphasizes safeguards. "We should be bound by the words we are saying right now—well knowing that there will be young people after us that will hold us by those words." A post-Museveni Uganda, he hopes, will "depend on credible institutions, and not a personality."
That's not what the country has now, according to Wine, who sees both the judiciary and the parliament as subservient to the executive. As a member of parliament, he has observed that "the real parliament seems to be the [ruling party] caucus, because whatever is decided in that caucus is what passes." The judiciary in his view is similarly hobbled by patronage appointments, while judges who refuse to defer to executive authority have faced military raids on their courts. "And indeed, the army raided the parliament and dragged us off the floor!" he said.
But perhaps the biggest challenge, Wine said, is Museveni's "personalization of the army." Indeed, the military has historically played an outsize role in the nation's politics, both as an agent of regime change and an enforcer of regime power. Wine, it seems, has himself experienced the latter, given his alleged torture while in its custody. Yet Wine has also witnessed gestures of solidarity from police and soldiers. "Every once in a while, they came and spoke to me and told me that they stood with us," he said of his detention. "The members of the military, just like the police in the prisons, are human beings … They are Ugandans! I am convinced that they don't want to be brutalizing their fellow Ugandans. Yes, historically they've been exploited to carry out atrocities, [but] we think that this is the generation to change that."
This conciliatory stance extends beyond state forces up to Museveni himself. Aware that his country has never once seen a peaceful transition of power between two presidents, Wine has written that a Uganda governed by People Power would be a Uganda "where a former president can live peacefully in the country without any fear."
When pressed to elaborate on this, Wine likened the flight of violently deposed leaders to a "brain drain" of elder statesmen. He said he hoped to one day see "a president that leaves power, lives peacefully in Uganda, and indeed continues playing a role of an elder, giving wise counsel to the leaders of the day. But all that comes," he emphasized, only "when a leader leaves power peacefully."
Uganda's next presidential election is not until 2021. "My greatest fear," Wine said, contemplating the coming years, "is the fear of the state. When a state is in fear, it panics; and when it panics, it makes a lot of mistakes. Many of the mistakes are dangerous to the citizens. My hope," he added, "is that President Museveni and his regime will listen to the voice of the people. That would save a lot of lives."
Wine still faces a treason charge upon his arrival back in Uganda—which may carry a penalty of death. And tensions have continued to rise during his brief absence from the country. Even before a date was set for Wine's return, police and military began cracking down on youth groups as they planned for his arrival. Meanwhile, on the night of September 8, Wine's friend and political ally Assistant Superintendent of Police Muhamad Kirumira was shot dead by masked gunmen, in what many mourners, journalists, and politicians suspect was a targeted assassination,
Conscious of the dangers he would face upon his return, Wine used his short U.S. visit to amplify his message. "I want the world to know that I'm returning back home, but I'm returning back to uncertainty," he told me. "Whatever the regime decides to do to me, [the world] should never take their eyes off Uganda … And to the Ugandans, they must know that oppressed people shall not always be oppressed. If they insist on demanding for their freedom and dignity, which they rightly deserve, they will get it."