A U.S. Funding Review Is Hurting Aid Groups and Palestinians
"I think people are feeling severely depressed by the situation."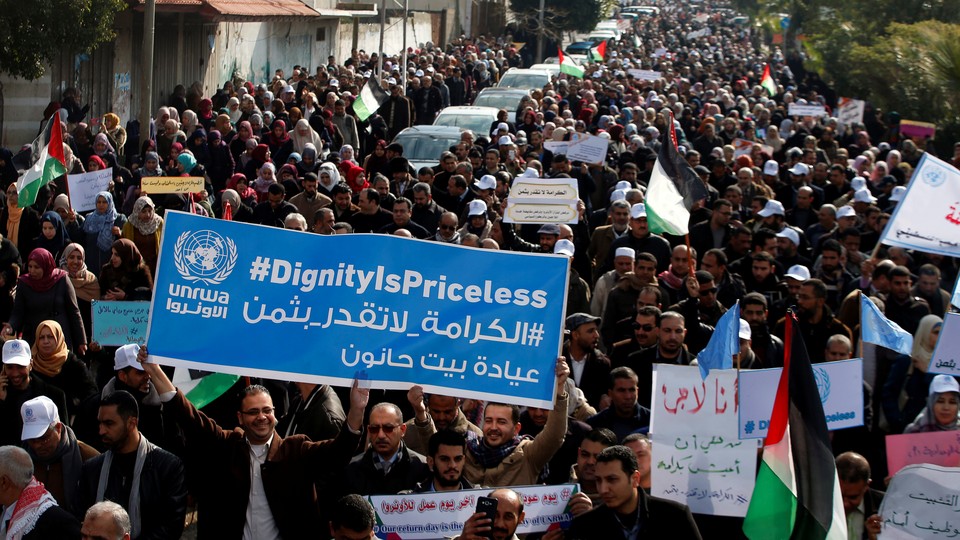 In January, Donald Trump's administration suspended the financial aid it provides Palestinians, pending what it said was a review. Seven months later, not only are there few indications the review is complete, but the freeze on tens of millions of dollars in mostly humanitarian aid has hobbled the aid agencies that receive the funds, and, more consequentially, crippled the lives of more than 1 million people who live in dire need.
"A lot of donors have put more money on the table: the U.K., Canada, Japan, but it's not enough," Jamie McGoldrick, the United Nations development and humanitarian coordinator in Palestine, told me in a recent interview. McGoldrick added that many of the commitments were front-loaded—in other words, countries were taking a portion of next year's commitment to Palestinians and disbursing them this year. "What comes after that is uncertainty," he said.
Already, he said, there has been a slow but sure collapse of water supply and sanitation in the Gaza Strip, the coastal enclave that is controlled by Hamas, a militant group. Electricity is restricted to about four hours a day. "People are trying to buy power," McGoldrick said, "but there's a liquidity crisis," partly caused by the West Bank–based Palestinian Authority's inability to pay its approximately 40,000 civil servants in Gaza. Supplies are short, too. Typically, 10,000 trucks come in every month carrying essential goods for the enclave; about 6,000 arrive now, he said. Israel and Egypt control access to the Gaza Strip.
The Trump administration's review of its funding for the Palestinians comes at a crucial time: President Trump moved the U.S. Embassy in Israel from Tel Aviv to Jerusalem, the eastern part of which the Palestinians claim as the capital of their future state (Israel claims it in its entirety); the United States is on the cusp of releasing a new peace plan for the region; and tensions between Hamas and Israel are at a permanent simmer. Amid all this live nearly 2 million Gazans who are reliant on aid, have nowhere to go, and have few employment prospects (unemployment is more than 40 percent).
"I think people are feeling severely depressed by the situation," said Andy Dwonch, who oversees operations in the Palestinian territories for Mercy Corps, a Portland, Oregon–based humanitarian organization. "The USAID funding cuts to NGOs like Mercy Corps … on top of the reduction in support from the U.S. government for UNRWA, it sort of piles on top of existing very poor economic conditions."
U.S. aid to Palestinians takes three main forms: About $320 million goes toward humanitarian work and projects, and is disbursed by the U.S. Agency for International Development; $368 million goes to the UN Relief and Works Agency for Palestine Refugees in the Near East (UNRWA); and approximately $36 million helps the Palestinian Authority with security.
Part of this is what is affected most by the U.S. funding review. Mercy Corps runs programs that provide support for communities that have lived through crises such as conflict. It also works with health centers in the Palestinian territories to develop technology systems, such as electronic medical record-keeping systems and stock-management systems for pharmaceutical supplies, in order to help facilitate better access to health care.
"That program, based on the current situation with USAID and the Trump administration's hold or review on funding, will shut down in September," Dwonch said. "And Mercy Corps has already started to take steps to lay off our team of people who are working on that program."
Mercy Corps is hardly alone. Several U.S.-based humanitarian groups that operate with USAID funding in the Palestinian territories have all been affected—and either have, or are in the process of, laying off workers.
Dwonch told me that if the funding isn't restored or if some other donor doesn't make up for the shortfall, as many as 20,000 people in Gaza will enter unemployment. "Our staff are feeling very worried—not only for the future of Gaza, but for their own families' futures," he said, "as they too now join the masses of unemployed and families without sources of income."
Dave Harden, a former USAID assistant administrator for the region, criticized the Trump administration's funding freeze. "Somebody is going to be providing health care, it's either going to be Hamas or it's going to be an American NGO," he said. "You want to be able to provide that to the people in need. And in addition, you want to make sure that you're protecting that space" from groups like Hamas.
He said that USAID funds projects that help build better relations between young Israelis and Palestinians by facilitating cultural exchanges. It also finances health and education, water and sanitation, and civil society and governance projects. Harden, who is now the managing director of the Georgetown Strategy Group, a consulting firm, said the Trump administration's decision to suspend the funds was misguided.
"The reason they want to withhold U.S. assistance to Palestinians is because they think they can use it as leverage for [Palestinian Authority President Mahmoud] Abbas to get him to come back to the negotiating table. And it won't work. Because this is effectively implemented outside of the PA. There's no leverage that's attached to this."
The United States denies it is using the funds as leverage, but Trump, in a pair of tweets, linked future U.S. funding to the Palestinians' "willingness to talk peace." The Palestinians have boycotted U.S. efforts at mediation since Trump announced the embassy move last December in line with a long-standing U.S. law. Past U.S. presidents signed waivers every six months to keep the facility in Tel Aviv, citing security concerns. Jared Kushner, the president's son-in-law and one of his senior advisers, and Jason Greenblatt, the president's adviser on Israel, are working on a new peace plan for the region that a National Security Council spokesperson said Thursday "will be released when it is complete and the timing is right."
Harden, who worked in the region for Presidents Bill Clinton, George W. Bush, Barack Obama, and Trump said: "Every administration kind of comes in and early on thinks they have the answers, and they soon discover how complicated it is, and how difficult each side is, and how nuanced all the the problems are, and that it's not so simple."
Indeed, discussions about U.S. financial assistance to the Palestinians are complicated by the issue of terrorism. Hamas, which the United States and Israel view as a terrorist organization, is forbidden from receiving any U.S. funds; aid groups say there are no contacts between the organizations that get U.S. money and the militant group that governs Gaza. But U.S. concern about how the money is used goes far beyond Hamas. In March, the U.S. Congress passed the Taylor Force Act, which cut off funds to the Palestinian Authority, making aid resumption conditional upon the PA ending stipends to Palestinian militants and their families. The law, which was named for Taylor Force, a U.S. military veteran who was stabbed to death in 2016 by a Palestinian militant in Tel Aviv, provides exceptions for funding water and vaccination programs, as well as money that goes to hospitals in East Jerusalem, which while predominantly Palestinian is administered by Israel.
Trump administration officials have also criticized UNRWA as anti-Israeli and said it needs reform. The United States is the largest contributor to the UN agency; UNRWA supports about 5 million Palestinian refugees across the Middle East. The agency also funds hundreds of schools and dozens of hospitals in the region. Last year, the U.S. provided $368 million, about one-quarter of the agency's $1.24 billion budget. The United States was scheduled this year to pay UNRWA $125 million as part of its first installment, but ultimately provided $60 million, hobbling UNRWA's operations. The agency announced last month that it was cutting more than 260 jobs and reducing the mental-health services it provides in the region.
The U.S. State Department says it wants to see a "fundamental reexamination of UNRWA, both in the way it operates and the way it is funded." Many Israelis share the U.S. concern about UNRWA, which they deem biased toward the Palestinians, but some Israeli security officials concede that cutting off funds to the agency could have adverse longer-term consequences for everyday Palestinians who rely on the agency.
"There are many problems with UNRWA, but cutting financial support to the organization hurts the weakest members of Palestinian society and is unlikely to bring the Palestinian Authority to the table," Peter Lerner, a former spokesman for the Israel Defense Forces, said on Twitter. "The refugee camps have historically been hotbeds for terrorist activities, weakening this population will only lead to more extremism and violence. This will not contribute to security or stability in the region."
But critics of U.S. foreign aid question why other countries, especially those in the region, don't play a more significant funding role. Harden told me the United States provides about 25 percent of total assistance to the Palestinians. Other funders, he said, include the European Union and the UN, which, like the United States, finance and implement projects on the ground. The Arab states are also large funders, but their money goes directly to agencies like UNRWA and the Palestinian Authority.
"The Arab states do provide substantial assistance to the Palestinians … but you know, could they do more? Could they be more helpful? Could they be more constructive? The answer to all that is yes," Harden said. "Of course you could. Everybody could."
McGoldrick, the UN official, told me that the funding freeze has added to the pessimism of the people in Gaza. "They feel abandoned," he said. "They feel there's no one coming to help. Theres a lack of support from Ramallah," where the PA is based. "They know that they live in a rich part of the world, but are confused about the lack of assistance from other countries in the region."
He said the lack of funds was exacerbating a humanitarian catastrophe. "Palestinians are resilient. They are still standing," he said. "They manage to eke out an existence while displaying innovation and ingenuity … People assume that resilience can last forever. My fear is that we tip quickly into something that we can't pull back from."