The U.S. Sanctions Russia for Skripal Poisoning—Five Months Later
The move to punish Moscow for the attempted assassination of a former Russian spy in Britain was long overdue.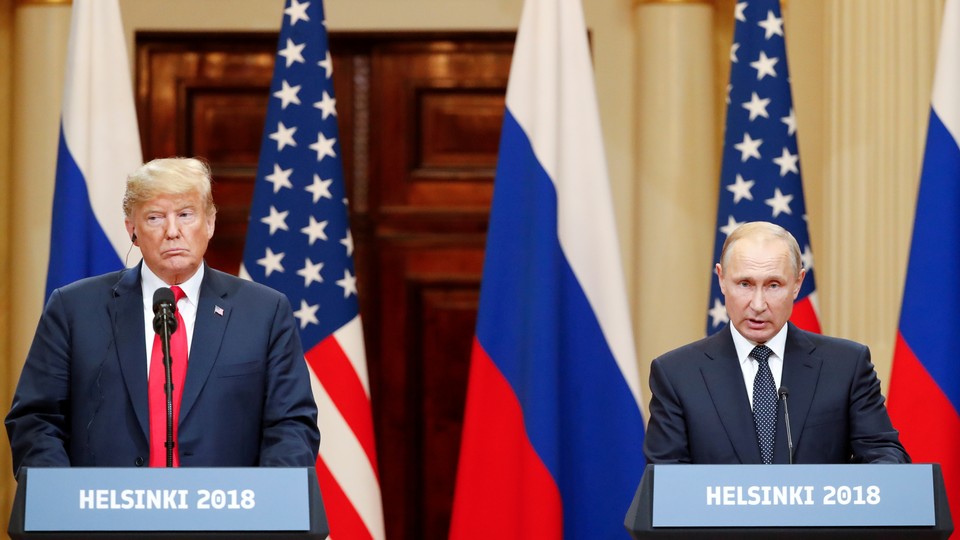 Five months after a deadly nerve agent threatened the life of a former Russian spy and his daughter in Britain, Donald Trump's administration announced Wednesday that it will be imposing new sanctions on Russia for its alleged involvement in the attack.
The announcement was made after the United States formally concluded this week that Russia's alleged use of the Novichok nerve agent in the attempted assassination of the former Russian spy Sergei Skripal and his daughter, Yulia, put Moscow in violation of international law. The sanctions, which State Department Spokeswoman Heather Nauert said are expected to go into effect later this month, will limit the export of sensitive national-security related goods to Russia. They are projected to impact hundreds of millions of dollars in trade, and have already sent the Russian ruble tumbling to a two-year low.
This isn't the first time Washington has acknowledged Russia's alleged role in the nerve-agent attack on British soil. The United States joined nearly two dozen countries in condemning Russia for the attack, and took part in a mass expulsion of Russian intelligence officers. Of the more than 100 Russian personnel who were targeted in the mass expulsion, 60 were based in the United States. The Russian consulate in Seattle was also closed as part of the response.
So what prompted this latest, and arguably more severe, retaliation? Technically, U.S. law. Under the Chemical and Biological Weapons Control and Warfare Elimination Act of 1991, the United States is required to impose sanctions on any foreign power determined to have used chemical or biological weapons in violation of international law within 60 days of assigning blame to the country in question. As the Republican lawmaker Ed Royce pointed out in a letter to President Trump last month, the administration missed that deadline by more than a month.
Russia, which has long denied involvement in the Novichok attack, dismissed the new U.S. sanctions as "draconian" and a threat to the "constructive atmosphere" of the summit between Trump and Russian President Vladimir Putin last month in Helsinki, during which Trump appeared to accept Russia's denials that it interfered in the 2016 U.S. presidential election. Not long after that, Trump invited Putin to the White House.
"The theater of absurd continues," Dmitry Polyanskiy, the first deputy permanent representative of Russia to the United Nations, said Wednesday in a tweet. "No proofs, no clues, no logic, no presumption of innocence, just highly-liklies. Only one rule: blame everything on Russia, no matter how absurd and fake it is. Let us welcome the United Sanctions of America!"
These sanctions likely won't be the last. If Russia does not provide assurances that it will no longer use such weapons within the next three months, the U.S. government has warned that it will move to impose even "more draconian" sanctions, including a wider trade embargo and a possible downgrade in diplomatic relations between the two countries. But Moscow is unlikely to be swayed by threats of additional penalties. "Russian denials will continue—there is no doubt about that," Duncan Allen, a Russia and Eurasia specialist at the London-based Chatham House, told me. "More U.S. sanctions frankly are only a matter of time."